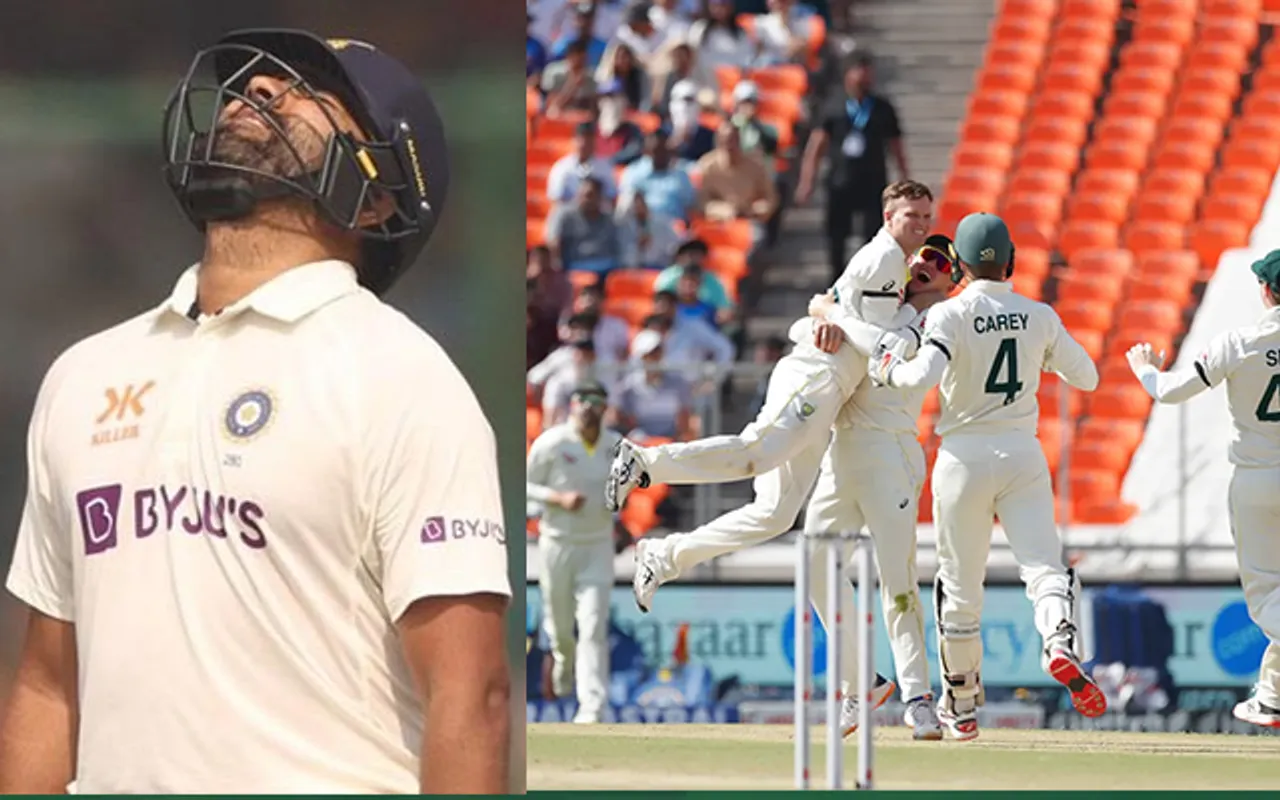 After a brilliant performance by the Australian batters in the first innings of the 4th Test of the four-match Test series in Ahmedabad, the fans are expecting to see the same from the Indian batters as well. The Indian batters, especially opener Shubman Gill displayed a brilliant batting performance until lunch on Day 3 as India reached 129 runs after losing only 1 wicket.
India had to suffer a big blow during the first session as India's captain Rohit Sharma, who was looking very solid on the crease, lost his patience and eventually ended up throwing his wicket to Todd Murphy. The right-arm off-spinner bowled a short and outside-off delivery. Rohit decided to smash the ball towards short cover point but Marnus Labuschagne was there and made no mistake sending Rohit back to the pavilion on the score of 35 runs.
However, after that, there were hardly any chances created as Gill completed his well-deserved half-century and Cheteshwar Pujara who came to bat at no.3 used his feet superbly against spin. But the Indian batters have a lot to cover and they need some big individual knocks as they still trail by 351 runs.
R Ashwin's sensational bowling performance
Talking about the match, Australia won the toss and elected to bat first and put on a breathtaking batting show, especially Usman Khwaja, who played a sensational inning of 180 runs off 444 deliveries, which included 21 fours. Australian star allrounder Cameron Green also smashed a century and that was his first-ever in the longest format.
Green scored 114 runs off 170 balls and smashed 18 fours during his knock. Both stitched a monumental 208-run stand for the fifth wicket. However, Indian veteran off-spinner Ravichandran Ashwin started taking wickets at regular intervals of time but Australian tailenders Nathan Lyon and Murphy made the Indian bowlers work hard more.
Once again, it was Ashwin who broke that frustrating 70-run partnership and picked up his 36th fifer as well. Indian bowlers' hard toil came to an end after 167.2 overs. Now, the Indian batters will also look to get the advantage from the flat Ahmedabad pitch.
Here's how fans reacted
Batting pitch pe 35☕😂😂
Ek 100 aya uske baad back to back flops lekin he is the best batsman🙌🏻

— NRS (@walter_white_08)

Batting pitch pe 35☕😂😂
Ek 100 aya uske baad back to back flops lekin he is the best batsman🙌🏻

— NRS (@walter_white_08) March 11, 2023
11, 2023
Besharma Masterclass throughout the series 🔥🫡. Warra legend of a cricketer 🤣😂.

— Ankit Pant(😁) (@cricholic90)

Besharma Masterclass throughout the series 🔥🫡. Warra legend of a cricketer 🤣😂.

— Ankit Pant(😁) (@cricholic90) March 11, 2023
11, 2023
Kl rahul would have easily scored more than Rohit sharma in this pitch
.

— #Tinadatta #bb16 (@big_bull12)

Kl rahul would have easily scored more than Rohit sharma in this pitch
.

— #Tinadatta #bb16 (@big_bull12) March 11, 2023
11, 2023
What a bad way to get out 🤦

— Rohit Gupta (@Rustu016)

What a bad way to get out 🤦

— Rohit Gupta (@Rustu016) March 11, 2023
11, 2023
😡😡😡 pic.twitter.com/JTNm7WdRMB

— 🇮🇳 Vipul Sehgal (@VipulSehgal312) March 11, 2023
11, 2023
Vada pav khane ka mood hua tha syad isliye out ho gaya

— 𝕯𝖆𝖓𝖌𝖊𝖗 𝕬𝖍𝖊𝖆𝖉༎🏴‍☠️ (@Rakshitjiii)

Vada pav khane ka mood hua tha syad isliye out ho gaya

— 𝕯𝖆𝖓𝖌𝖊𝖗 𝕬𝖍𝖊𝖆𝖉༎🏴‍☠️ (@Rakshitjiii) March 11, 2023
11, 2023
Australians are good with their field placements 🧐

— Anindita Banerjee (@AninditaB_AB)

Australians are good with their field placements 🧐

— Anindita Banerjee (@AninditaB_AB) March 11, 2023
11, 2023
Even Women's Cricketers Are Better Openers Than NoFit Besharma

— Aufridi Chumtya (@ShuhidAufridi)

Even Women's Cricketers Are Better Openers Than NoFit Besharma

— Aufridi Chumtya (@ShuhidAufridi) March 11, 2023
11, 2023