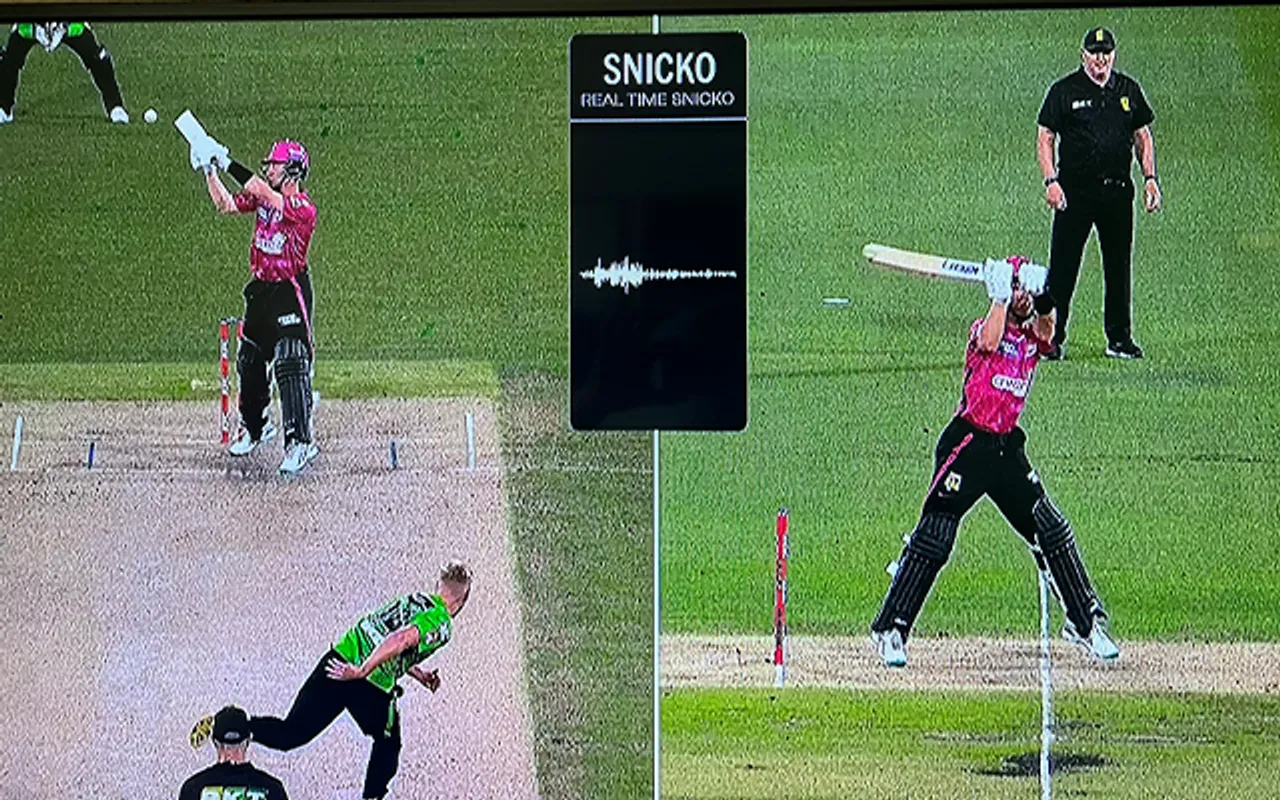 The Melbourne Stars and the Sydney Sixers clashed in the 31st match of the Big Bash League which turned out to be yet another high-scoring contest. The Sydney Sixers won the toss and chose to bowl. The Melbourne Stars got to a big total of 173-5. Thomas Rogers, Hilton Cartwright and Marcus Stoinis led the way with the bat with 48 off 33, 36 off 31 and 52 off 28 respectively.
In a Tense chase, the Sydney Sixers got home off the penultimate delivery of the 20th over in the end. With a boundary of the penultimate ball. But, not before the drama unfolded at the BBL the ball before. Luke Wood bowled a bouncer to Jordan Silk and the ball went to the keeper. Silk hung his bat in the air and it was adjudged as a caught behind by the keeper he was given out after the decision was referred upstairs and a spike was picked up by the snickometer.
How is it given out by the third umpire ? Aakash Chopra
Silk was out but he was not happy with the call and he expressed his frustration. After the game, one person who sided with Silk on the decision was former India cricketer Aakash Chopra he called it a horrendous decision by the umpire to give it out as he opined that, at the time of the spike on the snickometer, the ball was six inches away from the bat.
Here is the image of the incident-
How is it given out by the third umpire?? At the time of spike, the ball is 6 inches away from the bat. Left of screen. #BBL12 pic.twitter.com/RYrEDBWVYz

— Aakash Chopra (@cricketaakash) January 6, 2023
The BBL has been under pressure for its umpiring calls and it also did not have the Decision Review System from the initial stages in 2011. For the record the DRS was introduced only in the 2022-23 season and before that the umpires were pressed into service. This led to several calls that were very questionable and it led to the introduction of DRS in the BBL.
The BBL had also brought on innovations like the X factor rule, the bat flip and the power surge in the previous season. The power surge is still being used in the current season but the X-factor rule is no longer being used now.