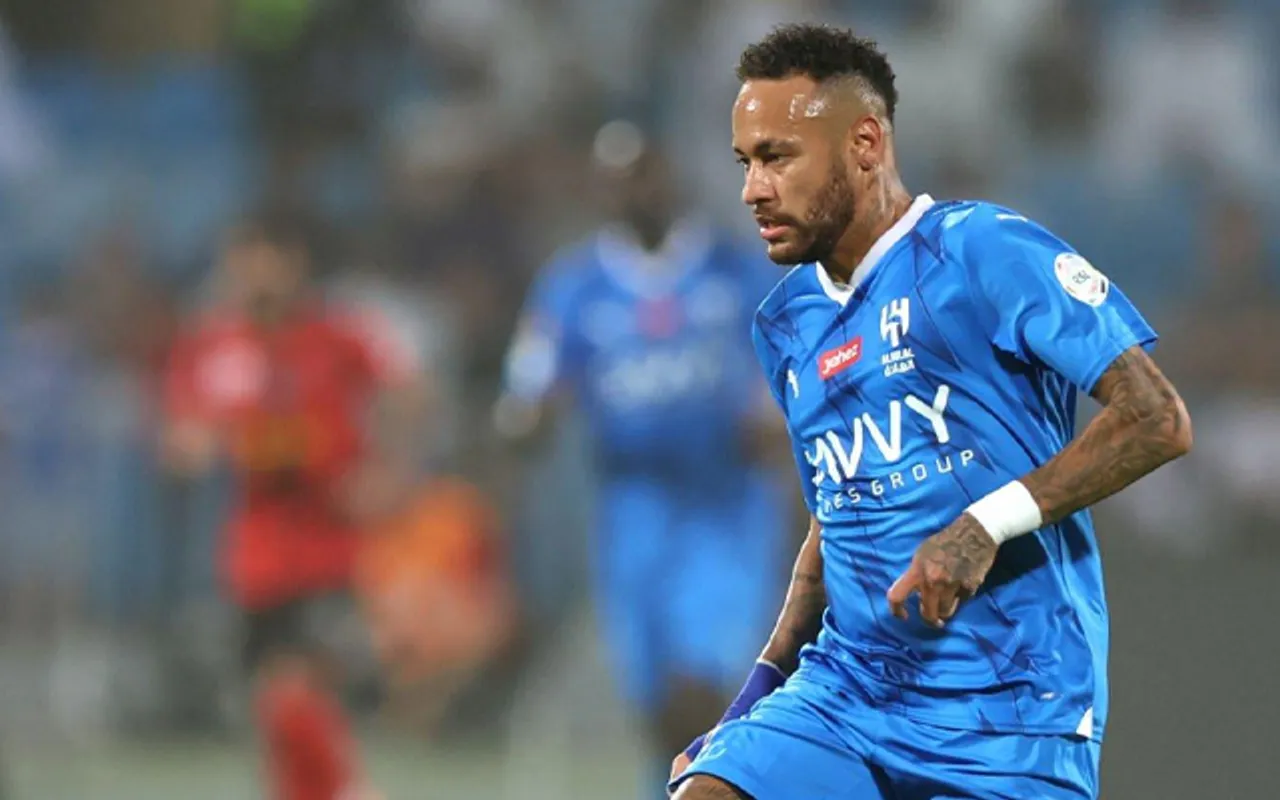 Before his Al-Hilal team's AFC Champions League game versus Iranian team Nassaji Mazandaran, Brazilian sensation Neymar was left speechless. The condition of the temporary pitch at Tehran's Azadi Stadium, where the match would be played, shocked the former Barcelona striker.
This season's competition's second game to be played at the Azadi Stadium is all set to feature Al-Hilal and Nassaji Mazandaran. On Matchday One of the campaign, Cristiano Ronaldo's Al-Nasr were already up against Iranian powerhouse Persepolis. Ronaldo's side was just simply better and got the much-needed victory.
Neymar, who came this summer is taking his time to settle into the team. He will participate in the game against Nassaji Mazandaran. Images of the groundsmen laying the grass on the pitch caused the forward to respond.
As Al-Hilal trained upon his team's landing in Tehran, the attacking player took it upon himself for a look at the state of the pitch. In an effort to determine whether the grass would come off, he knelt down and felt it with his hands. He tweeted about the state of the pitch and his reaction was one that people won't forget. He tweeted, "This is not possible 🤦🏽‍♂️😂."
For the very first occasion in his career, Neymar travels to Iran, but he must now contend with a dangerous pitch that may put the players in danger
Neymar Jr.'s poor run in Al-Hilal colours
Since moving to Saudi Arabia in the summer, Neymar hasn't enjoyed the best start to life there. He has been battling with his form and consistency. In four appearances for his new team, the former Paris Saint-Germain attacker has failed to score a goal. There are even rumours that he wanted the manager fired because of their personal issues.
Neymar will look to assist Al-Hilal's victory in Tehran by scoring his first goal. One of the most distinguished teams in competition history, the Saudi club has won the championship four times.
Fans react as Neymar Jr. disregards unplayable pitch for AFC Asian Champions League:
Neymar couldn't believe the conditions of the pitch ahead of Al Hilal's match in the AFC Champions League.

He had to inspect the pitch at Azadi Stadium in Tehran, Iran just to make sure 😅 pic.twitter.com/E96LqpuItJ

— ESPN FC (@ESPNFC) October 2, 2023
And Cris be scoring Hattricks here...

— Sir Kenneth (@Dabrizee) October 2, 2023
He knew where he was going before he signed that big contract, why is he complaining

— Patrick (@PatoEner) October 2, 2023
The Camel League is the worst ever.

— The Chosen One (@7CHOSENONE1) October 2, 2023
Spent all the money to pay his salary and forgot the pitch.

— Ansem.Edet (@OfficialAE10) October 2, 2023
He chose that😭

— 𝐀𝐀• (@sic_aa) October 2, 2023
Ronaldo fans are here again saying better than MLS. You boys need to rest

— 𝔹𝕒𝕓𝕫 💜🥷🏾 (@babztwt) October 2, 2023
When you follow money this how it ends you 😂

— CFC_Retterath (@NanaSarpong2002) October 2, 2023
Don't make fun of the league and teams you will be facing. You chose to go there so up the respect levels

— S A 🕊️ (@SA85_786) October 2, 2023
Look at that, is that a pitch?😂😂😂😂😂 pic.twitter.com/uTSSrRe4Zm

— TheOnlyCozy (@1Lucifer_1) October 2, 2023
I bet he's missing playing in Europe now

— K9INΞ 🦴🟦 (@KVG9ine) October 2, 2023