India's star cricketer Rishabh Pant was a victim of a road accident on 30 December. His car met with an accident near Roorkee. Pant had suffered serious injuries in the accident. He was going from Delhi to Roorkee in his private car and was driving himself.
The 25-year-old batter, like on the field, showed fighting spirit after the incident just like he shows on the field as he broke the windscreen himself and managed to get out of the car. After this, the car caught fire. Many pictures and videos of this incident went viral on social media. Pant is emerging from injuries. There are only speculations about his return.
Meanwhile, Pant shared a picture on his official Instagram handle through stories. In the picture, there are chairs on both sides of the roof of the house. There is a chess board in the middle and the game is on. He also wrote a caption and asked fans, "Can anyone guess who's playing????"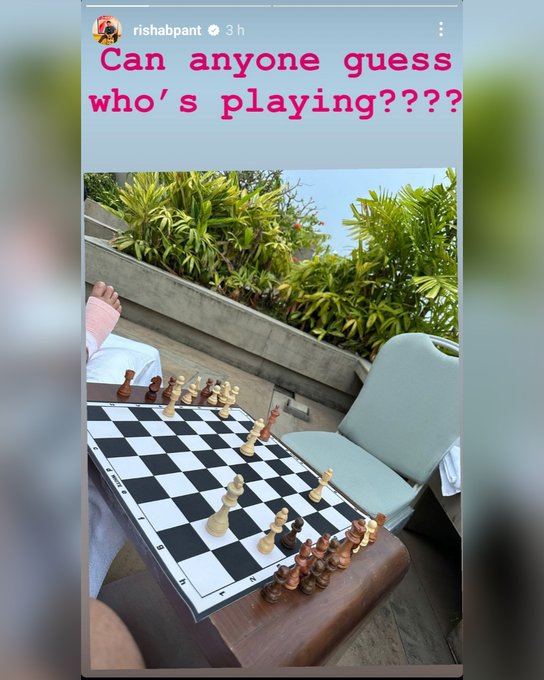 Pant unlikely to play in 50-over World Cup 2023
Earlier, it was also reported that Pant will miss many major cricket tournaments in 2023, including the 50-over World Cup, which is going to be held in India. The team management can find his replacement in the limited-over format but it is difficult for someone to replace him in the Test squad as he has been phenomenal in the longest format.
Meanwhile, the Indian team is currently playing a four-match Test series against Australia. At the same time, wicket-keeper batter Rishabh Pant, the most important part of the Indian team Test squad, is forced to spend time alone at his home in Roorkee. The main reason for that is his recovery after the road accident, due to which the batter has been away from international cricket for a long time.
Talking about India's Test series against Australia, the Men in Blue are leading the series by 2-1 and the last match of the series will be played on March 9. If India win the last match, they will seal their spot in the WTC final while the Australian team have already qualified for the final.
Here's how fans reacted:
Health pe dhyaan rakho

— Gautam Jack (@gautamjack22) March 7, 2023
Meanwhile Rautela pic.twitter.com/7jnpREXU9t

— Prasun Jha (@jprasun21) March 6, 2023
Jiska BMW jal gaya uska baap.

— Subhradeep Mondal (@subhra_SDM) March 6, 2023
— sad indoorsman (@sedjunkie) March 7, 2023
Kl rahul ki form

— PunyTalk (@PunyTalk) March 6, 2023
Urvashi Urvashi take it easy Urvashi 😂

— AKS 🇮🇳 (@aishwarysinha03) March 6, 2023
Koi na koi khel rha hai varna mobile mei khel rha hoota

— Pandit Pradeep Mishra Sehore vale (@Pradeep_Mishrag) March 6, 2023
@UrvashiRautela pic.twitter.com/E6qmo2fvGy

— Tag devta (@tagdevta) March 7, 2023
Bhaiya sir par jo chot lagi hai uska bhi ilaaz karao thoda 🤣😅😂🤪

— Pal Sahab🇮🇳 (@PalMadhukar) March 6, 2023