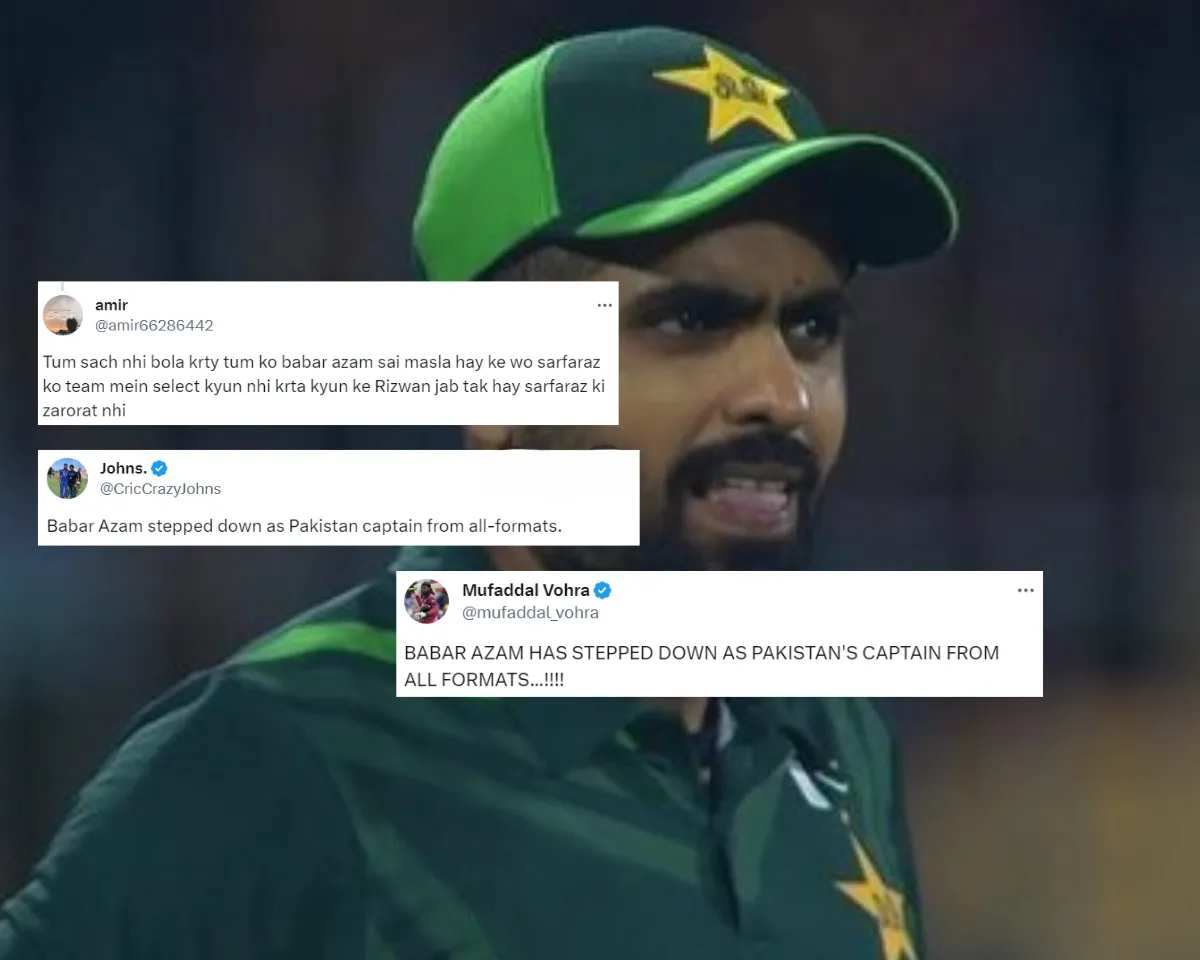 Babar Azam on Wednesday decided to give up the captaincy of the Pakistani team in all formats of the game. The decision came on the back of a disastrous ODI World Cup 2023 tournament where Pakistan finished 5th in the points table.
The 29-year-old posted a statement on Twitter that exhibited the emotional end to the captaincy tenure of Babar Azam. The news did not come out of bolt as it was on expected terms especially after many former players had asked for his removal as the skipper.
The right-handed batter has been the skipper of the Pakistan side since the 2019 World Cup. Babar Azam succeeded Sarfaraz Ahmed and was seen as the right choice to lead Pakistan to glory. During his tenure, Pakistan became a dangerous T20 side and beat India in 2021 during the World Cup and reached the finals a year later in Australia.
Babar Azam posts an emotional note to announce his resignation as captain – 
The Pakistani Cricket fans were crestfallen when the news came out that Babar Azam had stood as the skipper of the side. The 29-year-old posted a huge statement on Twitter where he thanked the PCB, along with his teammates, team management and the fans.
November 15, 2023
The statement also said that Babar Azam will continue to give his best as a player and support the new skipper of the side. The emotional note ended with Babar Azam thanking the PCB wholeheartedly for the responsibility that was given to him.
Pakistan came into the ODI World Cup 2023 with a huge expectation of reaching the knock-out phases. The tournament started with huge wins over the Netherlands and Sri Lanka to put the men in green at the top of the table.
The biggest loss was against India when Pakistan lost 8 wickets for 36 runs to be bowled out for 191. At one stage Babar Azam and Mohammad Rizwan had put up a great stand to frustrate the Indian bowlers. There was another shock along the way when Pakistan was beaten by Afghanistan by 8 wickets in a key game in Chennai to put the men in green under pressure.
Here's how the fans reacted –
Tum sach nhi bola krty tum ko babar azam sai masla hay ke wo sarfaraz ko team mein select kyun nhi krta kyun ke Rizwan jab tak hay sarfaraz ki zarorat nhi

— amir (@amir66286442) November 15, 2023
BABAR AZAM HAS STEPPED DOWN AS PAKISTAN'S CAPTAIN FROM ALL FORMATS...!!!! pic.twitter.com/GZs6TYD9AW

— Mufaddal Vohra (@mufaddal_vohra) November 15, 2023
Babar Azam stepped down as Pakistan captain from all-formats. pic.twitter.com/XHQsLvJqd5

— Johns. (@CricCrazyJohns) November 15, 2023
I want to thank Babar Azam for his services. I will keep supporting him. We have lived so many good moments under his captaincy. We lived through the best era of captaincy in recent times🙌♥️.#BabarAzam #CWC23 pic.twitter.com/p4YvHCzvKQ

— Shaharyar Ejaz 🏏 (@SharyOfficial) November 15, 2023
But Babar Azam is a Minnow Basher #BehindYouBabarAzam pic.twitter.com/RyCYvN8kF5

— Ehtisham Siddique (@iMShami_) November 14, 2023
For this reason he is king #behindyouBabarAzam #BabarAzamIsMyCaptian #BabarAzam𓃵 pic.twitter.com/WZXdj2cpP6

— Reem shaikh (@Reem35013) November 14, 2023