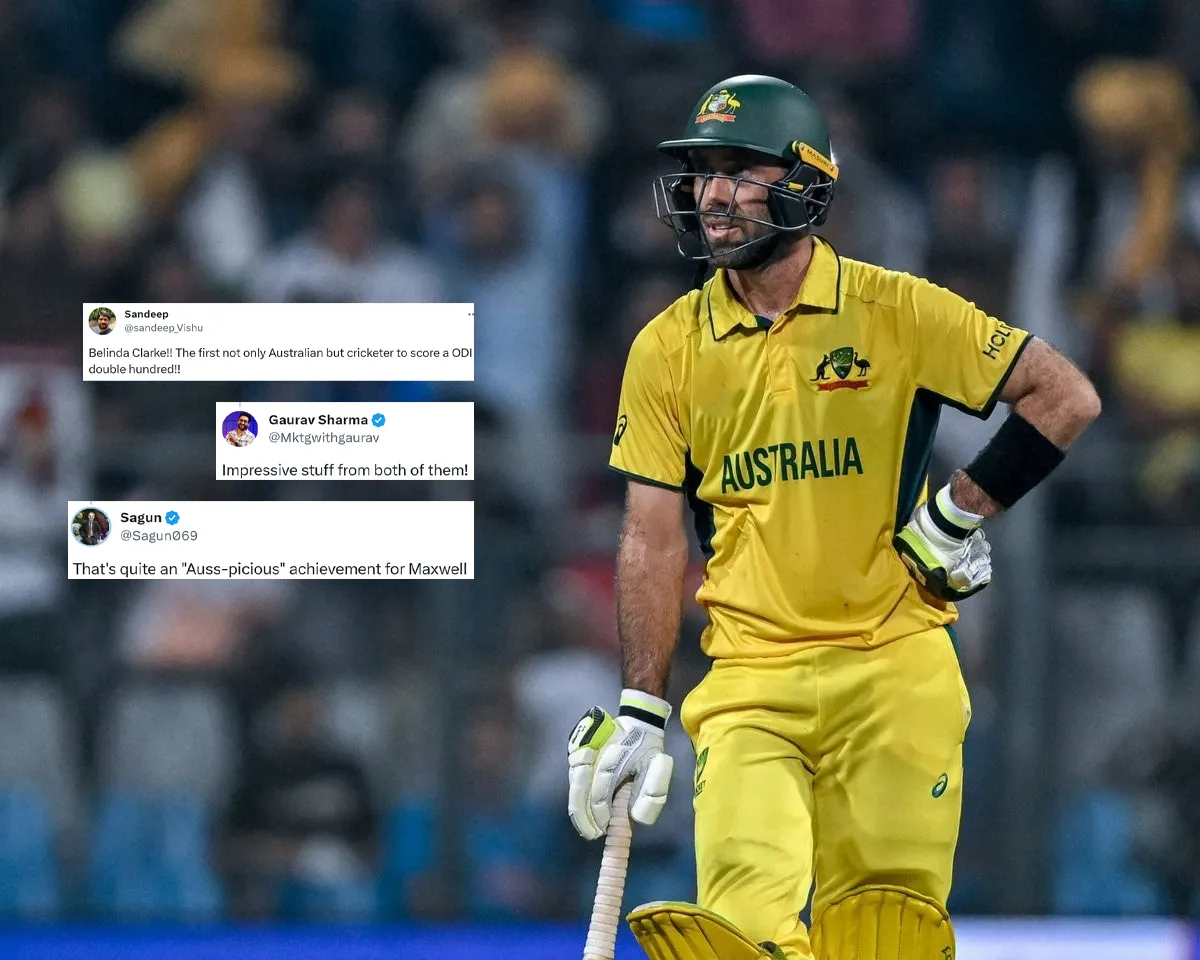 In a spectacular performance on Tuesday night, Australian all-rounder Glenn Maxwell set the cricket world abuzz by scoring an astonishing 201 runs against Afghanistan at the Wankhede Stadium in Mumbai. While Maxwell's incredible innings broke several records, it's interesting to note that he is not the first Australian cricketer to achieve the rare feat of a double century in international cricket.
The very first double century in the One Day International (ODI) format was scored by an Australian cricketer. Belinda Clark, representing Australia, achieved this remarkable milestone when she scored an unbeaten 229 runs against Denmark on December 16, 1997. Her historic innings paved the way for future cricketing legends to chase this prestigious record.
Before Clark's incredible achievement, Saeed Anwar of Pakistan held the record for the highest individual score in ODIs, with 194 runs against India on May 21, 1997. It wasn't until December 1997 that Clark surpassed this score, establishing her name in the annals of cricket history.
From Belinda Clark to Glenn Maxwell: Mumbai's double century connection.
What makes this connection even more fascinating is the location where both Maxwell and Clark etched their names in the record books—Mumbai. Maxwell's phenomenal innings at the Wankhede Stadium echoes the historic double-century scored by Belinda Clark in the same city, underlining the unique bond between Australian cricketers and Mumbai.
Mumbai holds a special place in the hearts of cricket enthusiasts, not only as the backdrop for these record-breaking moments but also as a city that has witnessed countless iconic cricketing events. In the world of men's international cricket, the legendary Sachin Tendulkar, often referred to as the "Little Master," was the first to reach the coveted milestone of a double century, setting the bar high for future generations of cricketers. Now, Glenn Maxwell's extraordinary innings has added a new chapter to Mumbai's cricketing legacy, further cementing the city's status as a hallowed ground for the sport.
See how fans have reacted:
No one scored while injured and chasing . Man or Woman.

— Haksar (@Tw2Er) November 8, 2023
Mumbai is special for Australians.

— Faiz Fazel (@theFaizFazel) November 8, 2023
Maxwell yesterday pic.twitter.com/EPxgAdodV0

— yadhu (@yadhu1_4) November 8, 2023
Best inning and best run chase by one man army Maxwell ❤🔥

— Mehar (@MeharAkmal4) November 8, 2023
That's quite an "Auss-picious" achievement for Maxwell

— Sagun (@Sagun069) November 8, 2023
'Glenn Maxwell's innings is the best ODI innings I have seen in my entire life'
- Sachin Tendulkar 👏🏽 #CWC23 #AUSvsAFG

— Sarwar Khan (@serverkhanbaba) November 8, 2023
Belinda Clark is the first cricketer (in both Men & Women) to score a double hundred in an ODI. She was the captain of Australian Women's team in that time.

— The Cricket Fanatic (@thsportsfanatic) November 8, 2023
Impressive stuff from both of them!

— Gaurav Sharma (@Mktgwithgaurav) November 8, 2023