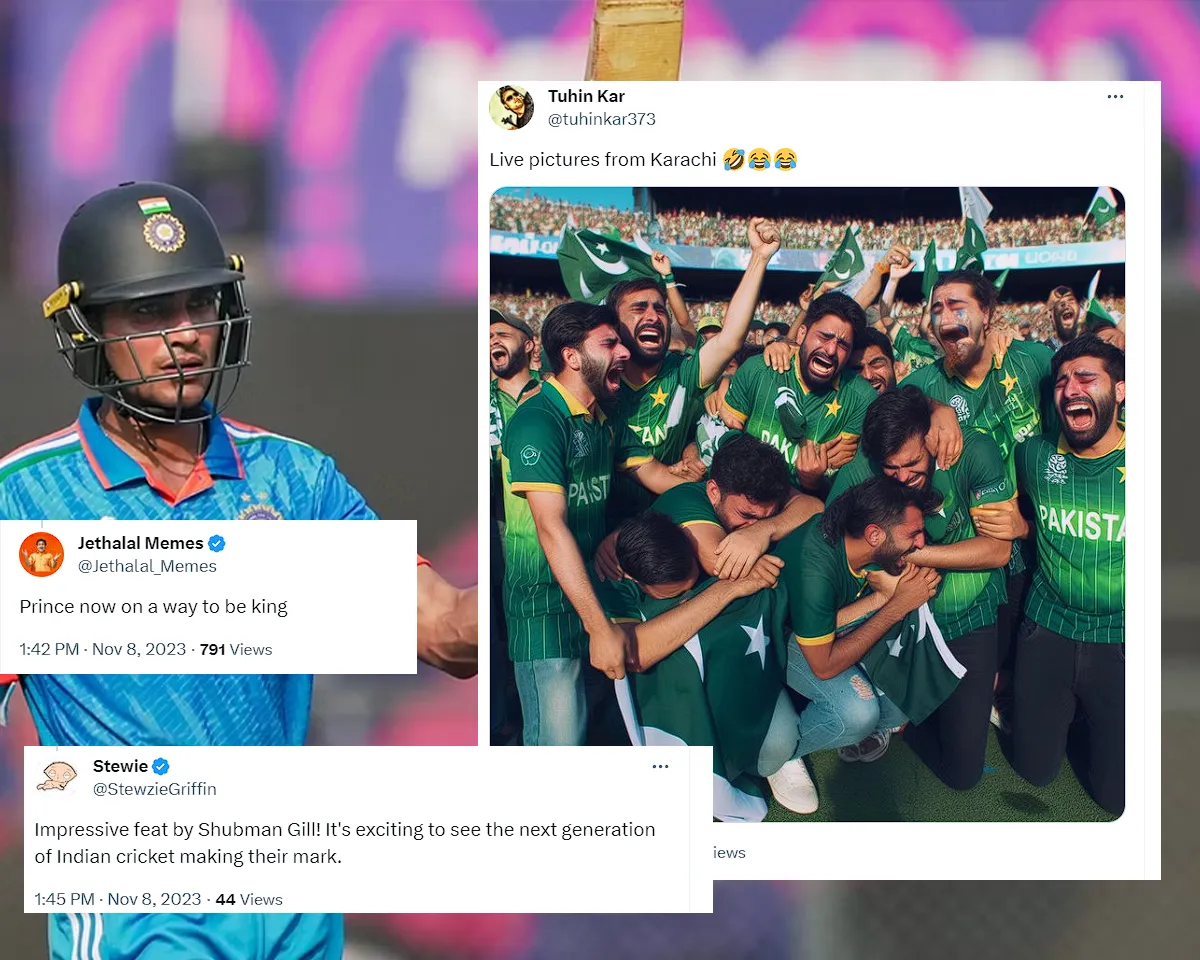 In a significant shift in the world of cricket rankings, India's Shubman Gill has climbed to the top of the men's batting rankings, overthrowing Pakistan's Babar Azam from his long-held position as the No.1 ODI batter. The latest ODI rankings, released on Wednesday, reflect Gill's exceptional performances and mark a historic moment in his cricketing career.
The right-handed batsman has been knocking on the door of the No.1 spot for some time, and his recent contributions have solidified his position as the world's best ODI batter. With scores of 92 against Sri Lanka and 23 against South Africa over the past week, Gill has accumulated a total of 219 runs from six innings in the tournament. It's worth noting that Gill missed India's initial two matches in the World Cup against Australia and Afghanistan due to dengue infection.
Indian cricket's day of triumph: Gill claims top spot, Kohli soars, Siraj shines!
Babar Azam, who held the No.1 ranking for over two years, now slips to the second spot after totalling 282 runs from eight innings at the World Cup. Gill's ascent to the top ranking marks a significant achievement, making him the fourth Indian player to achieve this honour. He joins the elite company of Sachin Tendulkar, MS Dhoni, and Virat Kohli as the only Indian cricketers to hold the No.1 ODI batter ranking.
In addition to Gill's historic feat, former Indian captain Virat Kohli has made a remarkable leap in the latest ODI batting rankings, securing the fourth position. These developments come on a noteworthy day for Indian cricket, with fast bowler Mohammed Siraj's remarkable performance at the World Cup propelling him to the top of the list for ODI bowlers.
The latest rankings reflect a substantial reshuffle within the top 10 of both batting and bowling ODI lists, driven by standout performances at the World Cup. It comes as no surprise that India's contingent of cricketing stars has left a lasting impression on the rankings, reaffirming the country's prowess in the sport.
Gill's ascent to the No.1 spot not only signifies his exceptional talent but also serves as a source of pride for Indian cricket fans, as they witness the rise of a promising young talent to the pinnacle of ODI batting rankings.
See how fans have reacted: 
Zimbabar right now : pic.twitter.com/Lc42fkpLt7

— Praveen (@PraveenIN12345) November 8, 2023
Babar Azam ke sath galat huva...kis muh se wapas jaye ga...😂😂😂

— Hriday Singh (@hridaysingh16) November 8, 2023
Gill thrashed Babor 😂 Congratulations Gill ❤️

— POSITIVE FAN (@imashishsrk) November 8, 2023
arrre shubhmam gill ke aage babar bol sakta hai kyaaaaa 😍🔥

— Arun Lol (@dhaikilokatweet) November 8, 2023
Whole pakistan pic.twitter.com/lH9V230fYK

— narsa. (@rathor7_) November 8, 2023
Babar Azam right now 😁 pic.twitter.com/yBVEpKwKr3

— Sujeet Suman (@sujeetsuman1991) November 8, 2023
It's only the beginning, long way to go champ. pic.twitter.com/g85RASTrf9

— Nikhil Gupta (@Nikhilgupta1104) November 8, 2023
Prince now on a way to be king

— Jethalal Memes (@Jethalal_Memes) November 8, 2023
Gill ne kar diya Sara ka dil kill 😂😂

— Aʀʜᴀɴ (@therealarhan) November 8, 2023