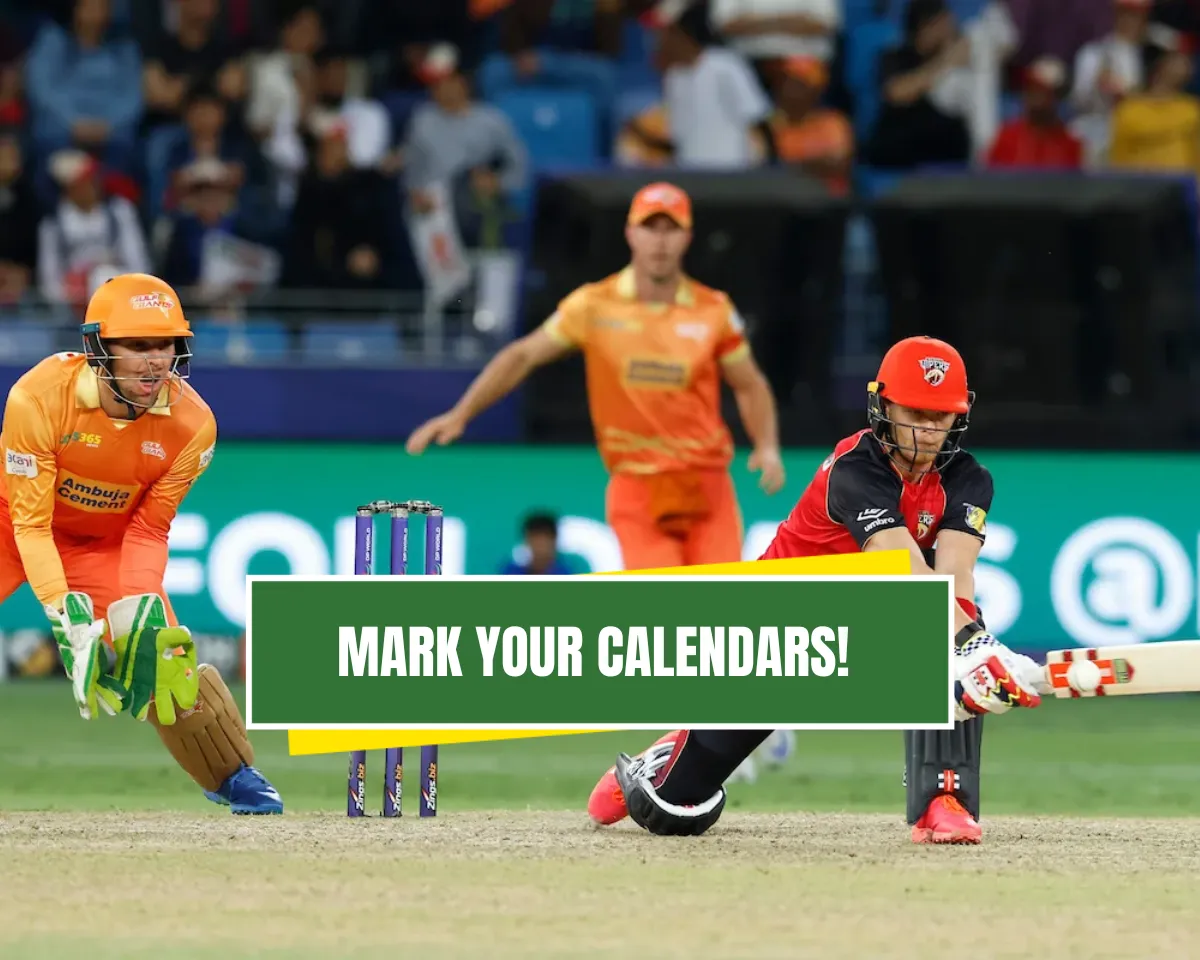 The International League (IL) T20 2024 is set to begin on January 19 2024 and will end on February 18. This will be the second edition of the tournament. Six teams are set to participate in the tournament, Abu Dhabi Knight Riders, Dubai Capitals, MI Emirates, Sharjah Warriors, Desert Vipers, and defending champions Gulf Giants. They will play a total of 34 games across Abu Dhabi, Dubai, and Sharjah. Abu Dhabi and Sharjah will host 11 and 8 matches respectively. 
In the first match reigning champions Gulf Giants will face against Sharjah Warriors in Sharjah. There will be some doubleheader as the game progresses, with the first match to begin at 2:30 PM local time and the second one will be at 6:30 PM local time. Star players from different nations have been registered in the tournament. 
The likes of  David Warner, Mark Wood, Shadab Khan, and Ambati Rayudu will be part of the different sides. Martin Guptill and Maheesh Theekshana will play for the Warriors. Pakistan star players Shadab Khan, Shaheen Shah Afridi, and Azam Khan will be playing for the Vipers. 
We are excited to announce the DP World ILT20 Season 2 schedule: David White
ILT20 chief executive David White said, "We are excited to announce the DP World ILT20 Season 2 schedule. Just like the opening season, we are set to deliver 34 action-packed matches at our three fantastic cricket venues."
"The weather in UAE is absolutely ideal for cricket in the months of January and February. There is as always, a huge appetite and interest in the game here and we welcome local fans as well as international travelers as they have the greatest cricketing spectacle to enjoy with a number of entertainment opportunities on offer besides the action on the field. We have three world-class stadiums that have a rich history of hosting some of the biggest cricket events including the T20 World Cup." 
The second season will clash with the SA T20 league which is scheduled from January 10 to February 10.
Here's the schedule 
January 19: Sharjah Warriors vs Gulf Giants, Sharjah
January 20: Dubai Capitals vs MI Emirates, Dubai
January 21: Desert Vipers vs Abu Dhabi Knight Riders, Dubai
January 21: MI Emirates vs Gulf Giants, Abu Dhabi
January 22: Dubai Capitals vs Sharjah Warriors, Dubai
January 23: Abu Dhabi Knight Riders vs MI Emirates, Abu Dhabi
January 24: Gulf Giants vs Desert Vipers, Dubai
January 25: Dubai Capitals vs Abu Dhabi Knight Riders, Dubai
January 26: Sharjah Warriors vs MI Emirates, Sharjah
January 27: Abu Dhabi Knight Riders vs Desert Vipers, Abu Dhabi
January 27: Gulf Giants vs Dubai Capitals, Sharjah
January 28: MI Emirates vs Abu Dhabi Knight Riders, Abu Dhabi
January 28: Desert Vipers vs Sharjah Warriors, Sharjah
January 29: Sharjah Warriors vs Dubai Capitals, Sharjah
January 30: Desert Vipers vs MI Emirates, Dubai
January 31: Abu Dhabi Knight Riders vs Gulf Giants, Abu Dhabi
February 1: Dubai Capitals vs Desert Vipers, Dubai
February 2: MI Emirates vs Sharjah Warriors, Abu Dhabi
February 3: Desert Vipers vs Gulf Giants , Dubai
February 3: Abu Dhabi Knight Riders vs Dubai Capitals, Abu Dhabi
February 4: MI Emirates vs Desert Vipers, Abu Dhabi
February 4: Gulf Giants vs Sharjah Warriors, Dubai
February 5: Sharjah Warriors vs Abu Dhabi Knight Riders, Sharjah
February 6: Dubai Capitals vs Gulf Giants, Dubai
February 7: Abu Dhabi Knight Riders vs Sharjah Warriors, Abu Dhabi
February 8: Gulf Giants vs MI Emirates, Dubai
February 9: Desert Vipers vs Dubai Capitals, Dubai
February 10: Gulf Giants vs Abu Dhabi Knight Riders, Dubai
February 10: MI Emirates vs Dubai Capitals, Abu Dhabi
February 11: Sharjah Warriors vs Desert Vipers, Sharjah
February 13: Qualifier 1, Dubai
February 14: Eliminator, Abu Dhabi
February 15: Qualifier 2, Sharjah
February 17: Final, Dubai