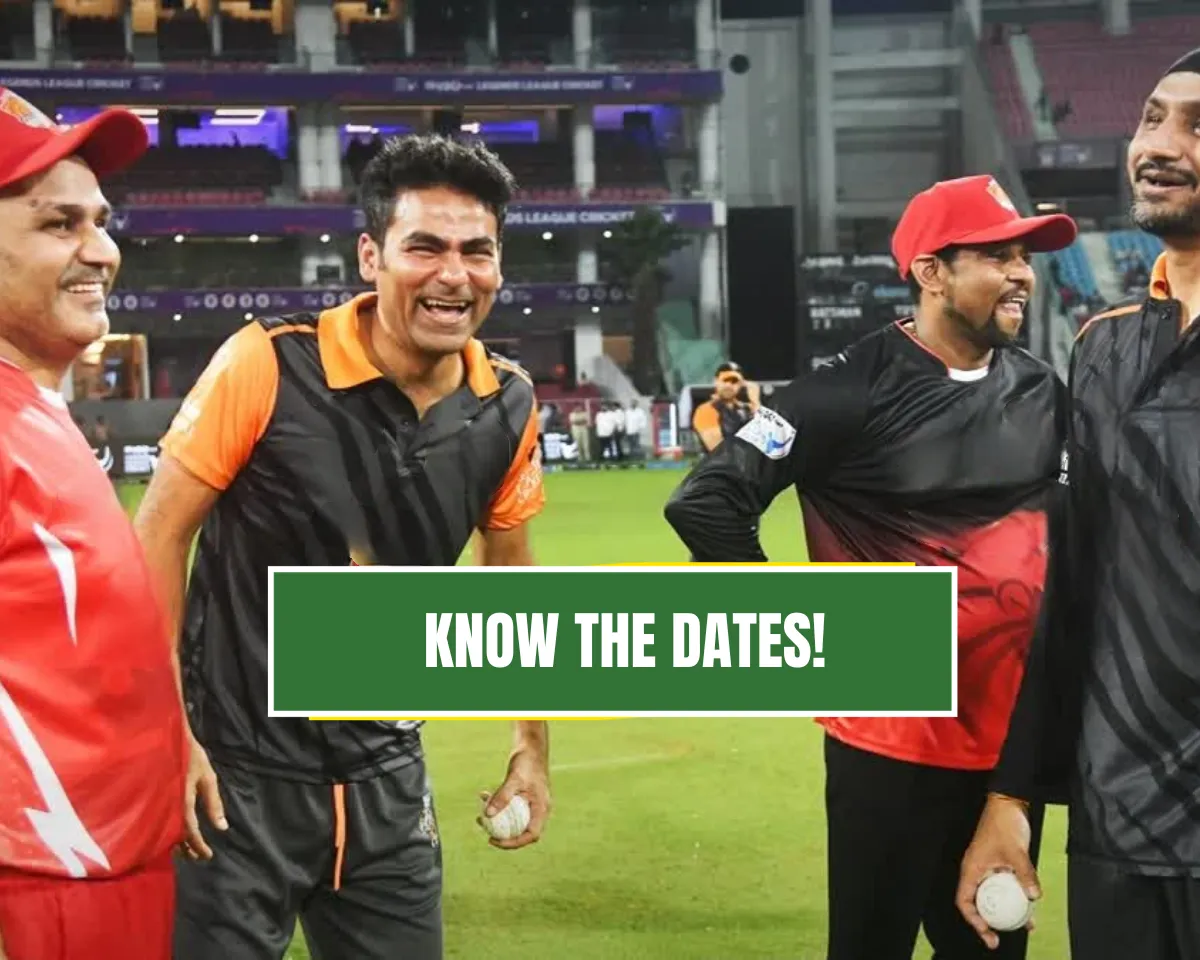 Legends League Cricket will be back for the second season. The tournament will start on November 18 and will end on December 9. A total of 19 matches will be played among the six teams. The top two qualifying teams will meet in the final match on December 9. The franchise-based competition, which will include almost 200 players, will be held in five cities, Ranchi, Dehradun, Jammu, Vizag, and Surat. The games begin at 7 p.m. IST. 
The group stage games will be played between the 18th of November 2023 and the 4th of December 2023. The knockout round will start on December 5th. The first round of the knockout will be Qualifier 1, followed by the Eliminator on December 6th, Qualifier 2 on December 7th, and the grand final on December 9th.
The previous season was held in Qatar in March 2023, with Asia Lions winning the maiden title. The first match of the coming season will be between Delhi Capitals and Bhilwara Kings. The teams for the season are India Capitals, Manipal Tigers, Gujarat Giants, Urbanizers Hyderabad, Southern Superstars, and Bhilwara Kings.
Legends League Cricket 2023 Full Schedule
November 18, 2023: India Capitals vs Bhilwara Kings, Ranchi, 7 PM (IST)
November 20, 2023: Manipal Tigers vs Gujarat Giants, Ranchi, 7 PM (IST)
November 21, 2023: Urbanizers Hyderabad vs Southern Superstars, Ranchi, 7 PM (IST)
November 22, 2023: Bhilwara Kings vs Gujarat Giants, Ranchi, 7 PM (IST)
November 23, 2023: India Capitals vs Urbanizers Hyderabad, Ranchi, 3 PM (IST)
November 24, 2023: Bhilwara Kings vs Manipal Tigers, Dehradun, 7 PM (IST)
November 25, 2023: India Capitals vs Southern Super Stars, Dehradun, 7 PM (IST)
November 26 2023: Gujarat Giants vs Urbanizers Hyderabad, Dehradun, 7 PM (IST)
November 27, 2023: Manipal Tigers vs Southern Super Stars, Jammu, 7 PM (IST)
November 29 , 2023: Bhilwara Kings vs Southern Super Stars, Jammu, 7 PM (IST)
November 30, 2023: India Capitals vs Gujarat Giants, Jammu, 7 PM (IST)
December 1, 2023: Bhilwara Kings vs Urbanizers Hyderabad, Jammu, 3 PM (IST)
December 2, 2023: India Capitals vs Manipal Tigers, Visakhapatnam, 7 PM (IST)
December 3, 2023: Gujarat Giants vs Southern Super Stars, Visakhapatnam, 3 PM (IST) 
December 4, 2023: Manipal Tigers vs Urbanizers Hyderabad, Visakhapatnam, 7 PM (IST)
December 5, 2023: Qualifier 1, Surat, 7 pm
December 6, 2023: Eliminator, Surat, 7 PM
December 7, 2023: Qualifier 2, Surat, 7 pm
December 9, 2023: Final, Surat, 7 pm