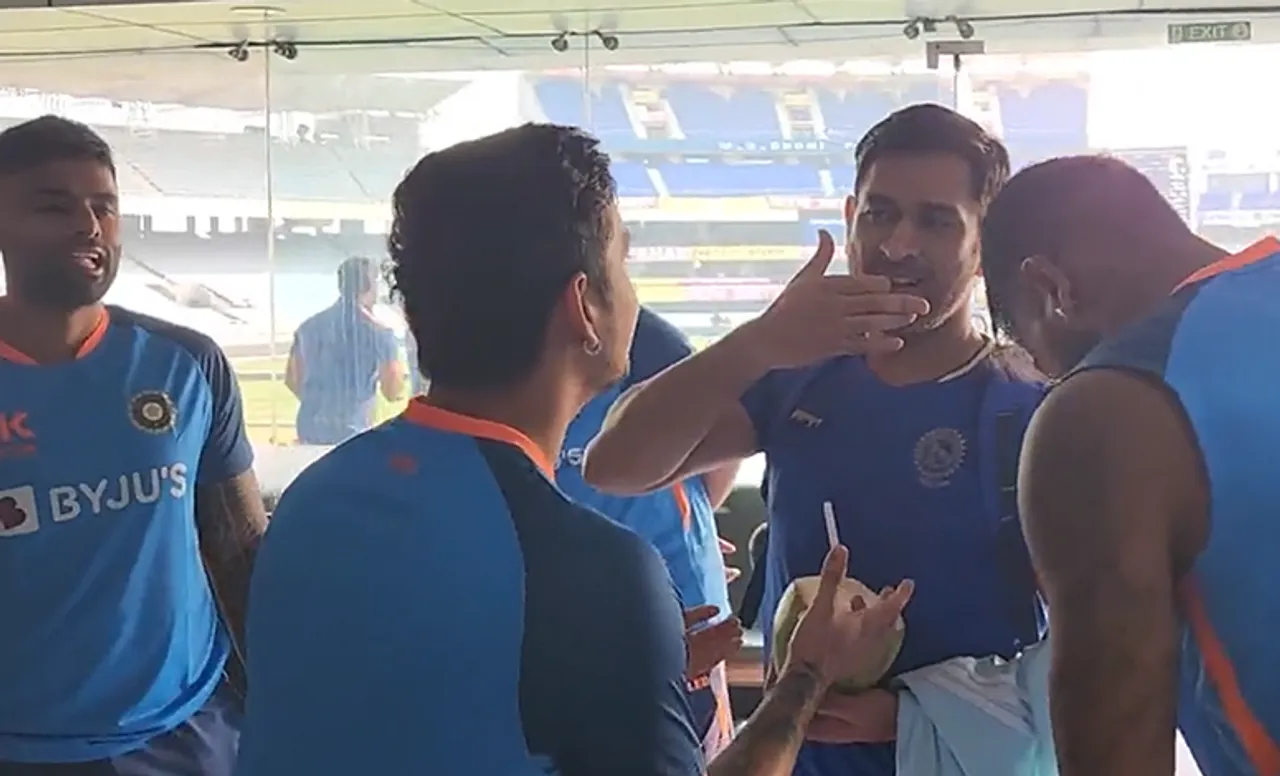 As the first T20I match between India and New Zealand approaches, former India World Cup-winning captain Mahendra Singh Dhoni paid a special visit to the Indian team at the JSCA stadium in Ranchi. A video posted by the Indian Cricket Board on social media shows Dhoni having a conversation with the current team, including captain Hardik Pandya while sipping coconut water during a pre-match training session. Players like Suryakumar Yadav, Ishan Kishan, and Yuzvendra Chahal could be seen surrounding the legendary cricketer and listening to him speak. The 41-year-old also met with the team staff, including the India fielding coach T Dilip.
Earlier in the week, Pandya posted a photo of himself with Dhoni at the latter's residence in Ranchi, captioning it "Sholay 2 coming soon" with a winking emoji and a picture of the two posing on one of Dhoni's vintage bikes.
The Indian team is coming off a successful 3-0 whitewash of the Black Caps in the ODI series and will look to continue their winning streak in the T20I series starting on Friday. The visit from Dhoni, a legend in Indian cricket, is sure to have been a morale boost for the team as they prepare to take on the visitors.
It should be noted that Dhoni is a former captain of India team and he is still considered as one of the most successful captain of India. He is also considered as one of the best finisher in the cricketing world. His presence in the team dressing room will definitely boost the morale of the team.
Here's how the fans reacted after seeing Dhoni visit Team India: 
Din ban gaya dekh ke ^_^

— Prakhar Khanna (@Parkyprakhar) January 26, 2023
MSD Sir Youngsters Ko Tips Dete Huye 😹🙊 #INDvNZ #MsDhoni pic.twitter.com/N3dD7JiqeO

— Oggy (@SirOggyBilla) January 26, 2023
The king is here👑❤️ pic.twitter.com/yJGAVKNJ2M

— monk who never had a ferrari (@monkBinFerrari) January 26, 2023
Look at the happiness 😍😍 in all of their face. It's like kids surrounding the father when he comes back home with gifts. Such a morale booster to all of them 🥰🥰🥰

— Mani Kandan (@littlemani45) January 26, 2023
ranchi me nariyal paani ka dukaan lagane ja rha hu doston 🤟

— Neeche Se Topper (@NeecheSeTopper) January 26, 2023
esmart lagg rahe ho mahiya😆🥰 pic.twitter.com/tMnUEUi7Ti

— Ratnesh (@ratnesh03079) January 26, 2023
Can't wait for him to become the Coach of Indian Cricket Team. ♥️

— Ravi Sharma🇮🇳 (@raviizhere) January 26, 2023
The king inspecting his territory where he ruled for years. pic.twitter.com/WqPB7Q5uiE

— Rohit.Bishnoi (@The_kafir_boy_2) January 26, 2023
@msdhoni continues to fuel the firepower, on and off fields.

— Nirbhay Lumde (@NirbhayLumde) January 26, 2023
My man😭❤️🫂 pic.twitter.com/sR9qT0hxjH

— kaali (@oddtake) January 26, 2023