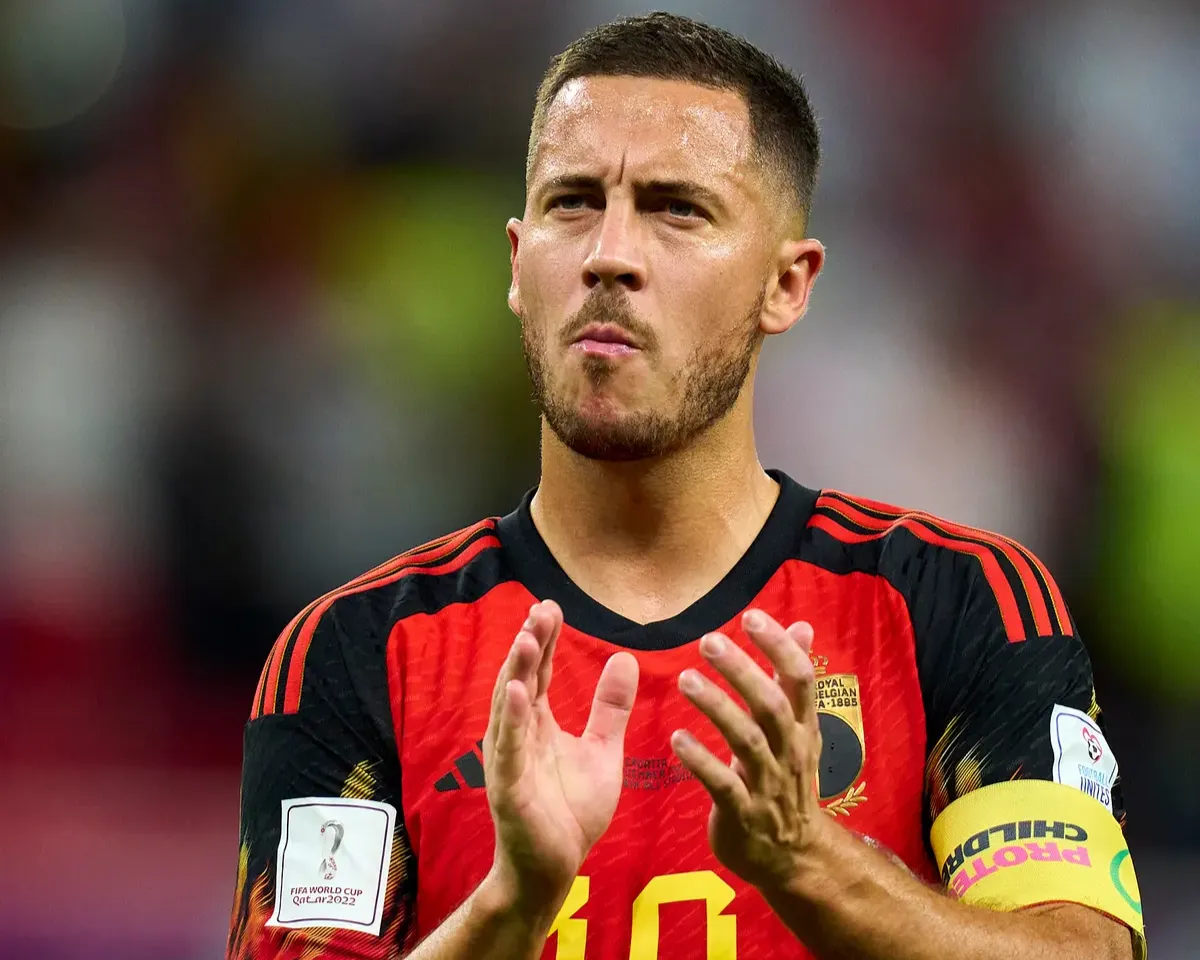 Former Chelsea footballer Eden Hazard has announced his retirement from professional football at the age of 32. He left Real Madrid at the end of last season and was not a part of any club before his retirement. He confirmed his decision by posting on Instagram and said that it was the right moment to hang up his boots. 
The Belgium skipper was without a club after leaving the 'Los Blancos'. He played for clubs like Lille, and Chelsea before ending up with the best club in Europe Real Madrid. He joined Madrid in 2019 for £89m but played just 54 league games for the Spanish giants. Hazard had a disappointing four-year spell at Madrid where he failed to live up to his price tag. 
In 2018 he had a dream spell of his career when he scored three goals at the FIFA World Cup 2018 in Russia for his national side. Belgium eventually lost against France in the semi-final of that edition of the World Cup. They were third placed in the football's mega event. For 'the Blues', he has scored 110 goals in 352 appearances.
I have decided to end my career as a professional footballer: Eden Hazard
Hazard wrote on his Instagram post, "You must listen to yourself and say stop at the right time. After 16 years and more than 700 matches played, I have decided to end my career as a professional footballer. I was able to realise my dream, I have played and had fun on many pitches around the world.
"During my career I was lucky to meet great managers, coaches and teammates - thank you to everyone for these great times, I will miss you all. I also want to thank the clubs I have played for: LOSC, Chelsea and Real Madrid; and thank the RBFA for my Belgian Selection.
"A special thank you to my family, my friends, my advisors and the people who have been close to me in good times and bad. Finally, a huge thank you to you, my fans, who have followed me for all these years and for your encouragement everywhere I have played. Now is the time to enjoy my loved ones and have new experiences. See you off the field soon my friends."
Here's how fans reacted
No true Football Fan will skip this Eden Hazard picture without giving it a like, he gave us a good football show ❤️ pic.twitter.com/4mW6kNGgSn

— Judith's Rose 🌹 🇿🇼 (@DivineMuringani) October 10, 2023
he performed with his heart and soul in this club jersey! sad to see he didn't replicate that at Madrid. happy retirement to him pic.twitter.com/weMAr0v3Zn

— Victor Ogbaegbe 🇨🇦💐 (@naughty_libra07) October 10, 2023
The last pure entertainer in football

Eden Hazard. pic.twitter.com/0h6nkgwb1s

— Out Of Context Sports (@nocontextsporty) October 10, 2023
Thanks for the amazing dribbles, blistering pace and those magical moments, even as a rival you were adored for your beautiful skill set💪🏼 pic.twitter.com/9IsroBvXxU

— ⭐ Seunfunmi 🫶🐾✨ (@seunfunmi002) October 10, 2023
no way people still believe he's better than Salah in 2023

— S (@sev_lfc) October 10, 2023
One of the best players to ever grace the game pic.twitter.com/NH7Zg64bKo

— Elvis Tunde (@Tunnykvng) October 10, 2023
Eden dribbled Almost every player he faced, with so much ease, he made football lovable again for Chelsea fans, we weren't used to that type of player since Zola! Love you so much Eden, best dribbler to grace epl!!!

— Ty keyz (@tykeyz10) October 10, 2023
We cannot replace him pic.twitter.com/gcwsXNO1Ae

— 𝐉𝐄𝐑𝐑𝐘 (@badboy_jerry) October 10, 2023
One of the very best to ever do it, Happy retirement Eden Hazard. pic.twitter.com/V938cJYE9k

— P®£$TIG£ 🤍 (@Horlarprestige) October 10, 2023
Had a better carrer than Neymar. Don't come for me

— Dr Sneaker Nyame (@SneakerNyame_) October 10, 2023