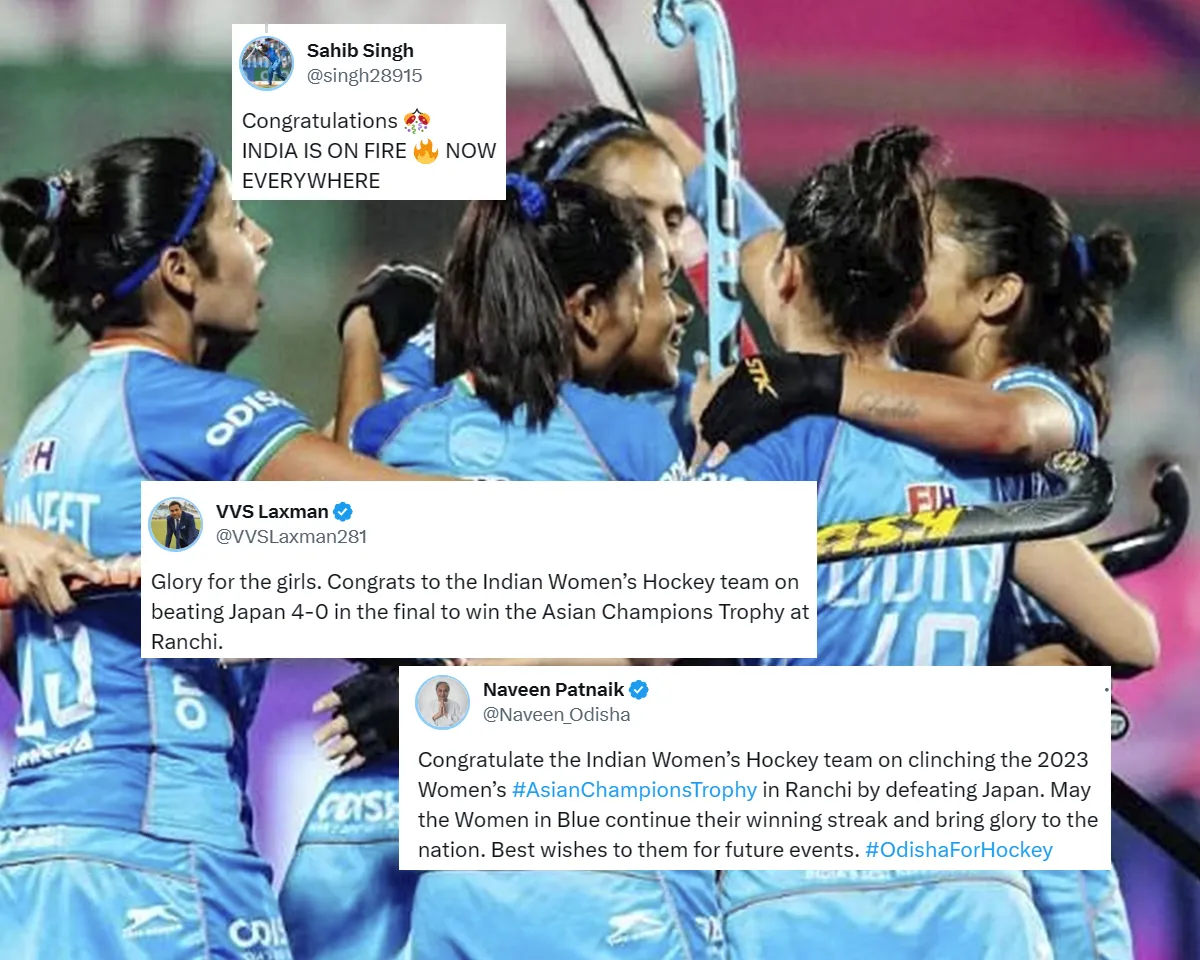 In a thrilling showdown at the Marang Gomke Jaipal Singh Astroturf Hockey Stadium, the Indian Women's Hockey Team clinched a resounding 4-0 victory over the reigning champions, Japan, securing the Jharkhand Women's Asian Champions Trophy Ranchi 2023 on a high note. This triumph marked India's second Women's Asian Champions Trophy title, underlining their prowess in the sport.
The goals for India were scored by Sangita Kumari in the 17th minute, Neha in the 46th minute, Lalremsiami in the 57th minute, and Vandana Katariya in the 60th minute. Their collective performance throughout the tournament, marked by an undefeated streak, led Hockey India to declare a reward of Rs 3.00 Lakhs for each member of the Indian Women's Hockey Team and Rs 1.50 Lakhs for each member of the support staff, in recognition of their exceptional achievements.
From the very beginning, India adopted an assertive strategy reminiscent of their earlier encounter with Japan in the Pool stage. They consistently applied pressure to unnerve the reigning champions. Deepika's early attempt to secure a lead was thwarted by Japan's goalkeeper Eika Nakamura. Despite their offensive pressure, the first quarter ended without a score.
However, India's persistence paid off in the second quarter when Sangita Kumari scored a splendid goal in the 17th minute. Japan responded with counterattacks, even appearing to score at one point, but a successful video referral by India revealed an infringement. Despite Japan earning three penalty corners, India's resolute defence allowed them to maintain a 1-0 lead at halftime.
Sangita Kumari and team shine as India dominates in Asian Champions Trophy!
The third quarter saw India intensify their offensive efforts, but Japan's strong defence held firm. While both teams probed each other's defences, they couldn't break through, leaving India with a 1-0 lead by the quarter's end.
In the final quarter, India secured three consecutive penalty corners, and on the third attempt, Neha deftly deflected the ball into the net, extending India's lead to 2-0. Japan earned a penalty stroke but India's Captain, Savita, made a crucial save. In the closing moments, Lalremsiami delivered a goal via a penalty corner, and Vandana Katariya executed a splendid field goal, sealing India's remarkable 4-0 victory.
Hockey India President Padma Shri Dr. Dilip Tirkey congratulated the team, emphasizing their dedication and commitment to hockey. Hockey India Secretary General Shri Bhola Nath Singh praised the team's exceptional achievement and highlighted their inspirational teamwork, looking forward to more extraordinary victories in the future.
See how fans have reacted: 
Total Domination..! Congratulations to the Indian Women's Hockey Team for Winning their 2nd Women's Asian Champions Trophy..Undefeated...🏆🏑🇮🇳
Now we want the Women's Indian Hockey League...🙏🏼 #TeamBharat #TeamIndia

— Mr. Neelsmit (@Xtreme1ndian) November 5, 2023
JAY HIND VANDE MATRAM BHARAT MATA KI JAY 💪🇮🇳🕉️🛕

LOVE OUR JAPANESE FRIENDS 🇮🇳💜🇯🇵

— The Fantasy Sixers (@TSixers59554) November 5, 2023
Done us proud. All glory to the fantastic, fearless team

— Ranbir Kaleka (@Ranbirkaleka) November 6, 2023
Well Done girls 👏👏👏👏👏👏👏👏👌👌👌👌👌👌 !!!!!!!!!!! Heartiest Congratulations !!!!! PROUD to call myself your countryman !!!!

— P Satyanarayanan (@satya3574) November 6, 2023
Are bhaii, what a match this was..., that save from Savita..🔥

— Picasso (@6icasso) November 5, 2023
siami and Vandana...gold gold gold performance. specially Vandana.
is she really giving yoyo test !? her in q2 that breaching single handedly was exceptional.and siami she her every touch to ball is 🔥🔥🔥🔥🔥🔥🔥🔥

— nirvana (@_nirvana_07) November 5, 2023
Congratulations. Next target will be to get the Olympic qualification in the Ranchi Olympic Qualifier tournament in Jan 2024. After that the target should be to get an Olympic medal.

— Michael Carvalho (@carvalho_mike) November 5, 2023
Sublime Hockey on display!! Well done team! Congratulations to everyone!!

— Sure Footed (@Sure_Footed) November 5, 2023
November 5, 2023