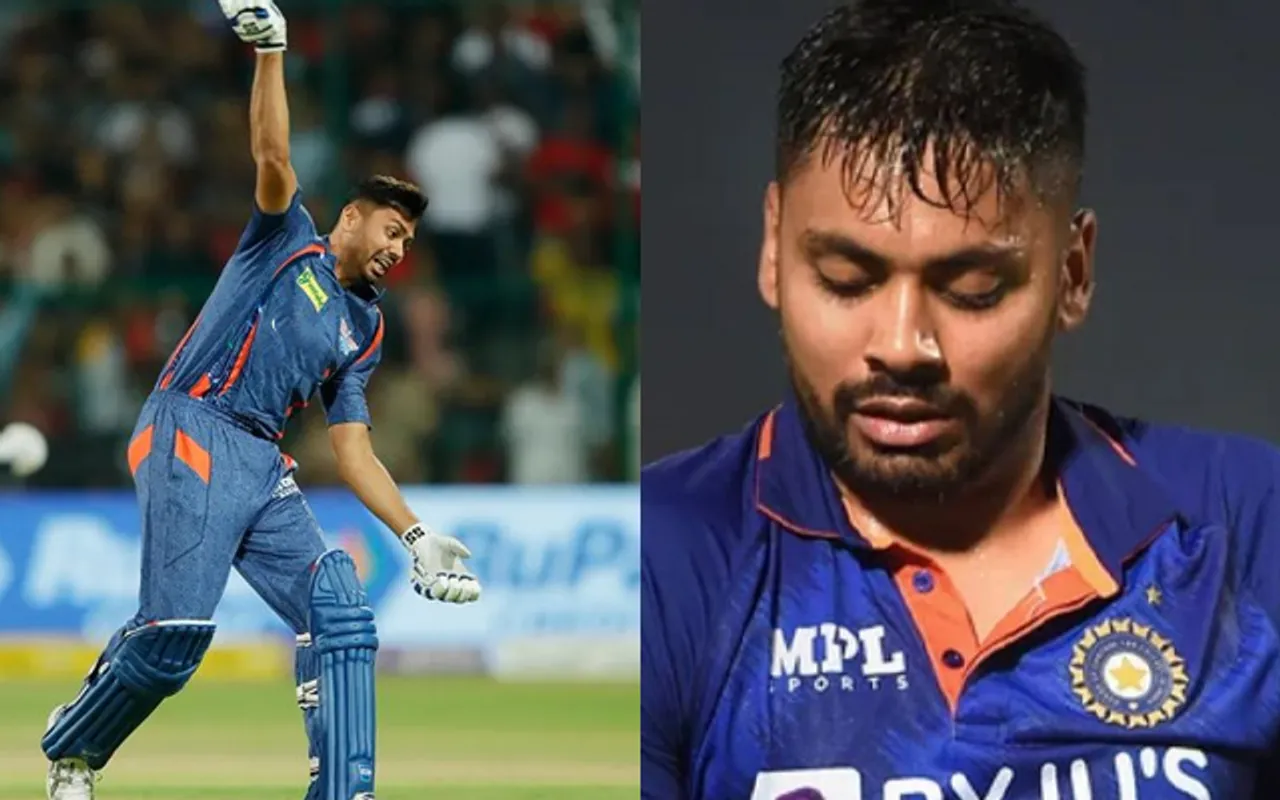 Royal Challengers Bangalore (RCB) and Lucknow Super Giants (LSG) competed in the 15th game of the recently-concluded Indian Premier League (IPL) 2023. The KL Rahul-led squad won this game by a narrow margin of just one wicket. They only needed one run to win on the last ball of the match, and LSG speedster Avesh Khan, who was on strike, ran a single off a bye to give his team the victory in a thrilling game. Avesh, however, lost control of his emotions following the victory and pounded his helmet on the ground in celebration.
After the incident, he had to face the wrath of fans on social media for his immature behaviour. However, recently, during an interview, the 26-year-old fast bowler admitted that he regrets the incident and said that it was a bit too much for him. He also said that it came out in just the heat of the moment. 
"Yeh social media mein mera mahool bana rehta hai and helmet incident thoda jyada hogaya tha (That helmet incident was a bit too much, I shouldn't have done that). I realised later that I shouldn't have done this. It just happened in the heat of the moment. I now feel sad that yaar yeh sab cheez nahi karna tha." Avesh was quoted as saying by News18.
Selection is not in my hand: Avesh Khan
Meanwhile, the Indian team who recently suffered an embarrassing 209-run loss in the World Test Championship (WTC) 2023 final against Australia, will now gear up for the long home series against West Indies. Avesh also talked about that and said that he is hoping for his selection and he desperately wants to make a comeback in the Indian team. However, it'd be interesting to see whether he gets an opportunity or not as there are many new faces who have done better and are also waiting.
"I'm hoping to be there. Selection is not in my hand as a player, one goes through ups and down. I want to make a comeback and just hoping to do that," Avesh said.
Here's how fans reacted:
U might regret but it was very funny for us 🤣

— Sam (@beyond8birthday) June 18, 2023
Bhai one advice , Don't mess with KING KOHLI

— Mohammed Mustaqhim (@Mohamme32199553) June 18, 2023
Bhai don't leave it. Beat moment tha.

— Smoking specialist💥🏏 (@GhoshSSS) June 18, 2023
Avesh mai aa kar kar diya bechare nai.

— Abhishek Kumar (@HajimaiAbhishek) June 18, 2023
Isi ke wajeh se itna mahabharat hua...

— Amit🇮🇳 (@Amit_615) June 18, 2023
Not too much .......it was ♾️ much

— Seetharam (@SRchintha) June 18, 2023
Avesh mein aagaya Avesh Khan...

— Hameed Pasha حمید پاشا (@demuremystique) June 18, 2023
Tu toh uss din tha nhi.
Agli baar mil phir .

— Mr.Allrounder (@Allrounder7747) June 18, 2023
The helmet hero🔥🔥

— Narayananivas (@narayananivas) June 18, 2023