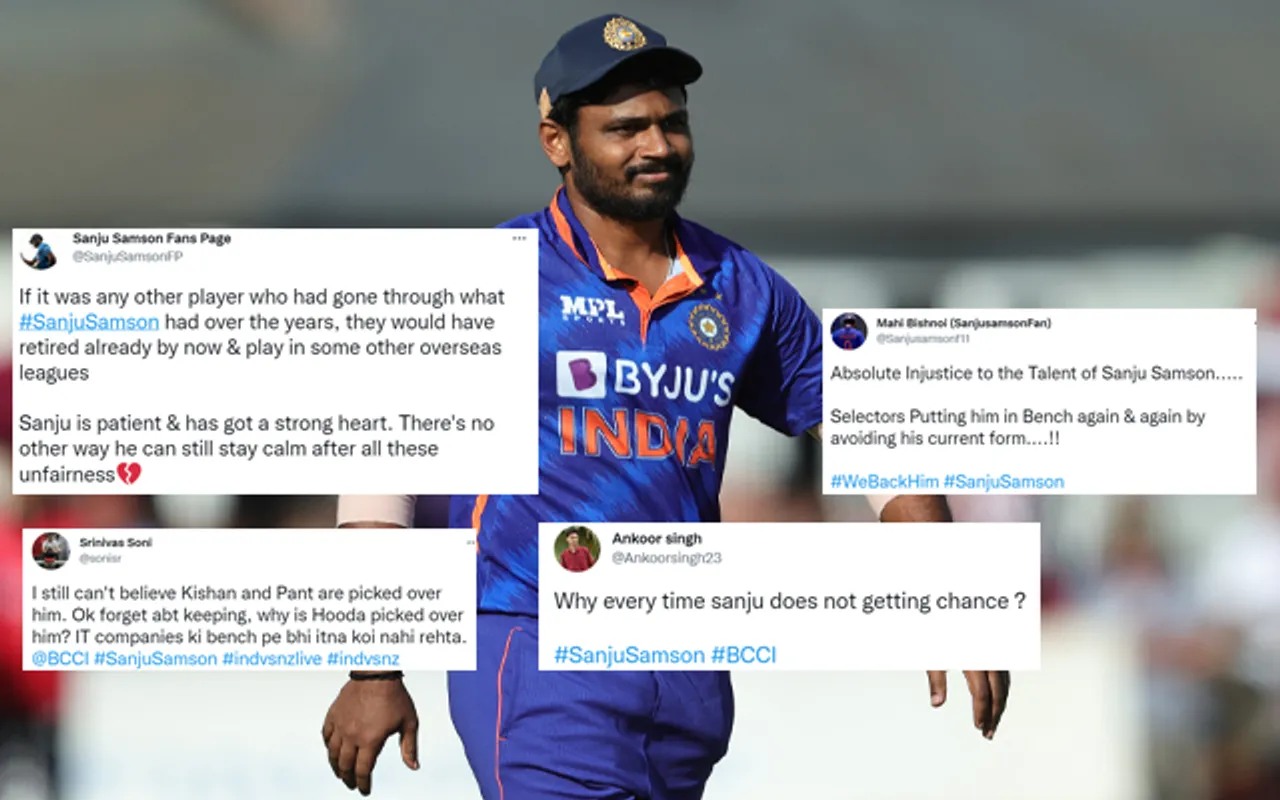 The final match of the T20I series between India and New Zealand was played at McLean Park in Napier on November 22, Tuesday. After the first match was abandoned due to rain, the second game but a packed crowd witnessed a full game at Bay Oval in Mount Maunganui. However, it started raining in Napier after the toss and the pitch was under covers but the dark clouds fade away soon.
New Zealand is set to play in the absence of their skipper Kane Williamson as he misses the match due to a medical appointment. Tim Southee is named as the captain for the third T20I match of the three-match series. Marck Chapman has replaced Williamson and made his way into the squad.
After winning the toss Tim Southee opted to bat. During the toss, Hardik Pandya announced only a single replacement as Harshal Patel comes in the place of Washington Sundar. However, the fans were expecting to see Sanju Samson in the place of Rishabh Pant or Shreyas Iyer but that didn't happen.
Sanju Samson was not named in the third T20 as well
It was expected that Samson would feature in the playing 11 against New Zealand. In fact, the fans were thinking that he would be a permanent fixture in the playing 11 against the kiwis, at least in the T20I series. The 28-year-old has enough experience in the shortest format as he is also the Rajasthan Franchise in Indian T20 League.
Shreyas Iyer got the opportunity in the second T20I match but he continued to struggle against short-pitch deliveries. Iyer went deep inside his crease expecting a bouncer from Lockie Ferguson and was dismissed hit wicket. There were thoughts that Samson will replace Iyer in the third T20I but that didn't happen.
After getting brutally beaten by England in the 20-20 World Cup 2022 semi-final, many thought the selection approach would be different from now but India went with the same approach and Sanju was ignored again. The fans were also frustrated with this decision and expressed it on Twitter.
Here are some of the tweets:
#SanjuSamson is need of India.
No more rishabh pant.

— Jagjit vyahut (@jagjitstm) November 22, 2022
I still can't believe Kishan and Pant are picked over him. Ok forget abt keeping, why is Hooda picked over him? IT companies ki bench pe bhi itna koi nahi rehta. @BCCI #SanjuSamson #indvsnzlive #indvsnz pic.twitter.com/FC9xxq65F0

— Srinivas Soni (@sonisr) November 20, 2022
Why every time sanju does not getting chance ?#SanjuSamson #BCCI pic.twitter.com/Tm3XP69roL

— Ankoor singh (@Ankoorsingh23) November 22, 2022
Can't believe, Me came to see Sanju Samson and Umran Malik in T20Is vs New Zealand💔#SanjuSamson #UmranMalik #INDvNZ #NZvIND #T20Ipic.twitter.com/UkENwqXyBB

— Ashutosh Srivastava 🇮🇳 (@kingashu_786) November 22, 2022
Absolute injustice dirty politics by bcci , always with you man #SanjuSamson💔💔 pic.twitter.com/SWPYAw6dD1

— Sreenath nebu (@NebuSreenath) November 22, 2022
Sanju Samson T20I debut in 2015 – Played only 16 matches

Rishabh Pant T20I debut in 2017 – Played 65 matches
Sanju Samson T20I debut in 2015 – Played only 16 matches

Rishabh Pant T20I debut in 2017 – Played 65 matches#SanjuSamson

— desh c2 jain (@deshc22) November 22, 2022
I heard everyone criticising why people are chanting "sanju ,sanju" and why not "India, India".It's just because to alert BCCI that a boy named sanju samson is there in Team India.
Show me one solid reason why rishab is still playing? Gabba????#SanjuSamson

— akshay santhosh (@akshays84756920) November 22, 2022
Wtf man! He is the captain of @rajasthanroyals what kind of reputation do you need to make him play for india ? #BCCI #SanjuSamson pic.twitter.com/vsOcvmCY5t

— Shubh Seth 🇮🇳 (@ShubhSeth11) November 22, 2022
#BCCI keep sprt our kid #RishabhPant give him 100 more chance and keep avoid talntd #SanjuSamson pic.twitter.com/sE6DB8ug9g

— Harshadvv (@Harshadvv1) November 22, 2022