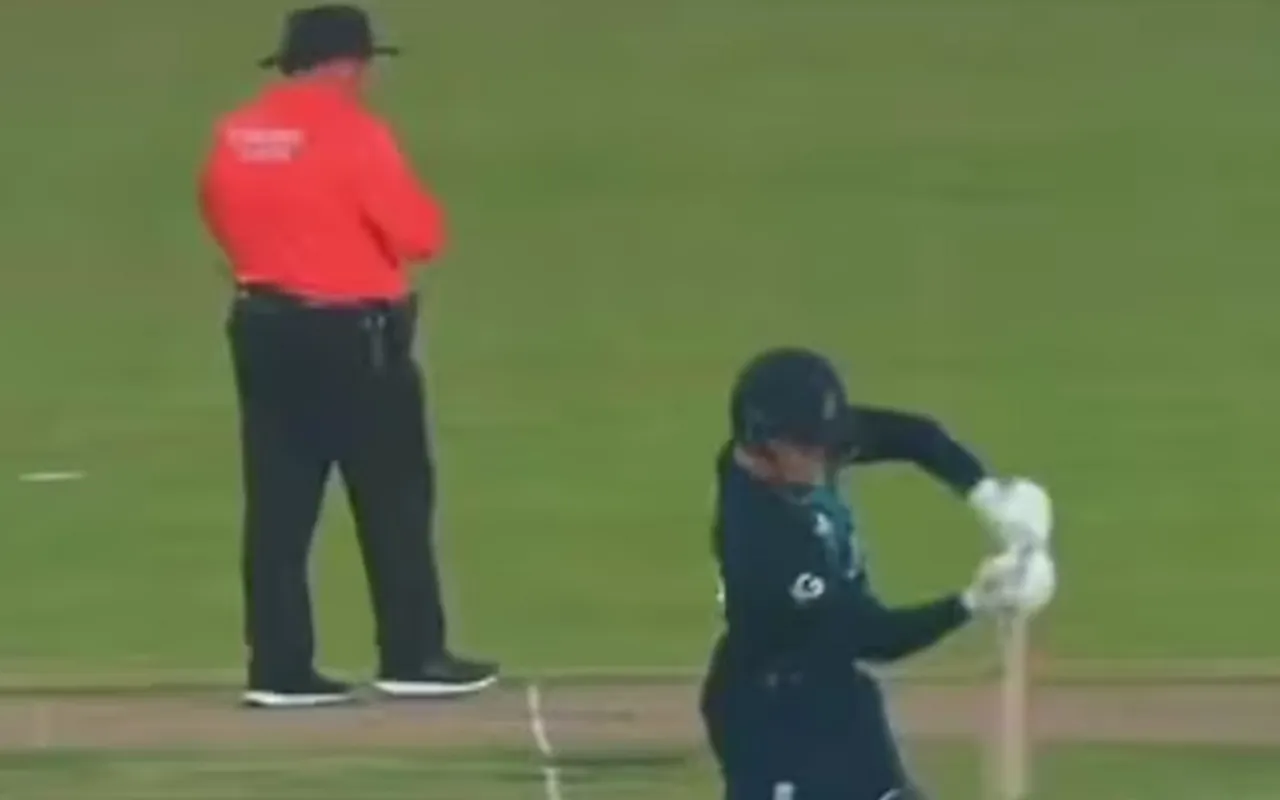 The first match of the three-match ODI series was played between South Africa and England on Friday, January 27. The Proteas performed well and defeated England by 27 runs. South African captain Temba Bavuma won the toss and decided to bat first and set a target of 298 runs. In reply, the England team were bowled out for 271 runs.
They had to face defeat by 27 runs. While there were discussions about Africa's brilliant performance in the match, a video of the umpire's irresponsible act also surfaced, and a lot of uproars are being created on social media.
Watch the video here:
Erasmus 🤣 pic.twitter.com/pWAHqUHa7L

— mon (@4sacinom) January 27, 2023
The game of 50 overs is very long, and in such a situation it becomes difficult for the umpire to remain active all the time. A similar case came to the fore during the England innings when umpire Marais Erasmus stood facing the spectators instead of the batsman and the bowler whose video is becoming fiercely viral on social media.
Brilliant performance by the South African Team
During the England innings, Anrich Nortje came to bowl the 25th over. Umpire Maris Erasmus was standing as the leg umpire. In such a situation, his job was to see the height of the ball and help the umpire present on the pitch, but instead of looking at the ball, he stood with his head bowed towards the audience and in the meanwhile, Jason Roy hit Nortje's ball and played the shot too.
At the same time, after coming to the fore, this video is becoming fiercely viral on social media. Many people are writing that the umpire has no interest in ODIs, while many people are also appealing to the apex cricket body to look into it. Apart from this, many wonderful memes are also being made on it.
Here's how fans reacted:
When Rajanidanda is more important than your job

— Prasad Rajput (@Prasad__Rajput) January 28, 2023
Vimal kha rha hoga😂

— Rohit Ratnani (@rohit_ratnani) January 28, 2023
khaini ragad rha tha kya

— Marwadi (@gaitonde07) January 27, 2023
Notice period?🤔

— Saurabh Joshi (@Saurabh43272885) January 28, 2023
Nah, only "खैनी" lovers can get this

— H K Harshit (@hkharshit01) January 27, 2023
He's tweeting 'it's about time Roy got some runs'

— AR (@Edge2slip) January 27, 2023
He's deeply hurt cz he didn't get UMPIRE OF THE YEAR AWARD 😭

— ☾⋆˚ (@jal_parri15) January 28, 2023
When a crush responds to your hi

— Prasad Rajput (@Prasad__Rajput) January 28, 2023