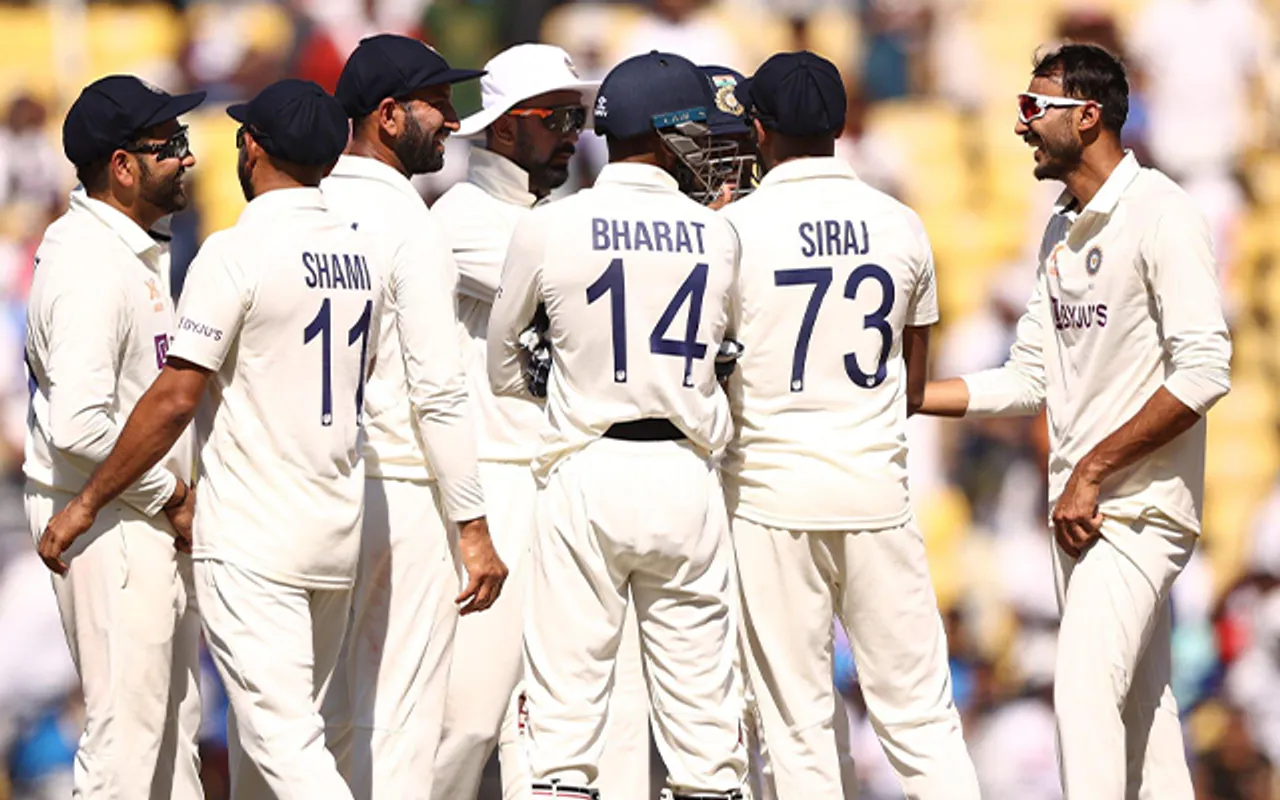 India and Australia recently played a one-sided Test match at Nagpur, with India emerging victorious by a huge margin. The match was expected to be a closely contested encounter, but it turned out to be a one-sided affair, with the Indian team dominating from start to finish.
Australia won the toss and decided to bat first, but they failed to come up with a good total. The Indian bowlers were on top in the first innings, with Ravindra Jadeja taking 5 wickets and Ravichandran Ashwin taking 3. Marnus Labuschagne was the highest scorer for Australia, with 49 runs.
In the second innings, India came into bat and put up a magnificent performance, scoring 400 runs. Rohit Sharma was the star of the show, scoring 120 in 212 balls, with 15 fours and 2 sixes. Ravindra Jadeja made 70 off 185 balls, with 9 fours, and Axar Patel made 84 off 174 balls, with 10 fours and 1 six. The Indian batting performance was solid and disciplined, and they put pressure on the Australian bowlers throughout the innings.
In the third innings, Australia were already 223 runs behind and they failed to come up with a good reply. The team could only make 91 runs, and they were bowled out in quick time. Ashwin was the best bowler, taking 5 wickets, with Jadeja taking 2. The Australian batting performance was lacklustre, and they were unable to put up a fight against the Indian bowlers.
The match was a great showcase of the Indian team's strength and dominance in the world of cricket. The Indian bowlers were on top form and they were able to restrict the Australian batsmen. The Indian batsmen also played their part, scoring runs at a good pace and putting pressure on the Australian bowlers.
The match was a memorable one for Indian cricket fans, as the team put up a fantastic performance. The win was a testament to the team's hard work and preparation, and it will go down as one of the greatest moments in Indian cricket history. The Indian team will look to carry this momentum forward and continue their winning streak in the upcoming matches.
As India takes a commanding lead in the four-match series, let's look at how Twitter reacted to India's win against Australia: 
Could be wrong, but I can't help thinking Aus have overthought things and got sucked into the pre-match pitch talk, much of that coming from Aus, ironically. That aside, their weaknesses against spin have been thoroughly exposed by Jadeja and Ashwin. #BGT #INDvAUS

— Melinda Farrell (@melindafarrell) February 11, 2023
Australia's batting in the 2nd inning. #AUSvsIND #INDvAUS #BGT2023 @FoxCricket pic.twitter.com/piAKozdQUX

— Jaimin Brahmbhatt (@Jaimin98__) February 11, 2023
Who is changing the pitch 😭😭😭

(🤣🤣🤣)#IndVsAus2023 #BGT2023 pic.twitter.com/fKot0TamfQ

— M.D. Vaishnav (@computerking45) February 11, 2023
Loved the way India prepared for this series and this is called proper domination. Rohit leading from the front with a brilliant 💯. Jaddu and Axar putting in memorable all-round performances and all the bowlers showing their skills. Congratulations @BCCI ,Great start to #BGT2023 pic.twitter.com/zGupQNVJWF

— VVS Laxman (@VVSLaxman281) February 11, 2023
What a win for India. Total domination on Australia. Well played Ashwin, Rohit, Shami, Jadeja and Akshar.#INDvsAUS #BGT2023 pic.twitter.com/0VO8Vocho2

— Riya (@are_yrr_riya) February 11, 2023
#BGT2023 #INDvAUS pic.twitter.com/atIlf19cNs

— Jignesh Thakar (@tj6600) February 11, 2023
Dear Aussies, Please update your batsmen to a better version.🙏🏻

At least show some fight, kyuki humein aise khelne me...#INDvAUS #AUSvIND #BGT2023 #AUSvsIND pic.twitter.com/C0ATWgMFOp

— Sab MohMaya Hai (@PKMKB_56) February 11, 2023
Aussies right now #INDvAUS #BGT2023 #INDvsAUSTest pic.twitter.com/cxPZzAvTRu

— sarthak srivastava (@HaisyThe) February 11, 2023
"Turning Pitch", "Practiced against Ashwin's duplicate", "Prepared for Axar", "Rough created for left-handers", "blah blah blahhh".#INDvAUS #BGT2023 #AUSvIND

— Priyansh Shah (@Priyansh_108) February 11, 2023