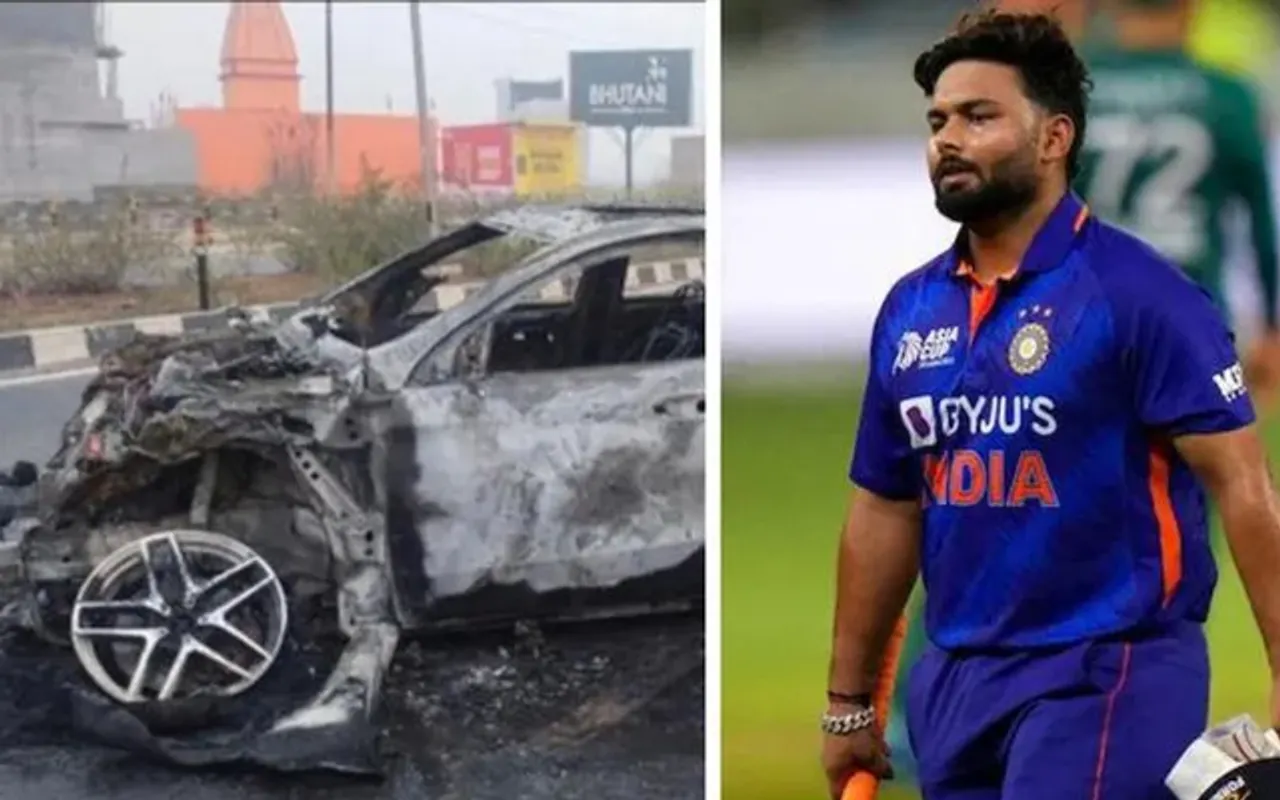 Indian cricketer Rishabh Pant sustained some injuries after a car accident on Friday, December 30. His car caught fire following the crash during his drive from Delhi to Roorkee at Narsan, Haridwar district, which is about 90 km from Dehradun. He was driving his Mercedes car, which met with an accident.
Pant got some injuries to his head, knee, and shin as a result of the accident. According to police, the star cricketer was traveling alone in the car when his Mercedes GLE hit the divider railing on the Delhi-Haridwar highway at around 5:30 am.
"Hearing a loud sound of the accident, nearby villagers along with the local cops rushed to the spot and pulled him out of the car. He was then rushed to a nearby hospital from where he was referred to a major hospital in Dehradun,' said Swapn Kishor Singh, superintendent of police, Haridwar.
"Pant sustained injuries on his forehead, a hand, and right knee. However, he is conscious and able to talk. The car he was driving was completely burnt. He is lucky to survive the severe accident." The officer further added.
The Pictures and videos are looking really scary
Pant was part of India's playing XI in the recently concluded second Test against Bangladesh in Dhaka on Sunday (December 25). In that game, he was the top-scorer for India in the first innings by making 93 runs from 105 balls. Indian cricket announced the squad for the upcoming three-match ODI and T20 series against Sri Lanka. But Pant is dropped from both the ODI and T20 series. The board did not give any reason for his exclusion, but it was reported that he was given rest.
Uttarakhand Chief Minister Pushkar Singh Dhami inquired with officials about details related to the accident and ordered them to make all necessary arrangements for the treatment on a priority basis. However, in the pictures that have surfaced from the accident, one can see his car completely burned.
CCTV footage when cricketer #RishabhPant's car met with an accident. pic.twitter.com/q8Rd2BUDlf

— Nikhil Choudhary (@NikhilCh_) December 30, 2022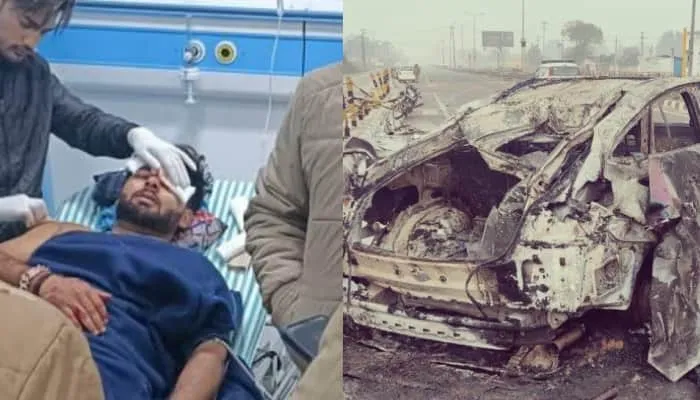 Here's how fans reacted to his accident:
Praying for Rishabh Pant. Thankfully he is out of danger. Wishing @RishabhPant17 a very speedy recovery. Get well soon Champ.

— VVS Laxman (@VVSLaxman281) December 30, 2022
Really hope Rishabh Pant is ok. The car looks absolutely quashed. Horrific to see even.

— Abhinav Mukund (@mukundabhinav) December 30, 2022
Thinking about Rishabh Pant this morning and desperately hoping he is fine and recovers soon.

— Harsha Bhogle (@bhogleharsha) December 30, 2022
Thoughts and prayers with Rishabh Pant. Get well soon brother 🙏🙏 @RishabhPant17

— Litton Das (@LittonOfficial) December 30, 2022
Gell Well Soon @RishabhPant17
God heal you soon 🙏🏻
Please God #RishabhPant pic.twitter.com/JdxxWoYgIK

— Roger Binny 🇮🇳 (@iRogerBinny) December 30, 2022
My thoughts and prayers are with Rishabh Pant as he fights his way back to recovery. I have spoken to his family and the doctors treating him. Rishabh is stable and undergoing scans. We are closely monitoring his progress and will provide him with all the necessary support.

— Jay Shah (@JayShah) December 30, 2022
Did I am hearing correct news of @RishabhPant17
Praying for sppedy recovery to #RishabhPant#DriveSafe pic.twitter.com/X6MJLfANMj

— Munaf Patel (@munafpa99881129) December 30, 2022
Thoughts and prayers with @RishabhPant17 … praying that it's nothing serious and he recovers well!! Stay positive champ!!

— Robin Aiyuda Uthappa (@robbieuthappa) December 30, 2022
Just hearing about Rishabh Pant.. I really hope he's okay. Thoughts are with him.

— Chloe-Amanda Bailey (@ChloeAmandaB) December 30, 2022
Praying for @RishabhPant17

— Shaheen Shah Afridi (@iShaheenAfridi) December 30, 2022
Just heard the shocking news about Rishabh Pant's car accident. Hope he's not seriously injured and that he recovers quickly. Horrendous news to end the year.

— Melinda Farrell (@melindafarrell) December 30, 2022
Thanks God Rishabh Pant is out of danger and X - Ray suggested no fracture in the body. pic.twitter.com/Nm3i3XWp3v

— Aru💫 (@Aru_Ro45) December 30, 2022
Wishing a speedy recovery to @RishabhPant17 Our prayers and wishes are always with you. Get well soon 🙇‍♀️🙇‍♀️🙇‍♀️#RishabhPant #GetWellSoon

— Gracy Angel (@Gracy_Angel007) December 30, 2022
Thank God Nothing happened 🙏
Get well soon my man #RishabhPant
You are champion Comeback stronger brother .#Champ #Fighter pic.twitter.com/sfWVe8KMLx

— sunny singh (@sunny_sisma) December 30, 2022
Oh my god! The pictures are really scary. Get well soon 🙏🏻 #RishabhPant

— Harsh Chandel (@Fanofmegastar) December 30, 2022
Not a good news to wake up with...wishing rishabh pant a speedy recovery#RishabhPant

— Zaraq Afzal (@zaraq_afzal) December 30, 2022