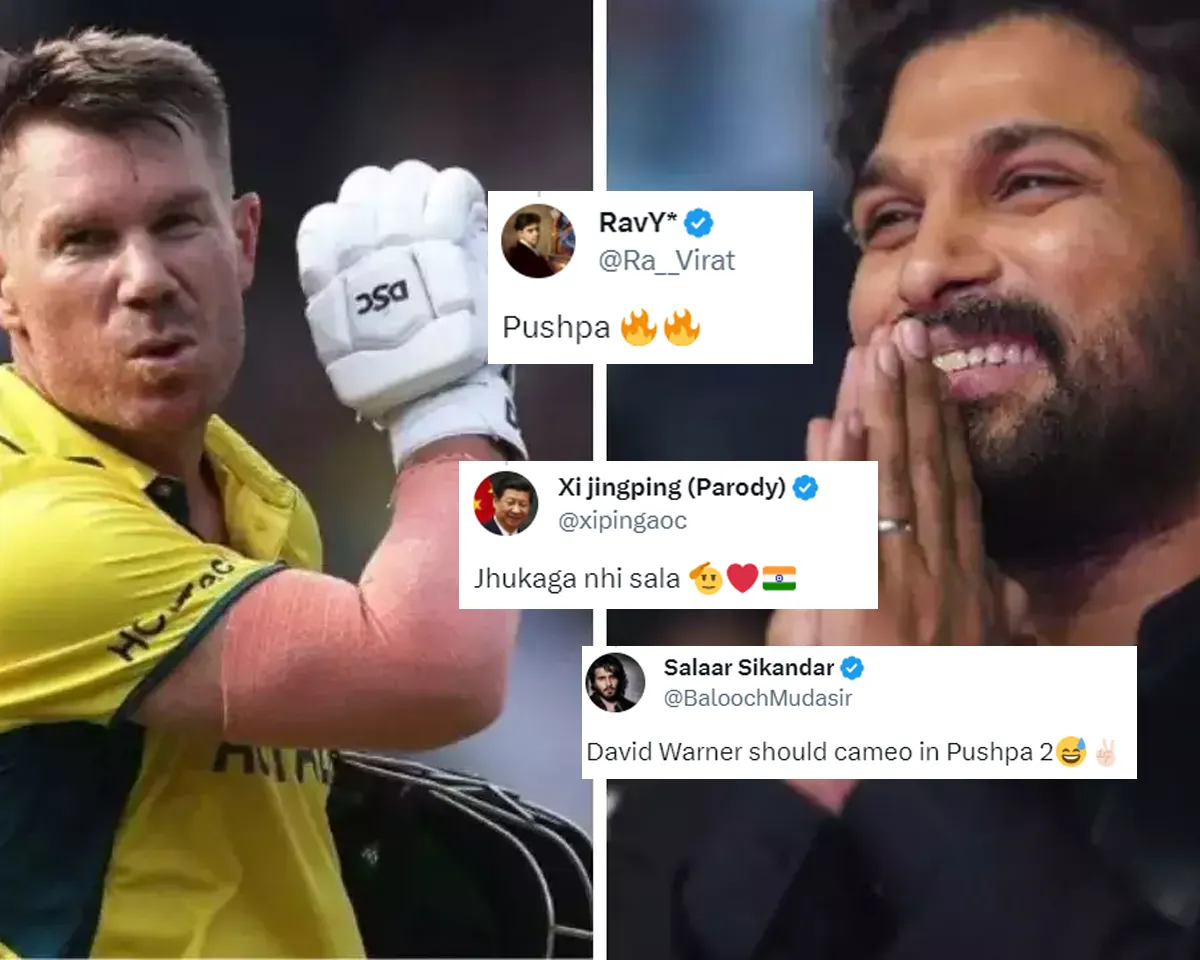 Australian star player David Warner is celebrating his 37th birthday on Friday. What made this occasion even more special was that Allu Arjun had taken to social media to wish the Australian batter.
David Warner is a raging hit in India not only due to his batting but also his love for Telegu cinema. The movie Pushpa which is an Allu Arjun starrer has seen his famous hand gesture being adopted by David Warner.
During his last two centuries in two games against Pakistan and the Netherlands David Warner has adopted the famous Pushpa celebration. This has sent the Indian fans into overdrive
Allu Arjun greets David Warner on his birthday –
Telegu movie star Allu Arjun took to Instagram and posted a story that had the fans going wild. The well-known movie hero wished star Australian batter David Warner on his 37th birthday on Friday.
Allu Arjun wrote, "Many happy returns of the day to the cricket superstar @Davidwarner31. Wishing you the best of everything you want and more..". The star had also posted a picture of David Warner doing the Pushpa Celebration post scoring his century against the Netherlands.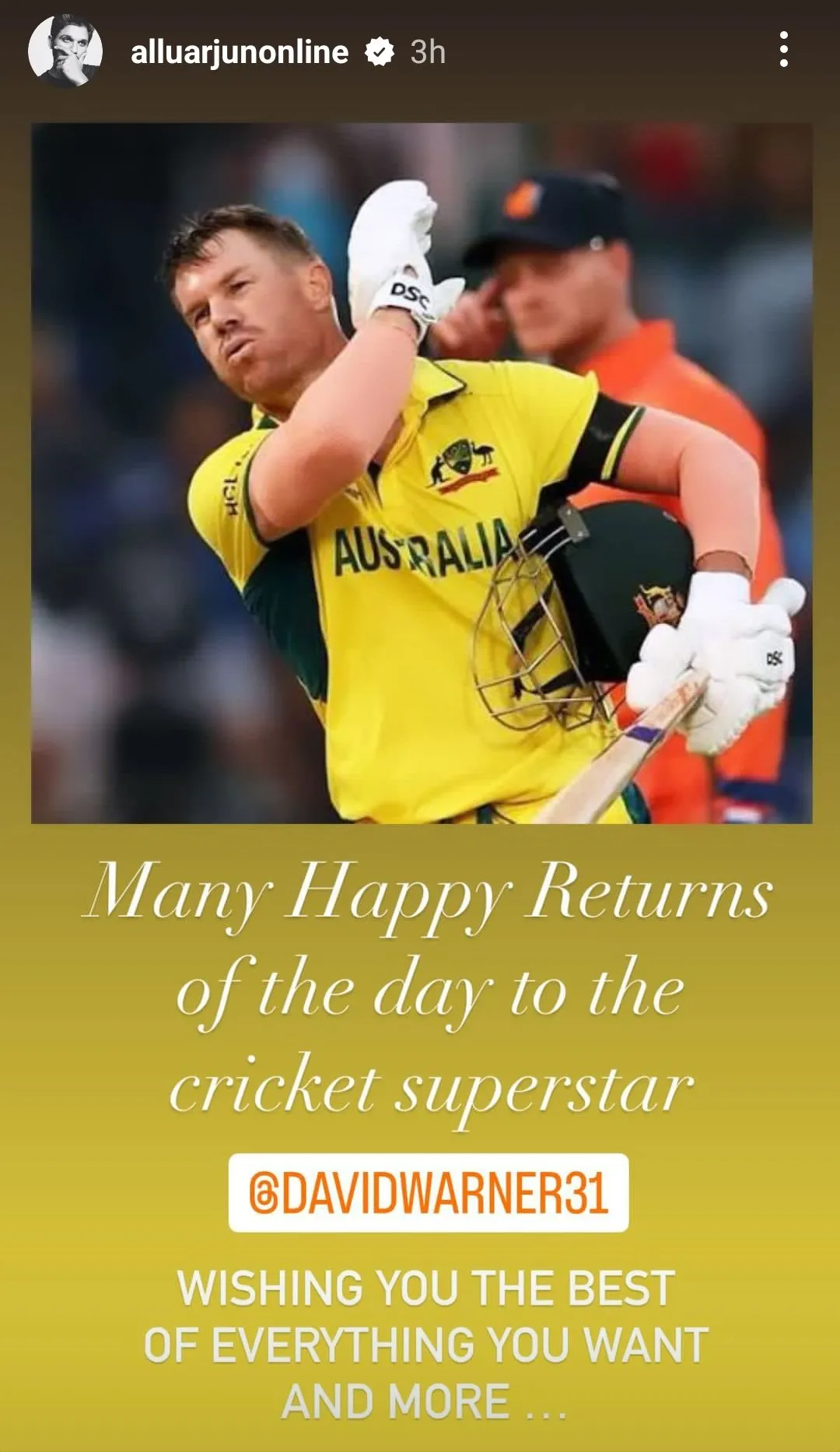 Pushpa is a hugely successful movie and the mannerisms and dance steps has been copied by fans worldwide. David Warner infact has done the dance step of Allu Arjun from the song "Srivalli" which was played by the DJ in New Delhi. All these actions has sky-rocketed David Warner's popularity even more.
The 37-year-old will next be seen in action against New Zealand on Saturday in Dharamshala. The Aussies beat the Dutch by a massive margin of 309 runs in their last game. This was Australia's third win on the trot after losing their first two games of the ODI World Cup 2023 campaign.
David Warner has been having a dream ODI World Cup 2023 so far. The left-handed batter has scored 335 runs with an average of 67 so far. In his last two games David Warner has scored 163 versus Pakistan in Bangalore and followed it up with 104 runs versus the Dutch in New Delhi.
The Australian opener now has six ODI World Cup centuries just one short of Rohit Sharma on 7. Pat Cummins will bank on Warner's form and hope the dynamic opener can lead them to yet another win over the Kiwis on Saturday. The fans meanwhile are still waiting and wondering for a proper collaboration between Allu Arjun and David Warner.  
Here's how the fans reacted - 
Allu Arjun wishing happy birthday to David Warner.

- The Pushpa brothers....!!!! pic.twitter.com/OOeWCqRHRN

— Johns. (@CricCrazyJohns) October 27, 2023
David Warner should cameo in Pushpa 2😅✌🏻

— Salaar Sikandar (@BaloochMudasir) October 27, 2023
Jhukaga nhi sala 🫡❤️🇮🇳

— Xi jingping (Parody) (@xipingaoc) October 27, 2023
Pushpa 🔥🔥

— RavY* (@Ra__Virat) October 27, 2023
Happy birthday @davidwarner31 You'll soon be receiving an aadhar card and a role in an Indian movie. Enjoy your day 😬🎉 pic.twitter.com/7chtiJpr7b

— CHIRAG TALWAR (@Chiragtalwar23) October 27, 2023
Happy birthday australian pushparaj pic.twitter.com/F8jb126mgr

— Harsh (@harshthengineer) October 27, 2023
Pushpa is here to rule pic.twitter.com/i3urgWrvjd

— Secular Chad (@SachabhartiyaRW) October 27, 2023
Pushparaj❤ Warner pic.twitter.com/MuMCyXUA96

— GORDXROHIT (@gordxrohit) October 27, 2023