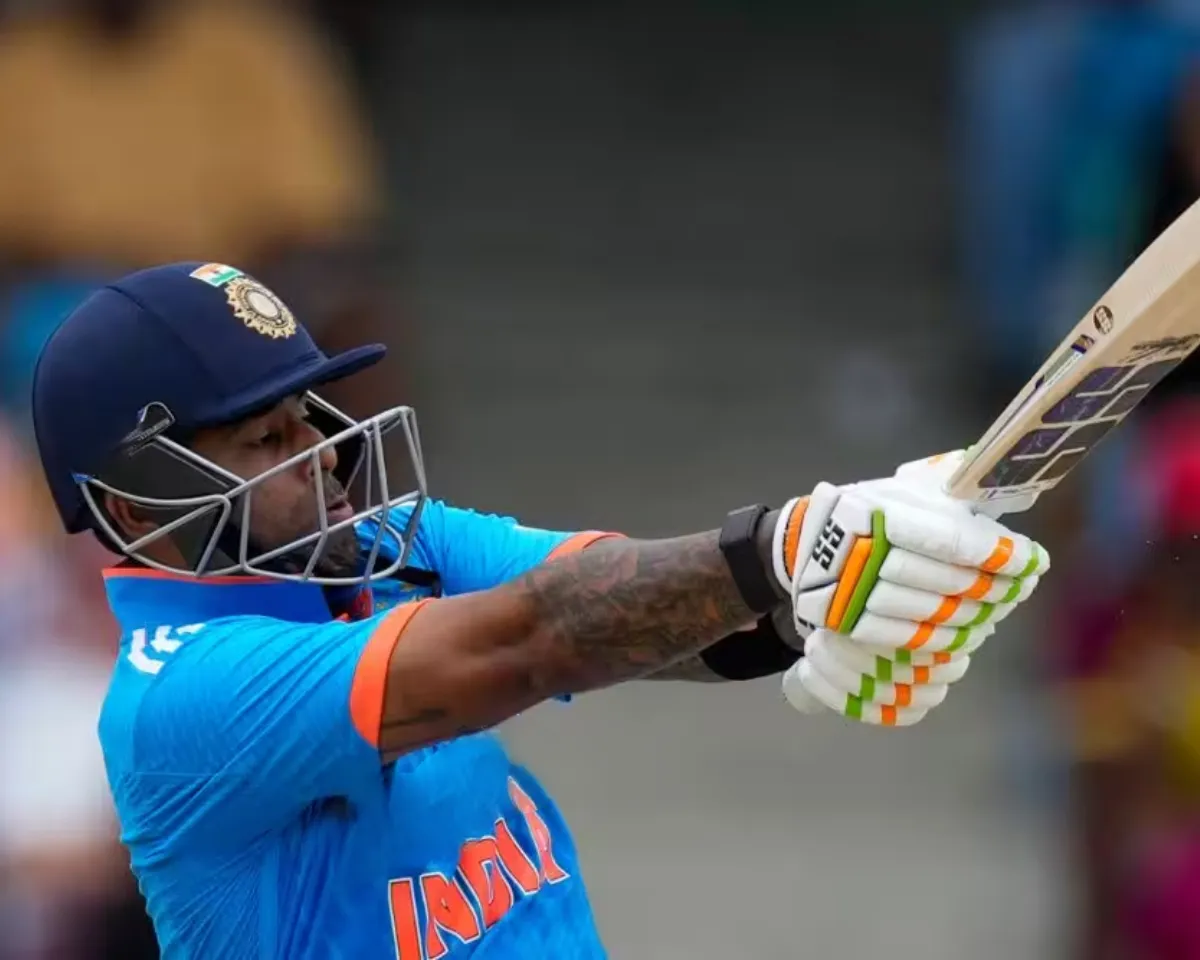 The Indian and Pakistani teams are getting ready for the huge clash set to take place on Saturday. For the eighth time in ODI World Cup history, the two arch-rivals are set to clash. Surya Kumar Yadav is one of the players excited for the game to be played in Ahmedabad during the ODI World Cup 2023 edition.
110,000 fans are expected to be part of the big clash set to take place in Ahmedabad. The Narendra Modi Stadium will witness a host of activities with big names set to perform ahead of the game.
India and Pakistan both have played two games each during the ongoing ODI World Cup 2023. Both the teams have won both their games and sit pretty in the top four of the table. Babar Azam's Pakistan has so far beaten the Netherlands and Sri Lanka. The Indian team on the other hand beat Australia and Afghanistan in their first two games.
Suryakumar Yadav posts hilarious story on Instagram –
33-year-old Indian batter Suryakumar Yadav is playing in his for ODI World Cup. The right-handed-batter has warmed the benches in the first two games of ODI World Cup 2023 so far.  On Friday, the Indian batter posted a story on his Instagram which read, "Bhailog Ghar pe ache ache TV hai sabke, enjoy karo aur AC main baith ke match dekho. No more ticket requests please"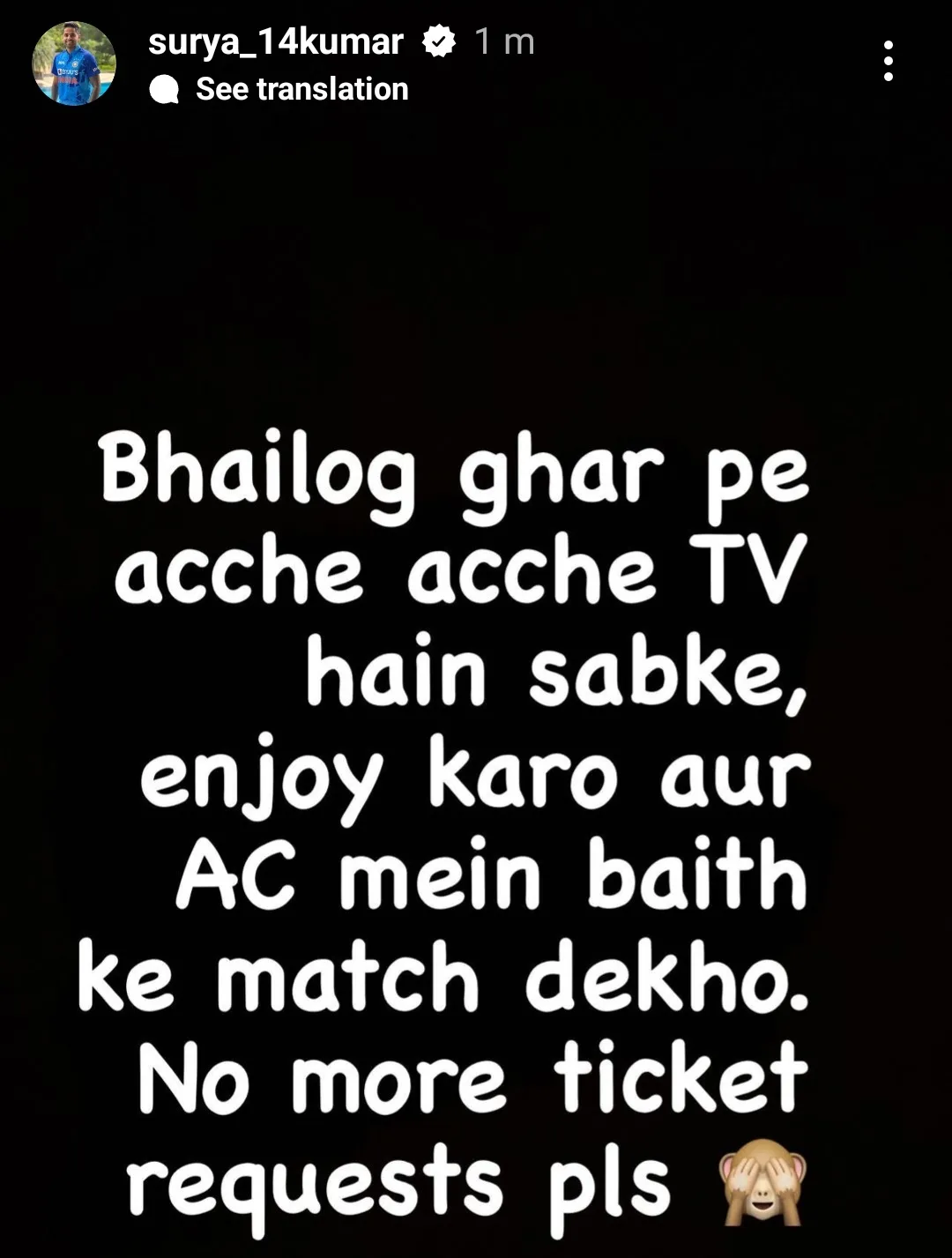 Virat Kohli too had posted a similar message before the tournament could begin. His wife Anushka Sharma also chimed in and asked the near and dear ones not to ask her for match tickets. 
Meanwhile, Shubman Gill is giving it all as he batted in the nets once again on Friday. The 24-year-old is making a recovery after he was down with Dengue. The youngster left Chennai and travelled to Ahmedabad on Thursday. It is still unclear if Gill will play the game on Saturday. 
Former Indian legend Yuvraj Singh has sounded support for Shubman Gill. The former Indian World Cup winner asked Gill to toughen it out and play the game on Saturday. Yuvraj Singh recently was in conversation with ANI where he spoke about his words to the Indian opener.
As per the 41-year-old "Shubman Gill ko maine tagda kar diya hai. I told him that I had played in the World Cup while battling Cancer, so I got ready quickly to join the team. Hopefully, he will be ready for the India versus Pakistan game".
Here's how the fans reacted –
Suryakumar Yadav's Instagram story. pic.twitter.com/oqDz3EgVlv

— Mufaddal Vohra (@mufaddal_vohra) October 13, 2023
🥲 sky should play next match , he should not watch it from pavilion

— Useer45 (@140of113) October 13, 2023
Is mausam me kon AC chalata hai ???

— Faizan (@i_am_Faiizan) October 13, 2023
Hype is real for India vs Pakistan 🔥😂

— Ishan Joshi (@ishanjoshii) October 13, 2023
black m beechry ho??

— wajiha (@waji_ji) October 13, 2023
Magar Padosiyo pe to tv hi nhi
Asia cup mai toot gaye the

— Andleeb Akhtar 🇮🇳 (@mr_akhtar_17) October 13, 2023
Bahut achha surya bhau

— Ankit Verma (@TechyWicket) October 13, 2023
Sky also joins the party. 😅

— The Random Guy (@RandomTheGuy_) October 13, 2023