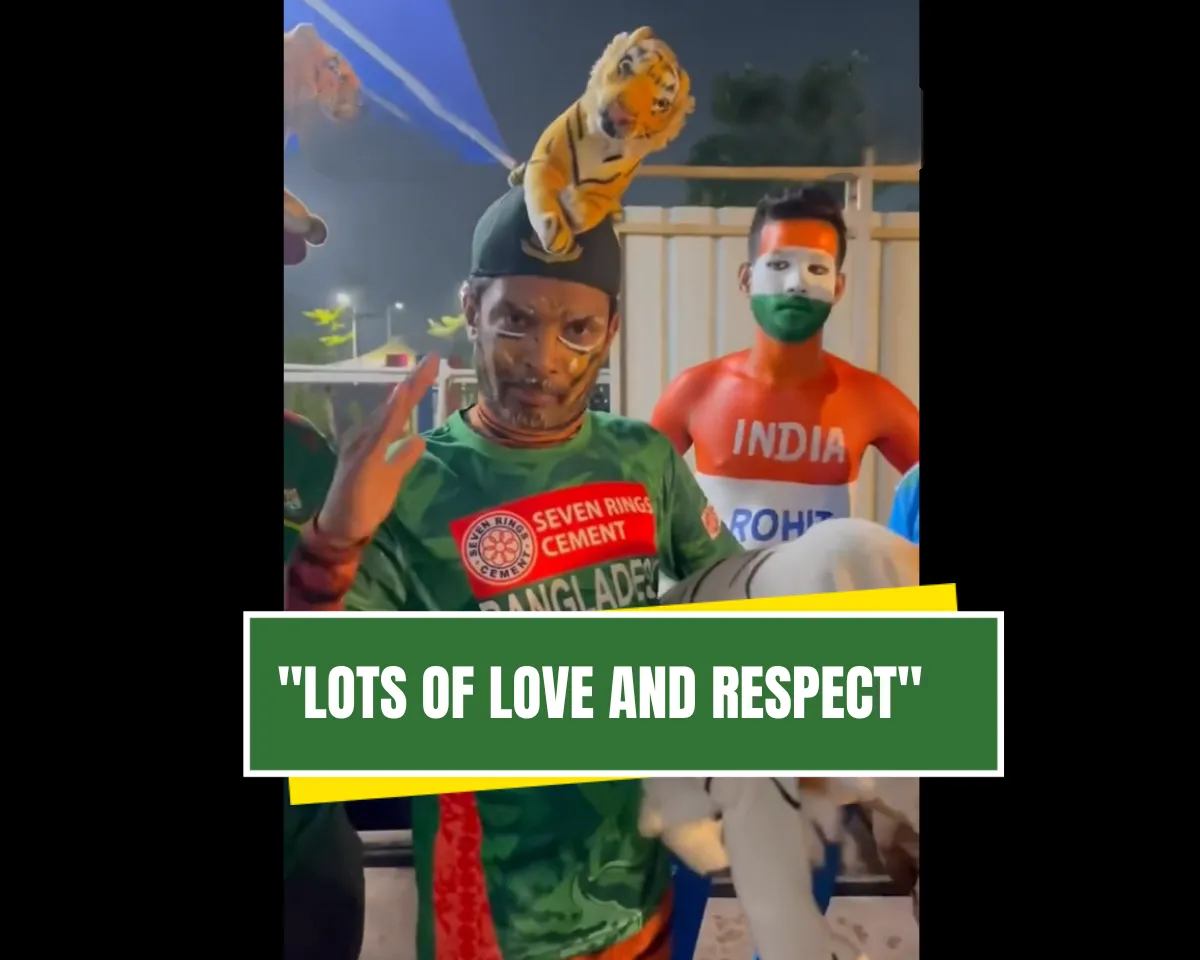 The Bangladeshi super fan Shoaib Ali has reacted to the Indian fans who apologised to him after the bad behaviour of some of the fans in Pune during the match between India and Bangladesh in the ODI World Cup 2023. There were videos making rounds on social media which suggested that the Indian fans had misbehaved with the Bangladeshi super fan. 
In the video, some of the Indian fans were seen damaging the tiger doll, which Ali usually carries along with him during every Bangladesh match. The video became viral on the internet and many criticized the act of the Indian fans. Many fans who were disgusted with the act of the fans in the stadium, apologized to the Bangladesh fan in the social media. 
The fans also criticized the ones responsible for the damaging of the doll of the Bangladesh fan. Following the incident, the Indian fans personally visited Ali and apologized to him. After the incident, Ali made a reaction video of accepting the apologies from the fans. In the video, Ali was seen accepting the apology from the fans with nice words to the Indian fans. 
'Please never do such things again' - Shoaib Ali
Ali requested the Indian fans to not repeat their mistakes. Ali said that it hurt him a lot. "Lots of love and respect for my Indian friends. But what can I say? It hurts. Please never do such things again. Cricket is a gentleman's game. Please watch and support the game gently," said the Bangladesh super fan. Ali said that cricket is a gentleman's game and must remain so.
Ali asked the fans to watch and support the game gently. The words of Ali were appreciated by the fans, who praised him for his kind nature. Bangladesh is set to have a tough schedule ahead of them, where they will be facing some tough teams like South Africa, Australia, and Pakistan. India, on the other hand, has its own challenges, who have to face teams like South Africa and England in the tournament. 
Watch the video of Ali replying to Indian fans

Some Indian fans apologized for the incident during the India-Bangladesh match in Pune, that involved the harassment of Bangladesh superfan Shoaib Ali

Here's what 'Tiger Shoaib' said: Lots of love and respect for my Indian friends. But what can I say? It hurts. Please never do… pic.twitter.com/6PVYPnHoAP

— bdcrictime.com (@BDCricTime) October 21, 2023