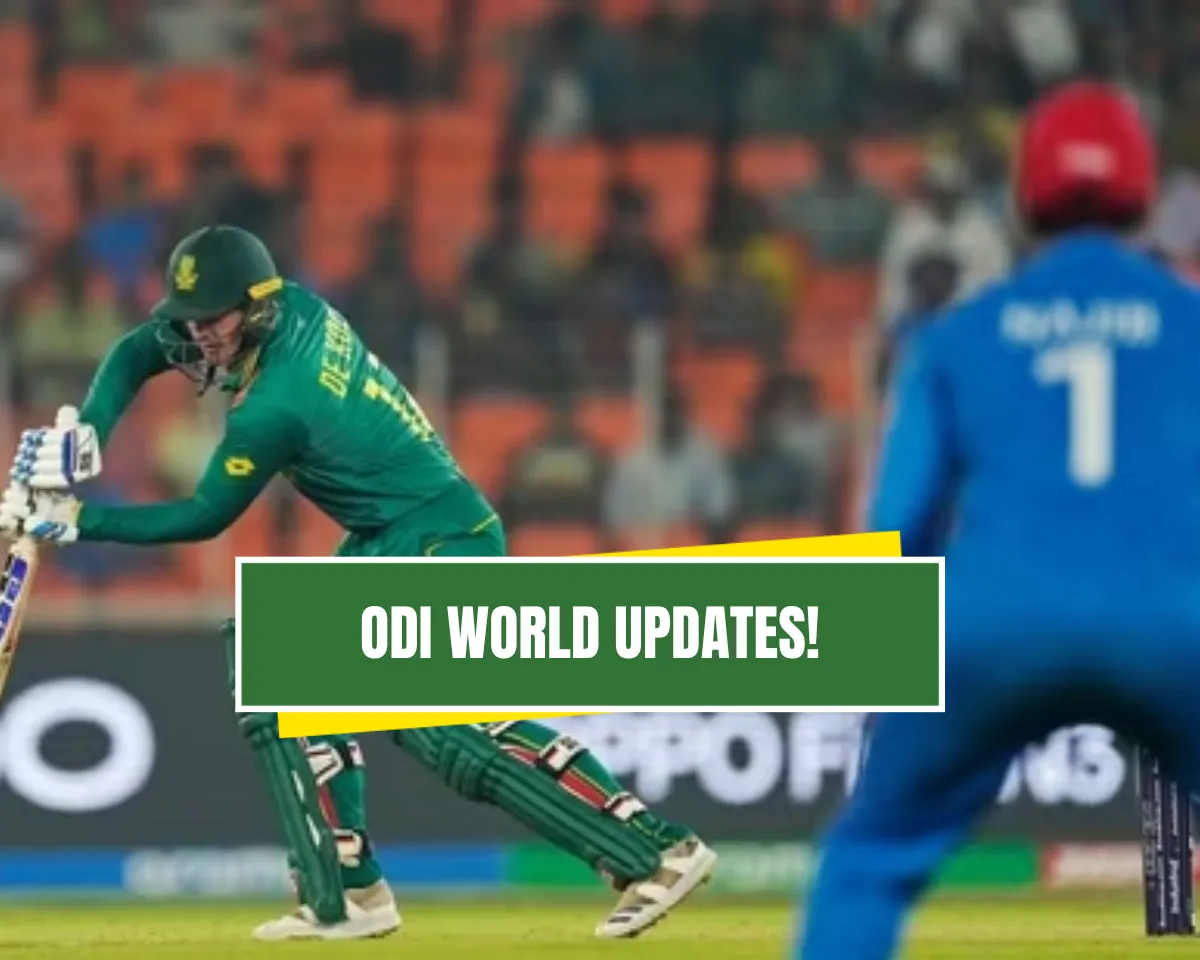 South Africa played Afghanistan in their last game of the group stage on Friday, at the Narendra Modi Stadium, Ahmedabad. The Afghans have shocked everyone with the performance they have shown in the ODI World Cup 2023. They have been the underdogs in the World Cup and were in contention for the knockout qualification as well. But their loss against Australia in the last game has knocked them out of the semi-final qualification. 
On the other hand, Proteas has been one of the most formidable sides in the tournament. They have already qualified for the semi-final, but the team has struggled while chasing. Though they have performed really well in the tournament and will face Australia in the second semi-final at the Eden Gardens, Kolkata. 
Afghanistan lost the match by 5 wickets but they finished their tournament on a high note as well. They have won 4 games which is also their best performance in the mega event. 
Here's the update about the points table, run-scorer, and wicket-takers:
ODI World Cup 2023 Points Table
| Rank | TEAMS | MATCHES | WON | LOST | POINTS | NR(No Result) | NRR |
| --- | --- | --- | --- | --- | --- | --- | --- |
| 1 | India | 8 | 8 | 0 | 16 | 0 | 2.456 |
| 2 | South Africa | 9 | 6 | 2 | 12 | 0 | 1.376 |
| 3 | Australia | 8 | 6 | 2 | 12 | 0 | 0.861 |
| 4 | New Zealand | 9 | 5 | 4 | 10 | 0 | 0.743 |
| 5 | Pakistan | 8 | 4 | 4 | 8 | 0 | 0.036 |
| 6 | Afghanistan | 9 | 4 | 4 | 8 | 0 | -0.336 |
| 7 | England | 8 | 2 | 6 | 4 | 0 | -0.885 |
| 8 | Bangladesh   | 8 | 2 | 6 | 4 | 0 | -1.142 |
| 9 | Sri Lanka | 9 | 2 | 7 | 4 | 0 | -1.419 |
| 10 | Netherlands | 8 | 2 | 6 | 2 | 0 | -1.635 |
ODI World Cup 2023: Most Run Scorers
| | | | | | | |
| --- | --- | --- | --- | --- | --- | --- |
|   Rank | Batter  | Country  | Matches  | Runs  | Average  | Strike Rate |
|   1 | Quinton de Kock | South Africa   | 9 | 590     | 65.66         | 109.24     |
|   2 | Rachin Ravindra | New Zealand | 9 | 565 | 70.62 | 108.44    |
|   3 | Virat Kohli | India | 8 | 543 | 74.71 | 88.29 |
|   4 | David Warner | Australia | 8 | 446 | 55.75     | 108.25 |
|   5 | Rohit Sharma | India  | 8 | 442 | 55.25 | 122.78     |
ODI World Cup 2023: Most Wicket-Takers
| | | | | | | |
| --- | --- | --- | --- | --- | --- | --- |
|   Rank  | Bowler  | Country  | Matches  | Overs  | Wickets  | Average  |
|   1 | Dilshan Madushanka | Sri Lanka | 9 | 72.0 | 21 | 22.24 |
|   2 | Adam Zampa | Australia  | 8 | 69.0 | 20 | 19.20     |
|   3 | Gerlad Coetzee | South Africa | 7 | 54.3     | 18     |  19.38 |
|   4 | Marco Jansen | South Africa | 9 | 64.4 | 17 | 24.41   |
|   5 | Mohammed Shami | India | 4 | 26.0     | 16     | 7.00     |
'