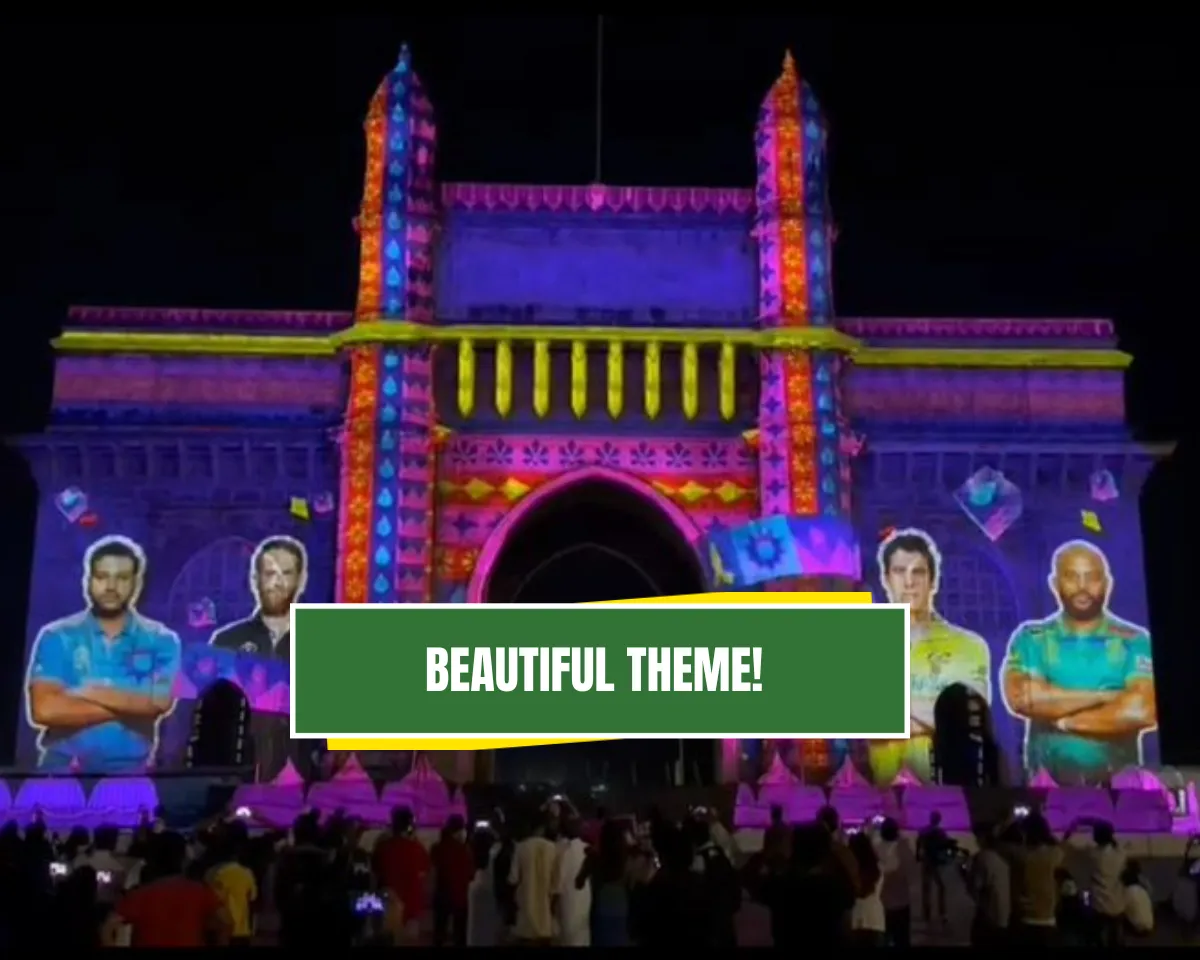 A beautiful 3D projection was arranged by the Indian Cricket Board and the International Cricket Board was organized in the iconic Gateway of India in Mumbai, which caught the attention of the fans. To celebrate the ongoing ODI World Cup 2023 and to mark the start of Diwali, a popular festival in India, the theme was set at the iconic venue for the people, which looked absolutely stunning.
The show lasted for about 2 minutes like a small trailer. In the video, there were many footage and images of some of the key events that have occurred so far in the tournament. About 40000 state-of-the-art lumen projectors were used to execute the light show. There were captions for each of the events, under which the image of the action was revealed. 
Under the caption 'It takes bravery', the caught and bowled dismissals from Mitchell Starc and Haris Rauf were displayed. Under the caption 'It takes glory', the images of Quinton De Kock and Virat Kohli, two of the highest ruin scorers in the tournament, were displayed. Under the caption 'It takes wonder', the images of two of the best catches of the tournament from Kuldeep Yadav and Mitchell Santner were respectively displayed. 
Display of the Top 4 teams of the tournament in the 3D projection 
Under the caption 'It takes anguish', the images of Aiden Markram and Chris Woakes being disappointed were displayed. Under the caption 'It takes passion', the images of Azmatullah Omarzai and Gerald Coetzee celebrating their wickets were displayed. Finally, the images of captains of the teams that are currently in the Top 4 spots in the points table were displayed. 
The images of Kane Williamson, Temba Bavuma, Pat Cummins, and Rohit Sharma were displayed. It depicted that teams like India, South Africa, Australia, and New Zealand are currently the favourites to enter the semifinal of the tournament. The show was loved by the fans online and the footage of it became viral on social media. It was a very good way to celebrate both Cricket and the start of the Diwali season. 
Watch the video of the 3D projection here -
To celebrate the ODI #WorldCup2023 & mark the start of #Diwali2023, #ICC & #BCCI presented a mesmerizing 3D projection at #GatewayOfIndia in #Mumbai. The two-minute showcase highlighted key moments from the ongoing tournament, utilizing 40,000 state-of-the-art lumen projectors. pic.twitter.com/c5fFdHcu1P

— Informed Alerts (@InformedAlerts) November 10, 2023