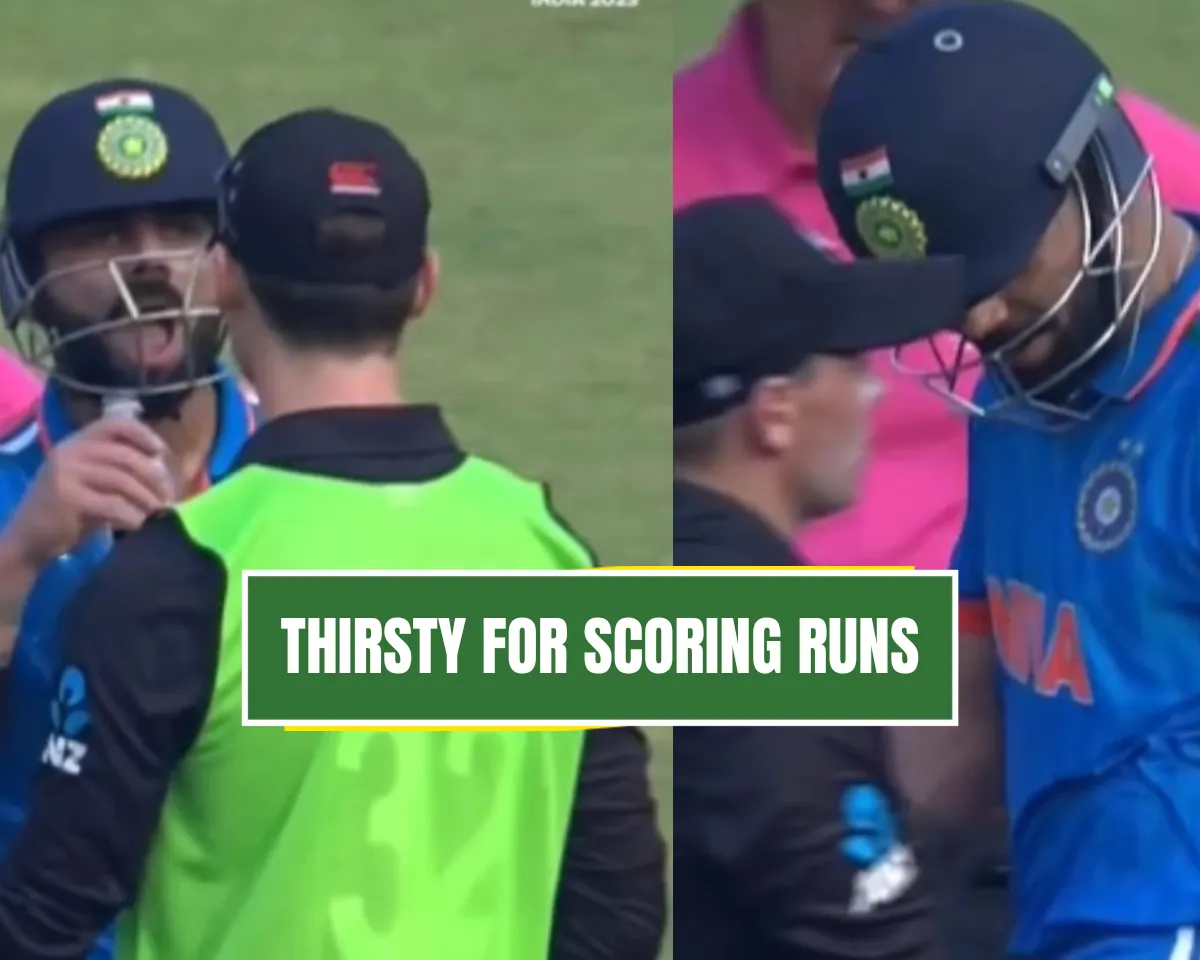 India won the first semi-finals of the ODI World Cup 2023 by beating New Zealand by 70 runs in Mumbai. Centuries from Virat Kohli and Shreyas Iyer helped India reach 397 on the board. Mohammed Shami then picked career-best ODI bowling figures of 7/57 to help the Indian team reach the finals on Sunday in Ahmedabad.
New Zealand Cricket Team may have lost the game but have won the hearts with their performance on the field. The Black caps have also won the hearts of Indian fans off the field in an unseen video that is doing the round on social media. 
Will Young was performing the 12th-man duties for the New Zealand team during the game in Mumbai on Wednesday. Inexplicably the 30-year-old also was seen performing the 12th man duties for Virat Kohli which has taken many social media users by surprise.
Will Young's moment with Virat Kohli wins hearts
Mumbai was very hot and humid on Wednesday during the 1st Semi-Finals of the ODI World Cup 2023 game. Shubman Gill had already retired himself hurt after suffering from cramps.
Thirsty for runs and water 👀#CWC23 #INDvNZ #Cricket #CricketReels #ViratKohli #IndianCricketTeam pic.twitter.com/ocBYnaOby2

— Azhar Chowdhary (@azharrchowdhary) November 15, 2023
Virat Kohli too was feeling the effects of the climate in Mumbai during his knock. That's when the former Indian skipper could be seen walking up to the Kiwi team and asking Will Young for a bottle of water. The Kiwi opener obliged and gave Virat Kohli the needed refreshment to exhibit good sportsmanship.
Ishan Kishan too was showing his brand of sportsmanship during the New Zealand chase. The 25-year-old was in the field as a substitute fielder for Shubman Gill when Daryl Mitchell went down with cramps. The Indian player was seen holding and stretching the leg of Daryl Mitchell to help him get rid of the pain.
Daryl Mitchell top scored with 134 while Kane Williamson scored 69 runs during the chase of 398 runs. The pair added 189 runs for the third wicket as they put the Indian bowlers under pressure.
Mohammed Shami had earlier dropped an easy catch of Williamson off Bumrah. The 33-year-old though made amends when he had the Kiwi skipper caught by Suryakumar Yadav to change the tide towards the Indians team.