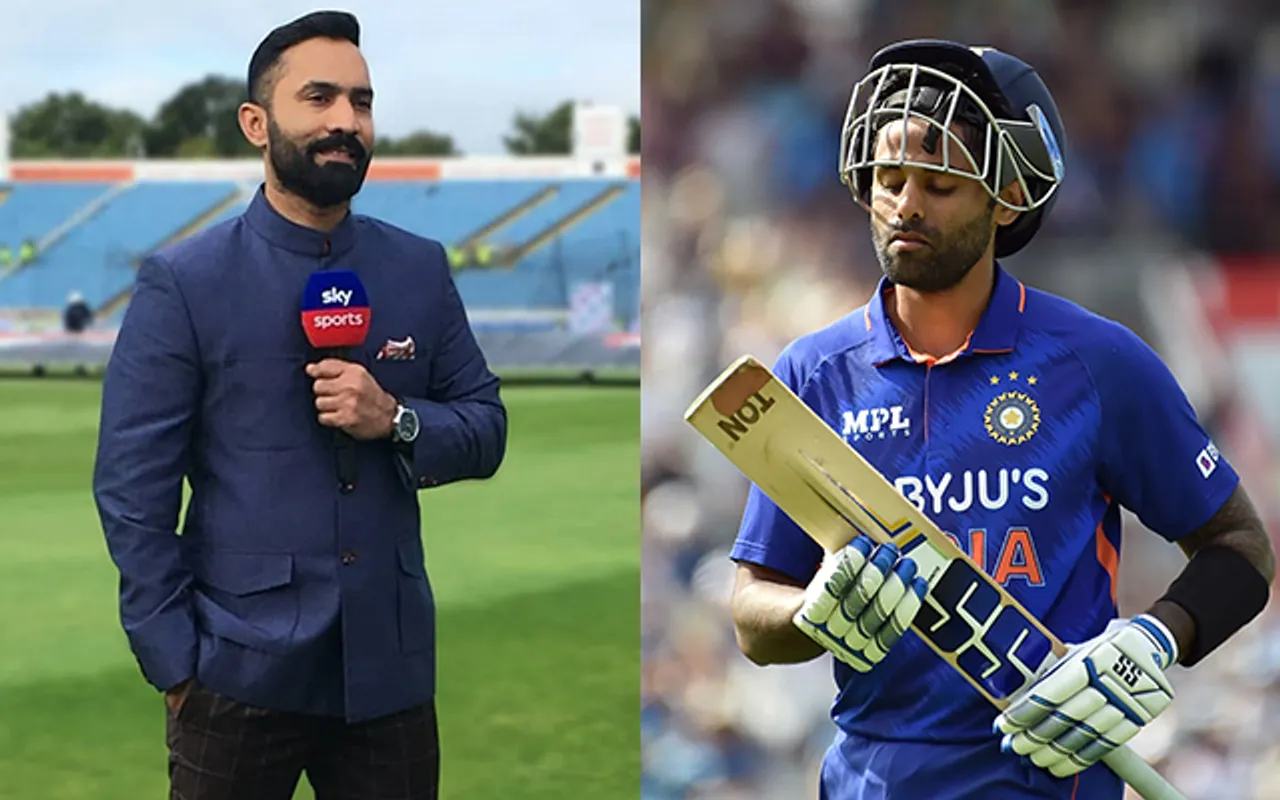 Suryakumar Yadav was given the chance of a lifetime to stake for a spot in the 2023 50-over World Cup. With the opportunity to make his case and give India more headaches in the ODI series against Australia since preferred No. 4 hitter Shreyas Iyer was unable to play, Suryakumar instead returned for back-to-back golden ducks. Veteran Indian wicketkeeper-batter Dinesh Karthik conveyed a "non-negotiable" warning to captain Rohit Sharma and head coach Rahul Dravid while also making an unconventional suggestion amid doubts about his future in the format.
Suryakumar was dismissed by Mitchell Starc, a left-arm fast bowler, in nearly the same fashion in both games. Due to the two firings, his career average was 25.47. After India lost the second ODI by 10 wickets, Karthik said that he felt it was important to support Suryakumar in Iyer's absence and suggested rearranging the middle-order lineup. Hardik Pandya, KL Rahul, and Suryakumar can all be used as No. 6 batters, according to Karthik, who believes that the No. 1 T20I batter performs best when given restricted overs.
'He is at his venomous best when given 14-18 overs' – Dinesh Karthik
"He would have gotten out on those two deliveries even in T20s. It is not that because it is ODIs; he is getting out. This is high-quality bowling, irrespective of the format. He played the two ODIs now, and prior to that, he didn't play consistently. Shreyas Iyer was the preferred No.4, and rightfully so, and Surya was the backup option. Where we need to be with Surya is to remind ourselves of the talent he is," he said.
"What I like to see is if they can fit in Surya at a different place to get the best out of him. I feel Hardik enjoys batting up top, so is there a possibility of sending him at No.4 and Surya at six? It is so because when you give him 15-18 overs, the way he is able to turn the game on its head is very, very good. And irrespective of whether there are 5 or 4 fielders inside the circle, he is able to hit boundaries at will and make a mockery out of the captain. When you give Surya lesser overs, 14-18 overs, he is at his venomous best. Suryakumar in ODIs is a non-negotiable."
Here's how fans reacted to DK's comments:
Better than de villiers? 🥶🥶🥶

— Hassan (@ddegea_szn) March 19, 2023
He is good against minnows or in pata wicket in quality wicket against quality bowlers these tandu is as bad as other stardom players Jadeja or Akshar become standard of our batting line up

— Gurubramha (@spandansb) March 19, 2023
It's time to get this Beast Sanju Samson permanent place in middle order in ODIs

He is miles ahead of Suryakumar Yadav in ODIs pic.twitter.com/uQ4FokS2zv

— Vishal. (@SportyVishaI) March 19, 2023
Power of #SuryakumarYadav 🥳#INDvsAUS pic.twitter.com/HMPGikp4xy

— व𝐬𝐮ली 🇮🇳 (@Vasooli_4) March 19, 2023
बात तो एकदम सही है 😹🤣#SuryakumarYadav pic.twitter.com/gje3f6zcXg

— Byomkesh (@byomkesbakshy) March 19, 2023
SuryaKumar Yadav last 10 ODI innings !!

0
0
14
DNB
31
4
6
34*
4
8#INDvsAUS #SuryakumarYadav pic.twitter.com/RdZElvKvRt

— सत्यम सिंह रैकवार (@Rajputboy8350) March 19, 2023
Suryakumar Yadav continuously 2nd Golden duck from Mitchell Starc but why BCCI is not playing and wasting talent like Sanju Samson !! #RohitSharma #ViratKohli #SanjuSamson #Sanju #SuryakumarYadav #KLRahul #jadeja #HardikPandya #76th #Vizag #INDvsAUS #BCCI #ODIs pic.twitter.com/9zsHRbSEum

— ADITYA RAJPUT (@adityar4jput) March 19, 2023
Still BCCI And Rahul Dharavid Will Prefer Surya Over Sanju Samson 🥲.#SanjuSamson #samson #SuryakumarYadav #BCCI pic.twitter.com/yEYZ2D1h7d

— Aufridi Chumtya (@ShuhidAufridi) March 19, 2023