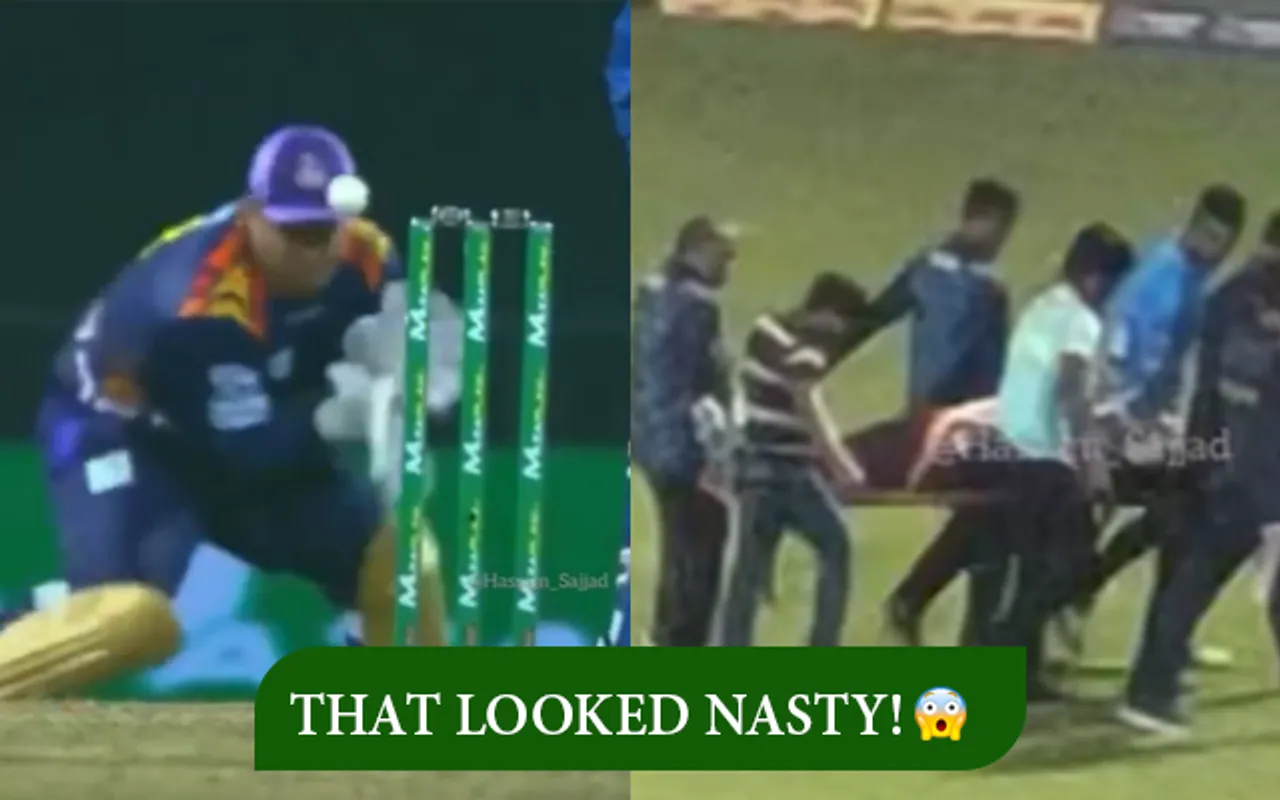 Cricket fields sometimes see unfortunate incidents that even turn horrifying for the players. An incident happened in the ongoing Lanka Premier League (LPL), while keeping behind the stumps, Galle Gladiators wicketkeeper Azam Khan was struck on his forehead by Nuwan Pradeep, and it was so terrible for the Pakistani player that the support staff had to carry him off on a stretcher.
Azam Khan is highly regarded for his audacious power-hitting ability in limited-overs cricket. The 24-year-old made his international debut in England last year but failed to make any impact. He scored six runs in two innings before he was dropped from the national team.
Since then, Azam has been continuously playing franchise leagues, such as CPL, T10, and the ongoing LPL to earn a recall from Pakistan. However, it took a halt on Monday during LPL's Match No. 9 between Kandy Falcons and Galle Gladiators, taking place in Pallekele. During the 16th over of the Falcons' innings, Azam faced an unfortunate incident that no one had anticipated to happen.
Here is the video:

December 12, 2022
Kandy Falcons lost their first match of the tournament
In that over, Nuwan Pradeep's slower ball which was going down the leg side was bound to be punished. However, Chamika Karunaratne failed to make any connection of it, before the wide ball, which bounced once before reaching Azam and knocking him down. It struck his forehead, and for a while, Azam was seen lying on the ground. A few minutes later, support staff came into the field for the mandatory concussion check, and after watching his pain, carried him off the field.
Moeen Khan, Azam's father as well as the Gladiators' head coach, came to him to check if he is alright and tapped his son's leg with a smile on his face, assuming he will recover soon.
Despite Azam's absence in the field, the Gladiators put that aside and managed to defend a 153-run total and defeated the Kandy Falcons by 12 runs. Azam has been ruled out of Gladiators' next game and the Pakistan fans and the fans of the LPL franchise will hope that he is healthy and fit very soon.