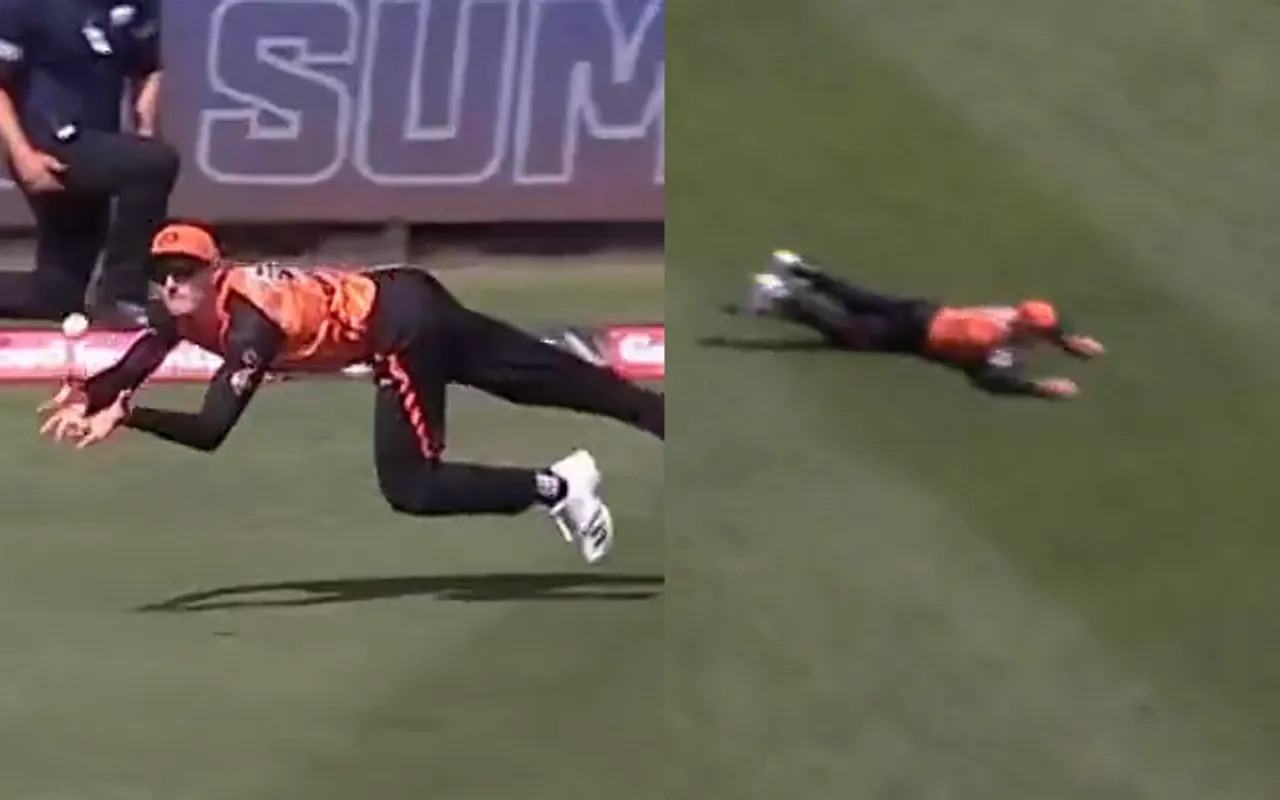 Perth Scorchers and Adelaide Strikers clashed against each other in the 48th match of the Big Bash League 2022-23 on Friday, January 20 in Adelaide Oval, Adelaide. During the first innings, Scorechers' fielder Cameron Bancroft pulled off a stunning catch.
Peter Hatzoglou's delivery was drifting outside off, Carey tried to slog sweep and got it a touch off the toe, then it seemed that the ball would cross the boundary line. But Bancroft had other intentions. Bancroft first ran to his right from long-on and, diving in the air grabbed the catch with both hands.
Watch the video here:
Cameron Bancroft has done it again!

That's his second spectacular grab of #BBL12! @BKTtires | #GoldenMoment pic.twitter.com/RsDqmud6pK

— cricket.com.au (@cricketcomau) January 20, 2023
Poor performance by Adelaide Strikers' batters
Talking about the match, Strikers won the match and opted to bat first, Matt Short started the rot with an ill-timed slog and the rest followed his way into doom. Only three men reached double figures with Hose's 30 being the best of the lot. The Scorchers bowled with a lot of discipline, but they'd have been surprised with the ease at which wickets were gifted. Three each to David Payne, Lance Morris, and Hatzoglou.
Chasing the target, Perth's openers Cameron Bancroft ran himself out and Stephen Eskinazi was deceived superbly by Boyce. Hardie and Inglis got together once again and steadied the innings, the pair added a 50+ stand and took the Scorchers on the brink of victory before Hardie threw it away. But Turner and Inglis didn't waste much time to get the job done. The Strikers seemed to have given up even before the chase began because out of the 11.1 overs 8.1 were bowled by the spinners and this loss has left them in a precarious position.
It was pretty ordinary from Strikers even if Scorchers bowled well. The scorchers win by seven wickets. That gives them a bit more breathing space in search of that home prelim final. Scorchers breeze through the chase and consolidate their position at the top of the table. Adelaide Strikers have been dealt a massive blow, they have not only lost embarrassingly but their NRR has also taken a beating.