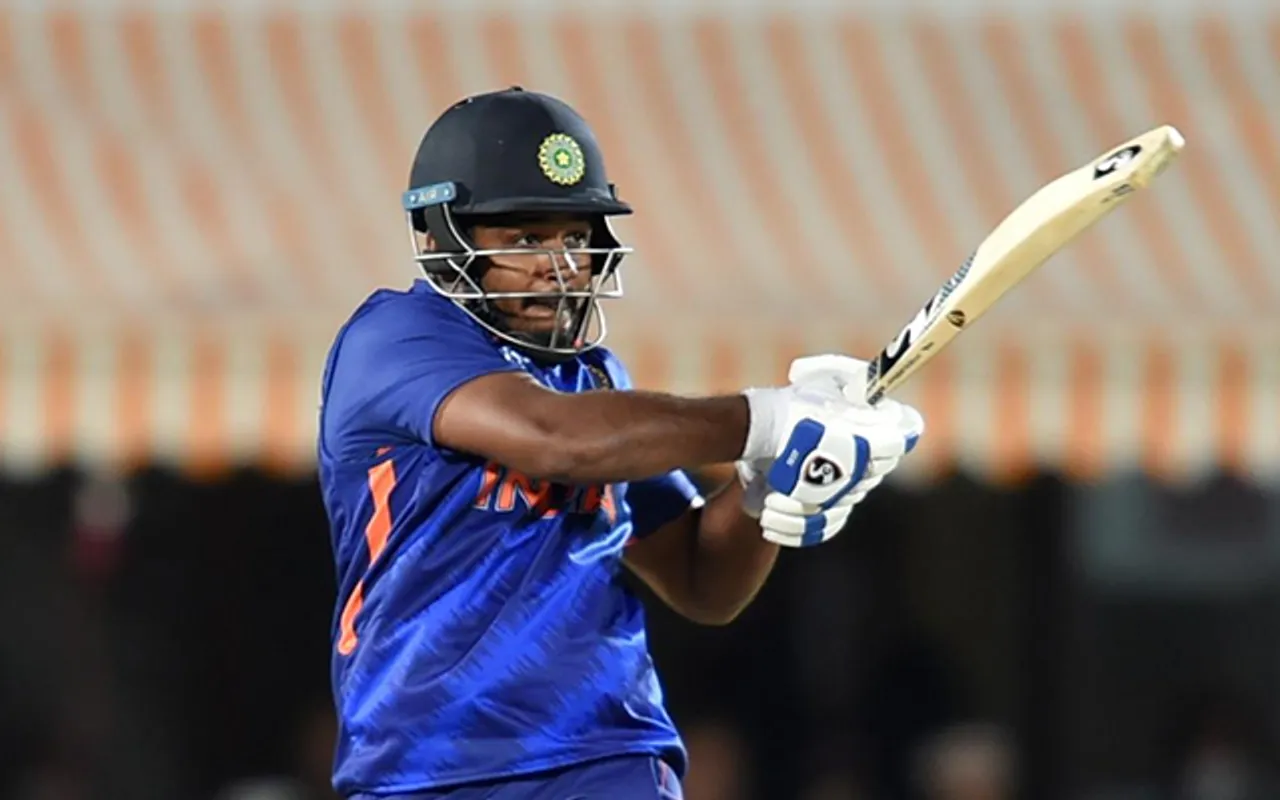 Indian wicketkeeper-batter Sanju Samson always remains in the headlines as he has failed many times to replicate his franchise league success for the national team. However, it never affected his stardom as he gained a massive fan following due to his explosive batting in the Indian T20 League.
Meanwhile, it is now reported that the 28-year-old batter, who is out of action since January this year, is likely to be included in the ODI squad against Australia. Samson might be replacing Shreyas Iyer, who is expected to miss out on the three-match ODI series.
"Shreyas Iyer complained of pain in his lower back following the third day's play. He has gone for scans and the Indian Cricket Board Medical Team is monitoring him," the official cricket board of Indian statement on Sunday was quoted as saying by InsideSport.
The right-handed batter will be seen leading the Rajasthan-based franchise in the upcoming season of the Indian T20 League. Rajasthan's first match will be against Hyderabad on April 2 at the Rajiv Gandhi International Cricket Stadium in Hyderabad. They had a great chance last season to grab their second cash-rich league title but they lost the final against Gujarat.
The 4th Test heading towards a draw
Meanwhile, Rajasthan's team management set up a training camp ahead of the tournament at the ACA stadium in Guwahati. Interestingly, this will also be Rajasthan's second home in the upcoming 16th edition of the richest league in the world after the Sawai Mansingh Stadium in Jaipur. The 2008 Indian T20 League champions will play their first two home matches in Guwahati. Rajasthan will clash against Punjab and Delhi on April 5 and April 8, respectively, in Guwahati.
Talking about the four-match Test series between India and Australia, the Men in Blue are leading the series with a 2-1 lead. However, the fourth Test might end up in a draw as India needs 9 wickets to end Australia's second innings and there are 2 sessions left in the match. However, if the match ends up without any result, it will only favour India as they will win the series and also get qualify for the Test Championship final in June.
Here's how fans reacted:
As a water boy add this too 🤐

— Ojas 🇮🇳 (@OjasPatravale) March 13, 2023
For Drinks supply

— N Satish Babu (@NSatishBabu7516) March 13, 2023
Should play ahead of hongkongurya, but Rohit will play surya due to mumbai lobby.

— Tobias (@starcy_56) March 13, 2023
for the sake of twitter !

— Athul Parameswaran (@AthulKpp) March 13, 2023
Sanju will make his test debut soon in WTC final.

Mark my words with invisible ink✒

— The Upadhyay (@the_upadhyayji) March 13, 2023
Deserve it too, maybe there for Iyer and Rahul up to 4.

— コン・ドゥ・グエン (@CongDuNguyen1) March 13, 2023
Chance of @IamSanjuSamson pic.twitter.com/tq8yfiWa68

— Bhrat Charan💧 (@bhrat_charan) March 13, 2023
who invited gayson

— BackFoot (@P_A_R_O_D_Y_) March 13, 2023