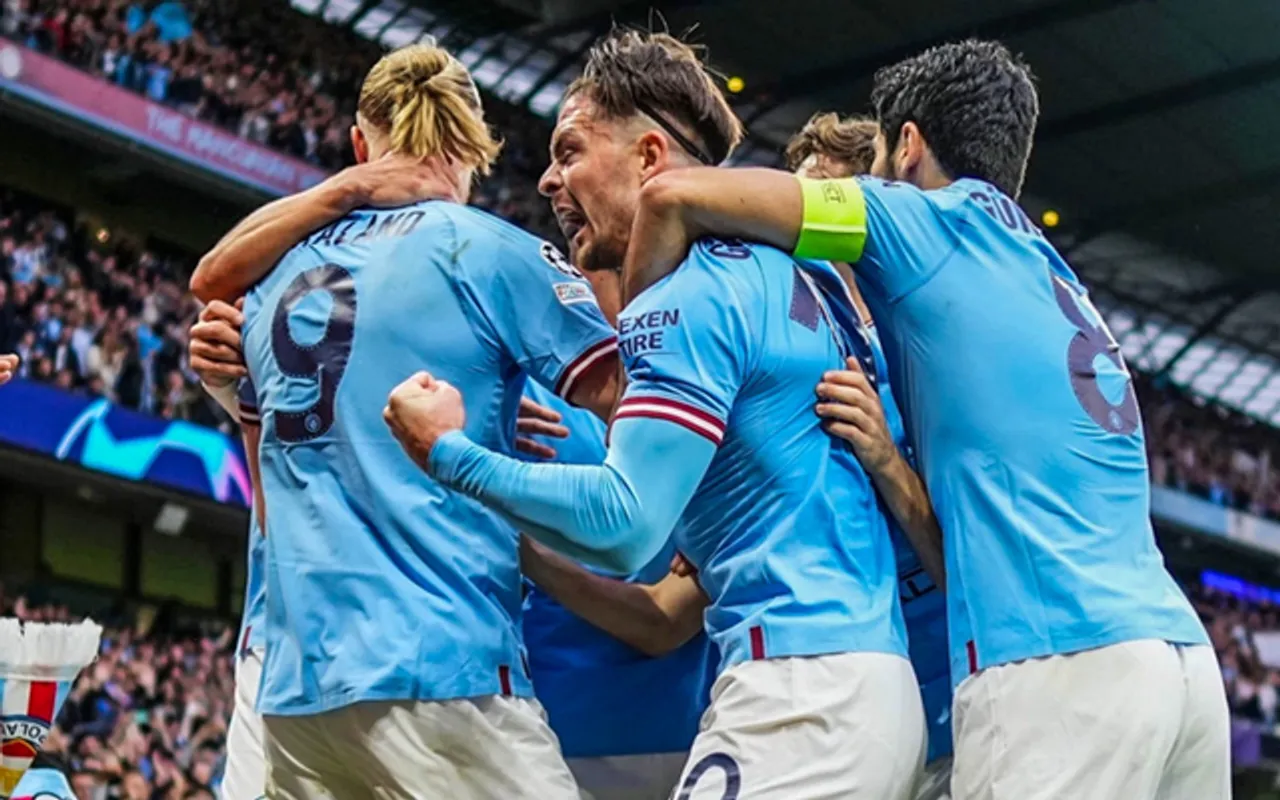 Manchester City put their best foot forward in the UEFA Champions League semi-final where they registered a comprehensive 4-0 win over Real Madrid. With this win, City have reached their second Champions League final. City were too good for Madrid as the win was nothing short of an annihilation at Etihad Stadium. The 4-0 win in the second leg included the 5-1 win in the second leg.
In the match, two goals were scored by Bernardo Silva and goals also came from Manuel Akanji and Julian Alvarez.  Real Madrid were beaten comprehensively at Etihad Stadium. City were on the offensive straightaway and did not allow Madrid to make a comeback onto the game. Madrid got some tactics wrong and were found wanting when it mattered the most.
This is one of the highest moments in my managerial career- Pep Guardiola
The owners of Manchester City have been very keen on getting their hands on the Champions League trophy right from 2008. When the Abu Dhabi takeover began.in 2008 when a lot of money was poured into the club as big investment. The owners will feel that the fruits of the investment have begun to pay off. If the Pep Guardiola coached side beats Inter Milan at Istanbul, then they will complete a historic treble.
The Treble will be winning the Premier League, FA Cup and Champions League. This will put City on par if the treble happens along the lines of Manchester United who had completed the historic achievement in 1998-99. By eliminating Real Madrid in the semi-final. It looks like City will get their maiden UEFA Champions League title which will be great moment of joy for all City fans.
"One of the highest," Guardiola said when he was asked to rank this win in his managerial career. "You cannot always win, but you can try," added Guardiola.  "We have elevated this club to be there every year. This is what makes a big team, that come May or June you are always there fighting for titles." He further elaborated.
Let us take a look at the reactions on Twitter:
Framing this and many more highlights of our CL campaign

— Architect 📌 (@Head_91) May 17, 2023
As a football fan your team was a joy to watch tonight, i bet there are a lot of people that have gone quiet over Grealish, who said last season he was a terrible signing, i said he would come good this season in tweets , hope you go on to win it

— Martyn Waller (@Martynw34) May 17, 2023
Team spirit! So many people behind the scenes but showing passion like they play week in & out! LOVELY!! 💙🥇

— Khaphathe ⚽️ (@NyandiKhaphathe) May 17, 2023
Man City really learnt their lesson from last season 🙇🏾‍♂️ pic.twitter.com/IHpyKdW958

— mυѕѕa (@mozyinho) May 17, 2023
Congratulations CITY!👏💙@HeroSOFACLESE, we should reserve the availability of the @Metahero_io Scanner to bring these Heroes into the Metaverse 😁🔥. @ManCity Team you must create your hyper realistic avatars for the joy of all fans and future generations🔥🔥

— 𝗧𝗼𝗺𝗮𝘀𝘇(𝗟.)𝗛𝗘𝗥𝗢 (@LTomasz007) May 17, 2023
Can't wait, can we have the finals this weekend please 😭💙💙💙

— Ayush (@CricketUnfilted) May 17, 2023
My club 💙

— ELLIOT EASTWICK'S WORLD FAMOUS HOT SAUCE (@WorldFamousHot1) May 17, 2023
Best coach, best striker, best defender, what else? Best fan,💙

— Be cool (@BakingBrain_) May 17, 2023
💙💙💙💙💙💙💙💙💙💙💙💙💙💙💙💙💙💙💙💙💙💙💙💙💙💙💙💙💙💙💙💙💙💙💙💙💙💙💙💙💙💙💙💙💙💙💙💙💙💙💙💙💙💙💙💙💙💙💙💙💙💙💙💙 pic.twitter.com/B8b9WK9Pqn

— Munasar Abdirahman Ahmed (@Munasarabdirah) May 17, 2023
That was clinical. Damn, the assists were absolutely on another level. Well deserved.

Watching the game as a foreigner in a proper pub in england was quite an experience. Even in London the local football fans cheered for Manchester City.

— Beyond Speed | Advanced Speed Preparation (@BeyondTopSpeed) May 17, 2023