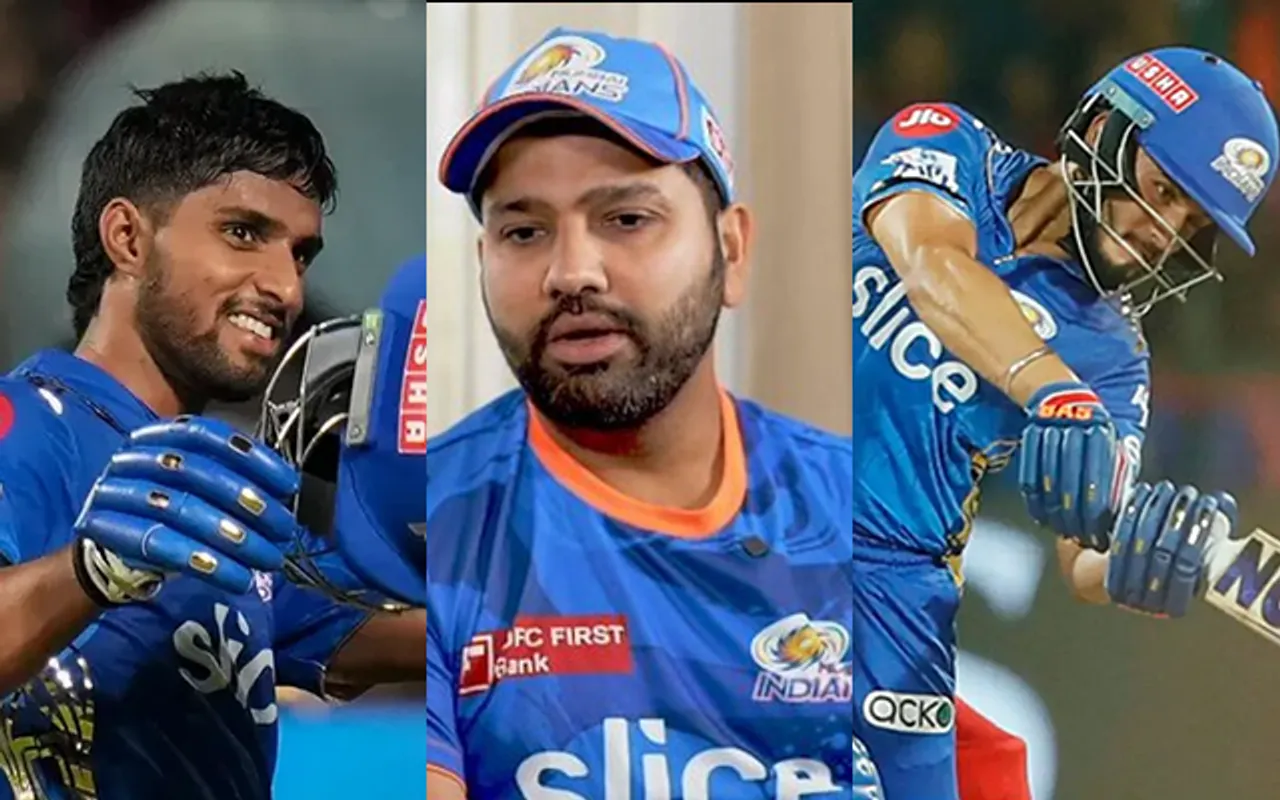 The five-time champions Mumbai Indians (MI) will be playing the eliminator against Lucknow Super Giants (LSG) in the ongoing 16th edition of the Indian Premier League at the MA Chidambaram Stadium in Chennai on Wednesday, May 24. The winner will face the defending champions Gujarat Titans (GT) in the 2nd qualifier on Friday, May 26.
Meanwhile, ahead of the much-awaited eliminator, MI skipper Rohit Sharma talked about the young players in the team and said that Tilak Varma and Nehal Wadhera will become superstars in the future like Hardik Pandya and Jasprit Bumrah. He also mentioned how MI invest in the youngsters more than star players and made the young players superstars.
"Honestly it's going to be the same story what has happened with (Jasprit) Bumrah, Hardik (Pandya), and all these guys. That's the same story that will happen with guys like Tilak Varma and Nehal Wadhera. Watch the next two years, then people will say 'Arey ye toh superstar team hai (they're a team full of superstars)'. These guys are being scouted and they are trained. These two guys are gonna be huge stars for us, and for India," he added.
Can MI defeat LSG in the eliminator?
Varma has already impressed the fans last season but continued his tremendous form this season as well. He played only 9 games this season so far and scored 274 runs. On the other hand, Wadhera has played 12 games this season and scored 214 runs. Both are left-handers and impressed a lot of cricket experts with their batting style and technique.
Meanwhile talking about MI's journey so far this season, they won three of their last four games to eventually finish with 16 points, their poor performance in the early stage of the league forced them to rely on someone else to seal their qualification. Now, that's behind them and there is no room for such favours at this stage of the competition. A loss on Wednesday will ensure they don't get a shot at the title for the sixth time and will be knocked out of the tournament.
Here's how fans reacted:
We don't buy Superstars, we make them. There is lot of hard work behind that

— Eyahia Najir🇮🇳 (@ImEyahi45) May 24, 2023
then why they haven't made arjun tendulkar a start yet?

— Sanjeev McIntyre (@BurnItDownSan) May 24, 2023
Absolutely you didnt made badapaw popular it was already popular.

— Vivek Yadav (@VivekYa65640578) May 24, 2023
Rohit's tight slap to egoistic landya 🤣

— Anirban lahiri (@Anirban1824) May 24, 2023
Madhwal too...he is good

— Sanka Dayarathna (@sankadayarathna) May 24, 2023
Bro choose violence

— Sankar Mathavan (@sm_talkz) May 24, 2023
Nice reply to over confident Hardik Pandya

— Cricketing Views (@CricketingV) May 24, 2023
Bodied Harpic

— Rohit45 (@Hitmania450) May 24, 2023
Every cricketer knows abt everything being said and done about each other

— ritviksays (@rs_559) May 24, 2023