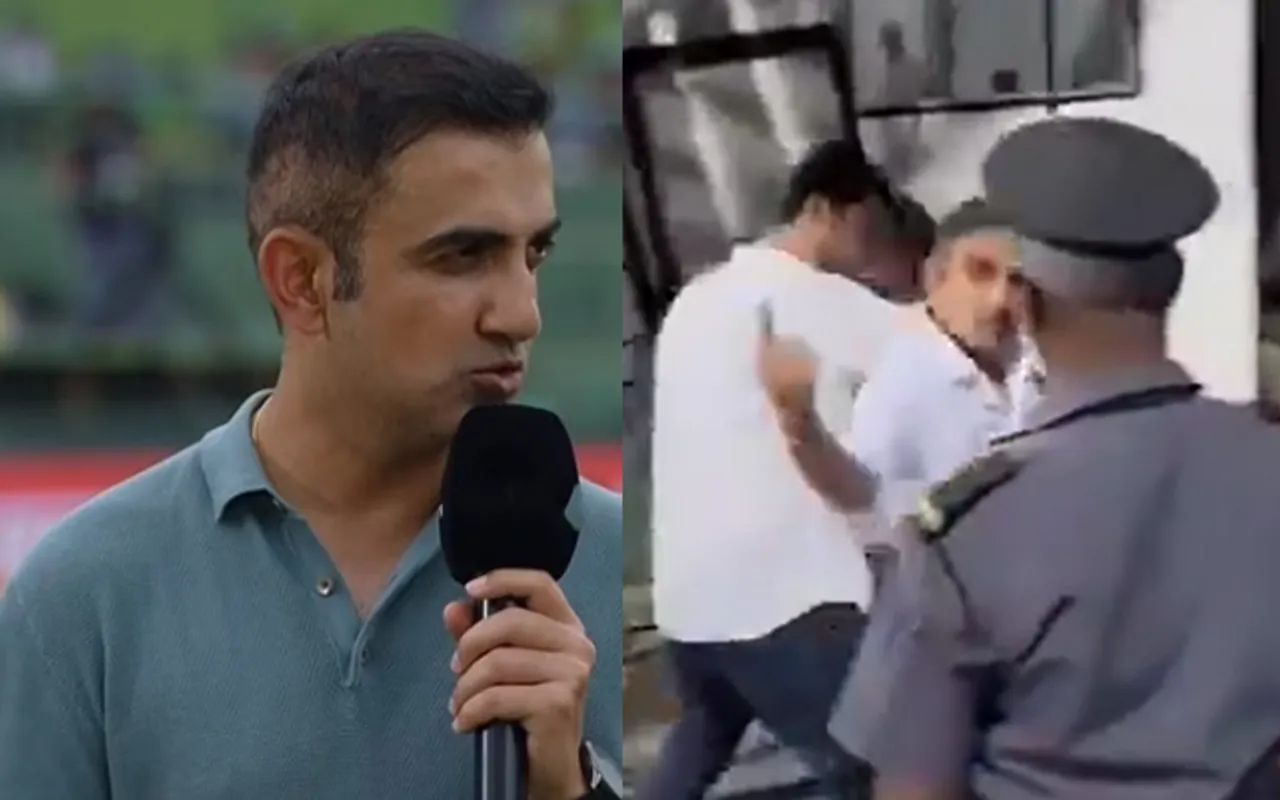 Former India captain Gautam Gambhir was provoked by some fans during the India vs Nepal Asia Cup 2023 match in Sri Lanka. The scene took place when Gambhir was rushing inside the stadium due to rain in Pallekele and the fans were shouting 'Kohli Kohli' chants.
The left-handed batter reacted strongly to the trolls by showing obscene gestures to the fans in Sri Lanka. This is not the first time that Kohli fans have trolled Gambhir. He showed his middle finger to the fans who were provoking him during the time he was returning to the studio.
Pakistani fans were also raising anti-India slogans regarding Kashmir: Gautam Gambhir
However, amid the controversy, Gautam Gambhir's clarification has also come. He has said that he made that gesture not to Kohli's fans but to Pakistanis. While talking to Sports Tak, the former cricketer said, "Pakistani fans were also raising anti-India slogans regarding Kashmir. Being an Indian, I cannot see someone saying this about my country. That's why I reacted like this. Whatever you see on social media It's not always the right picture."
This is not the first time that the Delhi-born left-handed batter has been in controversial situations. He was previously in the Indian Premier League (IPL) and was involved in a verbal argument with Virat Kohli. The argument between Gambhir and Kohli unfolded during an IPL 2023 match at the M Chinnaswamy Stadium. The contest had a thrilling finish, to the game with LSG clinching victory by just one wicket. Following the game, a video of Gambhir went viral on social media, showing him gesturing for silence to the Bengaluru crowd.
He recently analyzed Virat Kohli's dismissal in the match against Pakistan. He stated that it was a poor shot selection from the experienced batter who looked a bit casual in his approach. He said, "That was a nothing shot, neither forward, neither back. I think was a bit casual. That is what you get when you play someone like Shaheen Afridi. You do not know whether to go forward or back."
Here's how fans reacted: 
15-20 second ki walking ne itna sab sun liya usne.. Now trying to defend with the name of Pakistan.. New trend in India.

— Satya Prakash (@Satya_Prakash08) September 4, 2023
He is 41 years old and an MP. He can't behave like a school kid. Pathetic.

— Nirmal Jyothi (@majornirmal) September 4, 2023
If this is true then you were right 👍

— Saumya Tripathi (@SanskariSaumyat) September 4, 2023
A very rude and immature guy i hv seen ever .

— Wali Rehman (@walirehman903) September 4, 2023
Entire SM was saying they were chanting Kohli and Dhoni, People should know before passing any comments

— Telugu Digi (@TeluguDz) September 4, 2023
They Were Shouting Kohli Kohli. According To GG It's Anti Indian 😭 ??

— Aufridi Chumtya (@ShuhidAufridi) September 4, 2023
LIE LIE LIE LIE
He got caught red handed so hiding in the name of Anti india slogan now. Clearly crowds were shouting Kohli Kohli🤔🙏

— SHADZ TV (@shadabansari40) September 4, 2023
Will he make dirty gestures in his reply? Besides this, kohli kohli kohli 🔥😊

— Ram Gehalot  (@RGehalot14) September 4, 2023