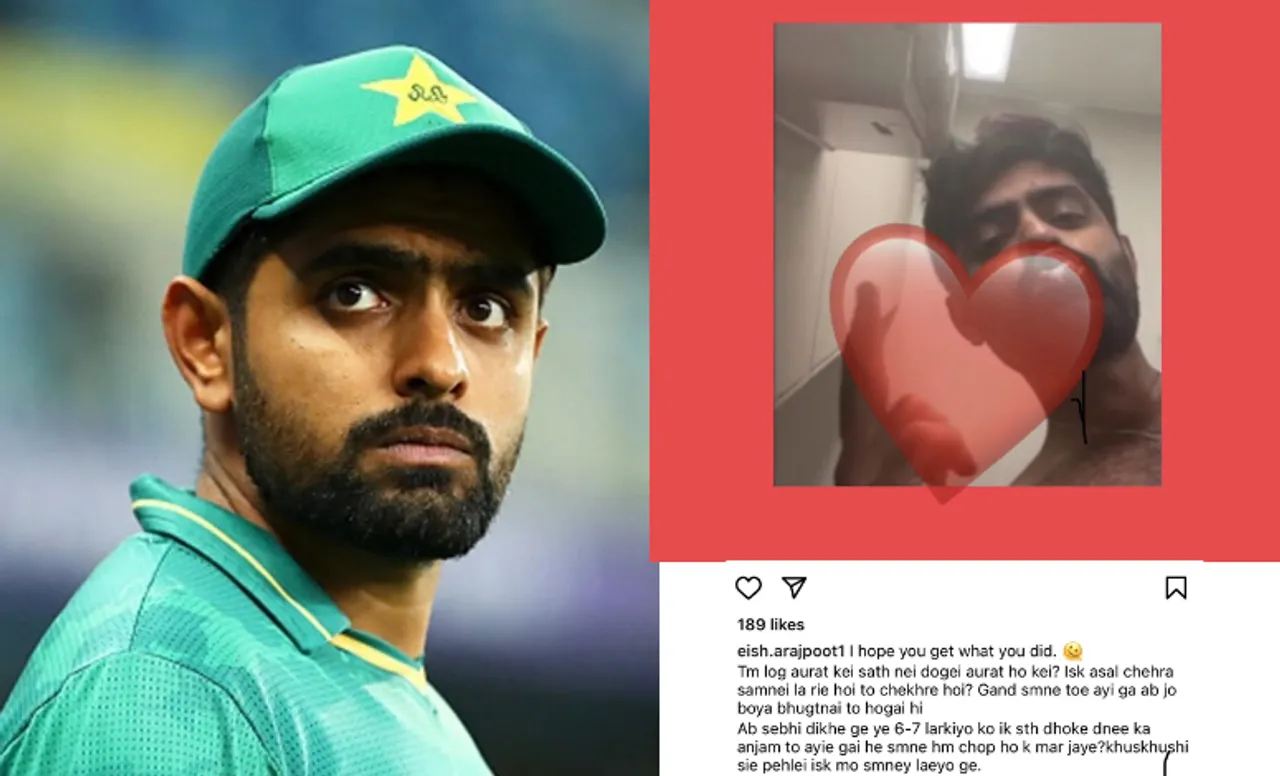 Pakistan cricketer Babar Azam's series of troubles are not coming to an end. While there is a controversy regarding his captaincy on the cricket field, the news of some of his personal pictures and videos being leaked is now coming to the fore of social media. Babar Azam has been accused of sexting a girl, as per recent reports.
His pictures were leaked on Instagram by the handle named Isha Rajput and it was claimed that the person seen in it is Pakistan's skipper Babar. The caption accompanying these pictures and videos reads,
"hope you get what you did. Tm log aurat kei sath nei dogei aurat ho kei? Isk asal chehra samnei la rie hoi to chekhre hoi? Gand smne toe ayi ga ab jo boya bhugtnai to hogai hi. Ab sebhi dikhe ge ye 6-7 larkiyo ko ik sth dhoke dnee ka anjam to ayie gai he smne hm chop ho k mar jaye? khuskhushi sie pehlei isk mo smney laeyo ge. #proof #explore #trending #babarazam" (You won't support a woman even after being a woman, I will bring his real face in front of everyone, now what has been sown will have to be suffered. Now everyone will see he cheated 6-7 girls together.)
 

View this post on Instagram

 
Babar Azam might lose his captaincy
Meanwhile, after the arrival of Najam Sethi inside the Pakistan Cricket Board (PCB), many major changes have been seen. The Board is going to review the structure of all three formats of the Pakistan cricket team i.e. team balance. The result of this review may not prove to be happy for the current Pakistan captain Babar Azam. Notably, he is currently the captain of all three formats of Pakistan.
Recently, the Pakistan cricket team ended a disappointing domestic season. Apart from this, Pakistan's team could not impress much in the multi-nation tournament. Looking at this, now the board seems to be in a mood to reduce the power of Babar Azam.
Pakistan team's regular vice-captain Shadab Khan was ruled out due to a finger injury and Shan Masood was appointed as Babar's deputy. Whereas, Masood played the last ODI in 2019 and suddenly he got this responsibility. Haris Sohail was also called into the team saying that he was not treated fairly by the former selectors.
Here's how Twitter users reacted:
Most disgusting thing ever .. but what else can you expect from that Kom. @Visalmama @mgnayak5 @sdjoshi55 @chittukuruvi4 @Bestum_best @ICC @ICCMediaComms @TheRealPCB
You want this guy to be a role model for Pakistani youth..🤮🤮🤮

— Garv Pe 🙏🇮🇳 (@GarvHinduHonePe) January 16, 2023
What a downfall of Babar Azam.
Never expected him to stoop so low.
Shame on him and Rizwan.

— Vigilante (@saketjaiswal_sj) January 16, 2023
"This too stay strong , Babar Azam shall Pass" -- Lord Akmal (Parody King and English PHD )

— Molly (@ash_dam007) January 16, 2023
They Compare Babar with Virat shame on them there is virat kohli who gose to Temples of Lord krishna and there is babar azam who used to rap* Girls #ViratKohli𓃵 pic.twitter.com/c01SYv4cer

— ANSH 🇮🇳 (@82vsPak) January 16, 2023
New name for Babar Azam :
ZimBabar ❌
ZimolesterBabar ✅
(covers all things abt him) pic.twitter.com/jpcUaAqYgN

— sai. (@Saikohlifan100) January 16, 2023
I don't believe that it was Babar Azam and if it is then what's the big deal in it. He has a life outside cricket. The girl need to keep everything private. Did she ask people before meeting him? Or taking pictures with him? Or before anything? Babar didn't force her to come :) pic.twitter.com/qQeQVX4mc6

— -M💘 (@heyitxmee) January 16, 2023
Babar azam pic.twitter.com/afPCyG79RR

— Desi Bhayo (@desi_bhayo88) January 16, 2023
Aisa he nahi aaya thaa corona. Paap aur haramipana bahut badh gya aur phir badhta jaa rha hai 🥺

— BabaRumdev🥃 (@HeeraTarantino) January 15, 2023