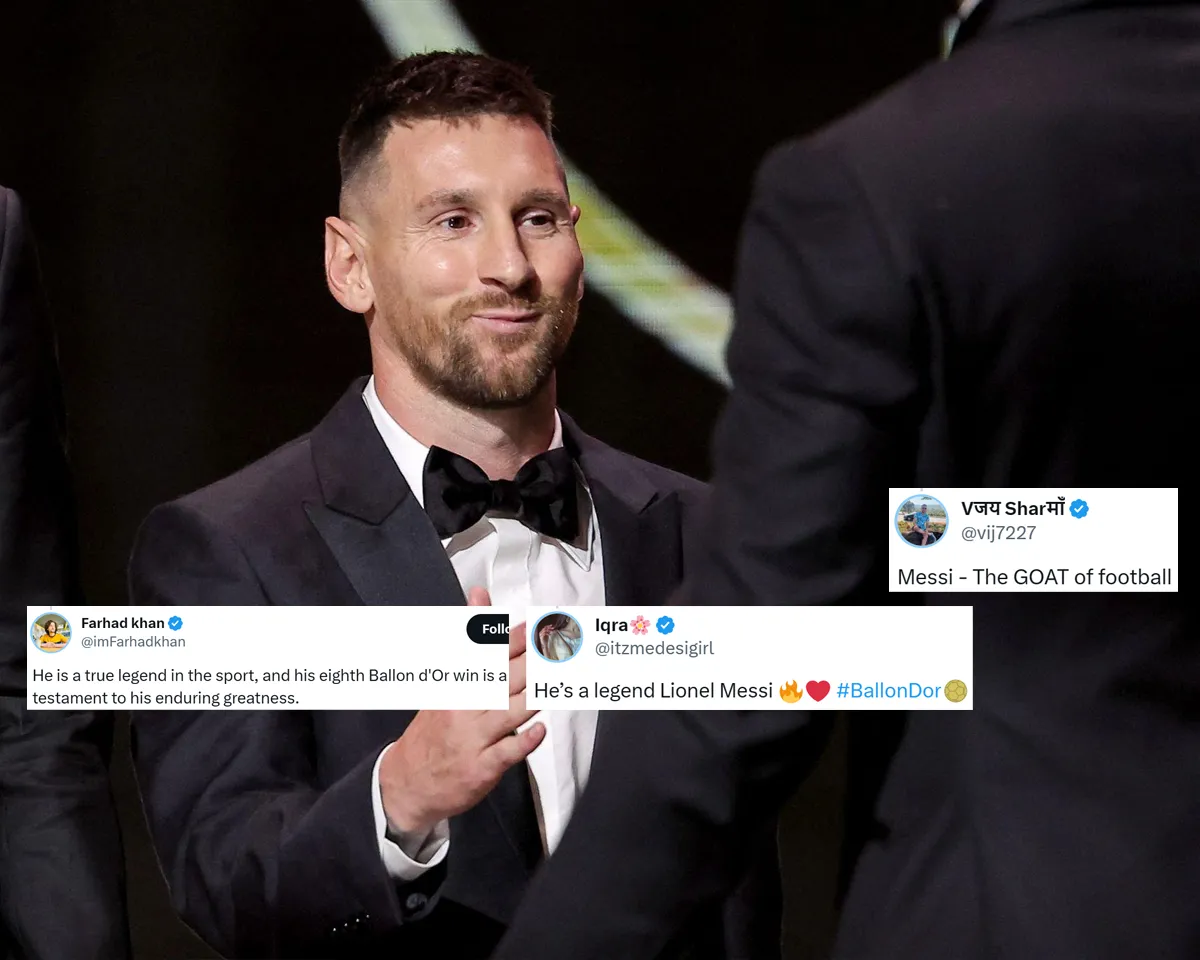 Legendary Argentine footballer and World Champion skipper, Lionel Messi has added another feather to his cap as he won the prestigious Ballon d'Or award eight times. Notably, he has won the Ballon d'Or highest than any other footballer in the history of the game. Following Messi, the legendary Portuguese centre-forward Cristiano Ronaldo has won it 5 times and is in the second spot behind the former among the active footballers.
Messi is currently in action with USA's Inter Miami CF during the MLS; interestingly, he also became the first-ever player in MLS to win this prestigious Ballon d'Or award. Former Man United star David Beckham presented the Ballon d'Or trophy to Lionel Messi. Beckham is also active as a co-owner of the Inter Miami CF.
"I couldn't imagine having the career that I've had. Everything that I've achieved. The fortune I've had playing for the best team in the world, the best team in history. It's nice to win these individual trophies," said Messi after he won the award.
"To win the Copa America and then the World Cup, to get it done is amazing. All of them [Ballon d'Or awards] are special for different reasons," he added later. 
Lionel Messi remembered former Argentine legend Diego Maradona
Furthermore, Messi also remembered the former legendary World Champion Argentina skipper Diego Maradona who guided his side to clinch the coveted title 37 years back in the year 1986.
"My last mention is for Diego [Maradona. Today is his birthday. So, I would like to remember him from here, surrounded by the best players, coaches and people who love football like he did. 'Wherever you are, Diego, happy birthday. This goes also to you," Messi said.
Speaking of the awards night, Messi surpassed Manchester City's young striker Erling Haaland, who scored 52 goals last season as Manchester City completed the treble in the season 2022-23. Haaland also won Gerd Muller Trophy which was awarded to him as the best striker of the year.
Here's how fans reacted to Lionel Messi winning the Ballon d'Or award eighth time: 
He is a true legend in the sport, and his eighth Ballon d'Or win is a testament to his enduring greatness.

— Farhad khan (@imFarhadkhan) October 30, 2023
He's a legend Lionel Messi 🔥❤️ #BallonDor

— Iqra🌸 (@itzmedesigirl) October 30, 2023
Messi - The GOAT of football

— Vजय Sharमाँ (@vij7227) October 31, 2023
The moment when 🐐 was announced as the #BallonDor winner.

- Lionel Messi, the icon!pic.twitter.com/QNZOmBgeMe

— Mufaddal Vohra (@mufaddal_vohra) October 30, 2023
Next generation giving Lionel Messi standing ovation 🥶 pic.twitter.com/B9nqkNpi4Z

— Trig (@Kharlerh) October 30, 2023
Lionel Messi's path to the ballon d'Or has been insane...pic.twitter.com/6lZ2Lotc64

— Nolo (@NoloFCB) October 29, 2023
Reasons why Lionel Messi deserved to win his 8th Ballon D'Or

A thread pic.twitter.com/H5VZI5iAnF

— Kvng Whillz 🤴 (@KvngWhillz) October 31, 2023
Lionel Messi • Ballon d'Or #8

A new longer comp about Leo's incredible last season (with commentary) 🎧 pic.twitter.com/XVBriMu1Vy

— Jan  (@FutbolJan10) October 30, 2023
Me watching Lionel Messi win his 8th Ballon d'Or.pic.twitter.com/PSUKb0tEno

— Roy Nemer (@RoyNemer) October 30, 2023
🚨 Lionel Messi has now SURPASSED Pele as the player with the MOST Ballon d'Or!

🇦🇷 Lionel Messi: 8 🔥
🇧🇷 Pele: 7 pic.twitter.com/nvQywjYK2u

— Exclusive Messi (@ExclusiveMessi) October 30, 2023