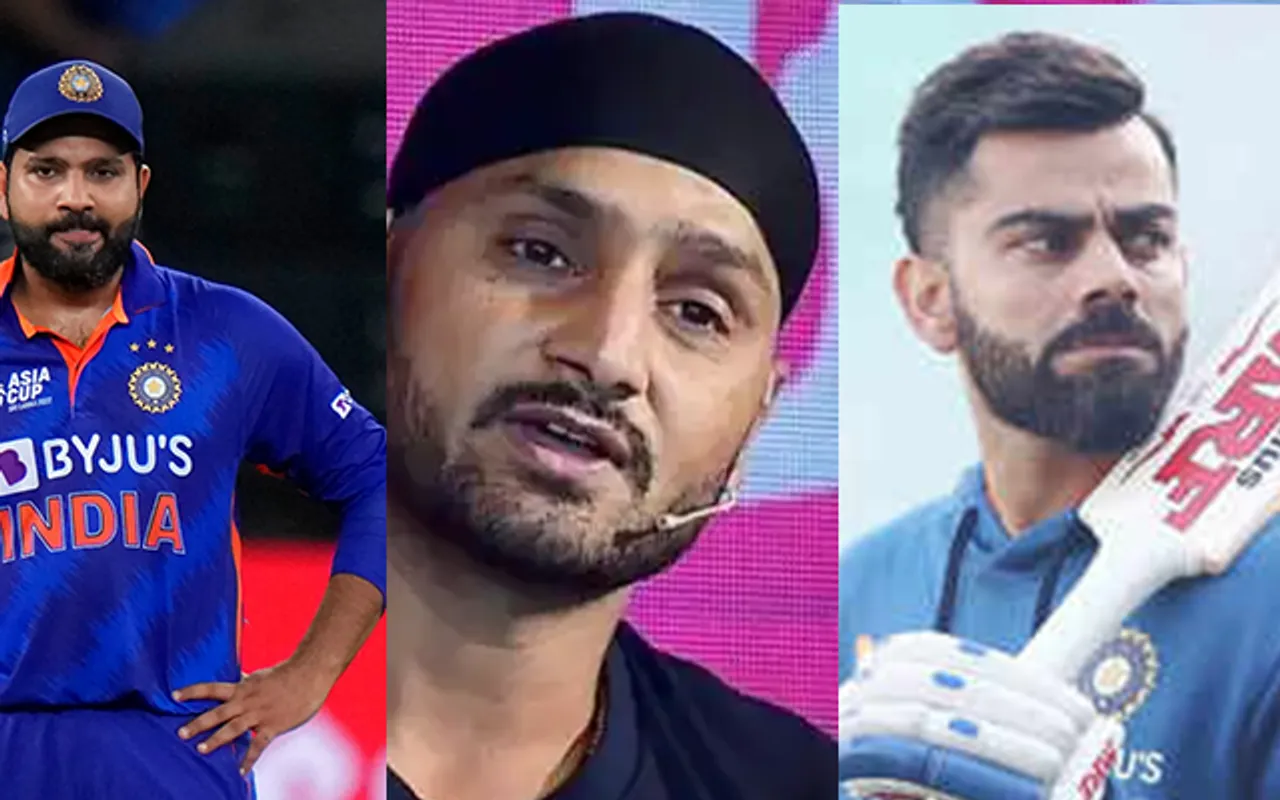 India have seen many great captains till now but the MS Dhoni is believed to be the most successful among all of them. The legendary wicketkeeper-batter led the Indian team to their 2nd World Cup victory in 2011 with a memorable six. Later, the responsibility was given to the modern-day great Virat Kohli, who became India's most successful captain in Tests, but couldn't win any major trophies for India.
Now, India's star opener Rohit Sharma is leading the team in all formats and doing pretty well. All eyes will on him in the upcoming 50-over World Cup this year. He is the most successful captain in the Indian T20 League with 5 titles under his belt.
Meanwhile, former Indian spinner Harbhajan Singh took to Twitter and picked his no.1 captain. A journalist shared a poll on Twitter,
"Choose 1 as captain, all formats Virat Kohli or Rohit Sharma? #ViratKohli #RohitSharma". However, Harbhajan came up with an unexpected answer and said, MS Dhoni.
Dhoni 👍 https://t.co/58wvxvV2DF

— Harbhajan Turbanator (@harbhajan_singh) February 25, 2023
'He came like God for me': Harbhajan Singh on Sourav Ganguly
MS Dhoni helped India to win the inaugural edition of the 20-20 World Cup in 2007 and 50-over World Cup in 2011. He also took his team to victory in 2013 Champions Trophy in England. Dhoni couldn't perform well in the longest format and left the captaincy in 2014. However, the Indian team became the no.1 Test team under his leadership.
Harbhajan played a lot of matches under Dhoni and even played with him in the Indian T20 League as well for Chennai. But there were rumors that things were not good between the two cricketers. Harbhajan Singh has taken Sourav Ganguly's name many times when asked about who is the best captain.
"Had Ganguly not backed me, he wouldn't have won that series (2001 vs Australia) and would have been sacked from captaincy. He came like God for me and held my hand and I went on with my job. It helped both my career and his as a captain as he got the extension. He did help me in giving a chance, but then it's up to the player to make it count."
Here's how fans reacted:
For Harbhajan Singh Best Captain:
Monday : Rohit Sharma
Tuesday: Saurav Ganguly
Wednesday: Kohli
Thursday:Ajharuddin
Friday: Ajinkya Rahane(Gabba Hero)
Saturday:MS Dhoni
Sunday : Mai Apne Aap Ko Hi Bol Leta Hoon 😂

— Captain Jack Sparrow (@ImVivaan45) February 25, 2023
Party badal liya sala

— Cricketbugs (@Cricketbugs0) February 25, 2023
yeh mai kya dekh rha hu 👀👀

— Aditya Kundal (@AdityaKundal4) February 25, 2023
Bhai Dada Ka Name Lena Chahiye tha Tumhe

— Rajeshhhhh🤐 (@johnholick) February 25, 2023
Khel gaye paji

— ALONE (@AnkitSi64061262) February 25, 2023
Loot liya Bhai ne

— Michael Kumar (@Michael96616777) February 25, 2023
Good choice pic.twitter.com/NJKUlxvG3n

— medhansh khurana (@MedhanshKhurana) February 25, 2023
Whatttt ?? Bhajji bhai party change mat karo pic.twitter.com/WYnZEdzPNb

— Rohit.Bishnoi (@The_kafir_boy_2) February 25, 2023
Iss saanp ko koi attention naa de

— Kapil (@Suryekumoryedev) February 25, 2023
Bhajji bhai syaana hogya 🥵💞💞💞💞

— MANINDER SINGH (@manni9684) February 25, 2023