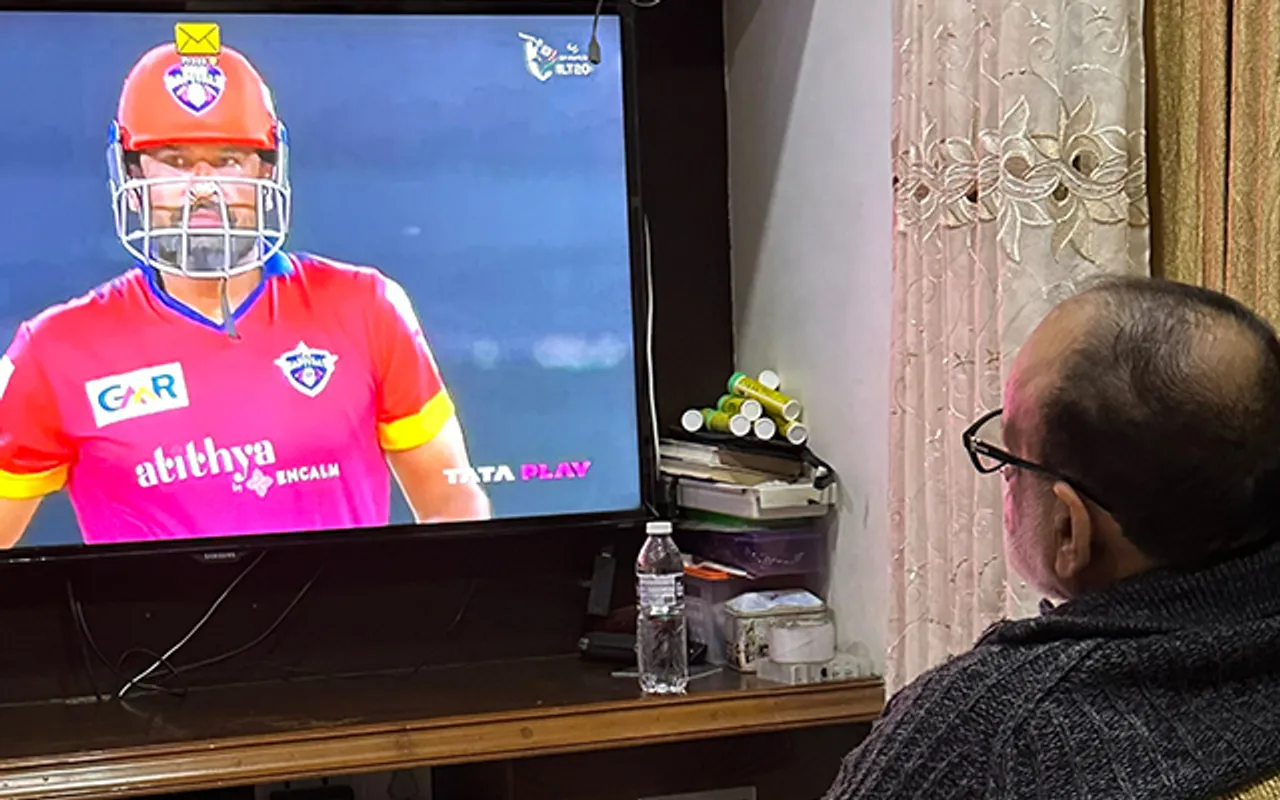 The 20th match of the International Cricket League saw the Dubai Capitals fall short to the Desert Vipers by a margin of 12 runs. Despite the loss, Yusuf Pathan, who was playing for the Dubai Capitals, managed to impress the fans with his batting skills. Brother Irfan Pathan and Yusuf's father were also following the match on TV and shared a picture of it on social media. He expressed his pride and admiration for his son in the caption, "His passion for Khan Sahab and his sons. Yusuf well played Lala..".
Here's Yusuf Pathan's father watching in play on TV: 
Khansaab and his passion for his sons @iamyusufpathan Well played Lala. Hard luck. pic.twitter.com/sxsvg3cZ3W

— Irfan Pathan (@IrfanPathan) January 28, 2023
As for the match, the Desert Vipers batted first and put up a score of 149 runs for 9 wickets in 20 overs, with Colin Munro being the top scorer with 40 runs off 32 balls. Adam Zampa took three wickets for the Dubai Capitals. When it was the Dubai Capitals' turn to bat, they only managed to score 137 runs for 5 wickets. Yusuf Pathan played a standout inning of 34 runs off 26 balls, with a strike rate of 134.62. His performance, which included 3 fours and 2 sixes, was praised by fans and created a buzz on social media.
Here's the highlight of Yusuf Pathan's brilliant inning: 
3️⃣5️⃣* off 26! @iamyusufpathan played every ball with intent and purpose.

A top-notch batting performance today 👏

🎫 : https://t.co/sv2yt8acyL

Watch all the DP World ILT20 action LIVE on Zee Cinema, Zee Thirai, Zee Bangla Cinema, and Zee5.#DPWorldILT20 #ALeagueApart #DCvDV pic.twitter.com/Q2hZnyxwIK

— International League T20 (@ILT20Official) January 28, 2023
Despite not being able to lead his team to victory, Pathan's inning was a nostalgic reminder of his vintage form. The Dubai Capitals team shared a picture of him on Instagram and wrote, "Vintage Pathan..". Overall, the match was a thrilling one, and Pathan's performance was a highlight for the fans.
Yusuf Pathan played 57 ODI matches for India and made 810 runs with a strike rate of 113.6. Additionally, he played 22 T20Is for India wherein he made 236 runs with a strike rate of 146.58. It was in the Indian T20 League where he excelled the most making 3204 runs in 174 matches at a brilliant strike rate of 142.97.