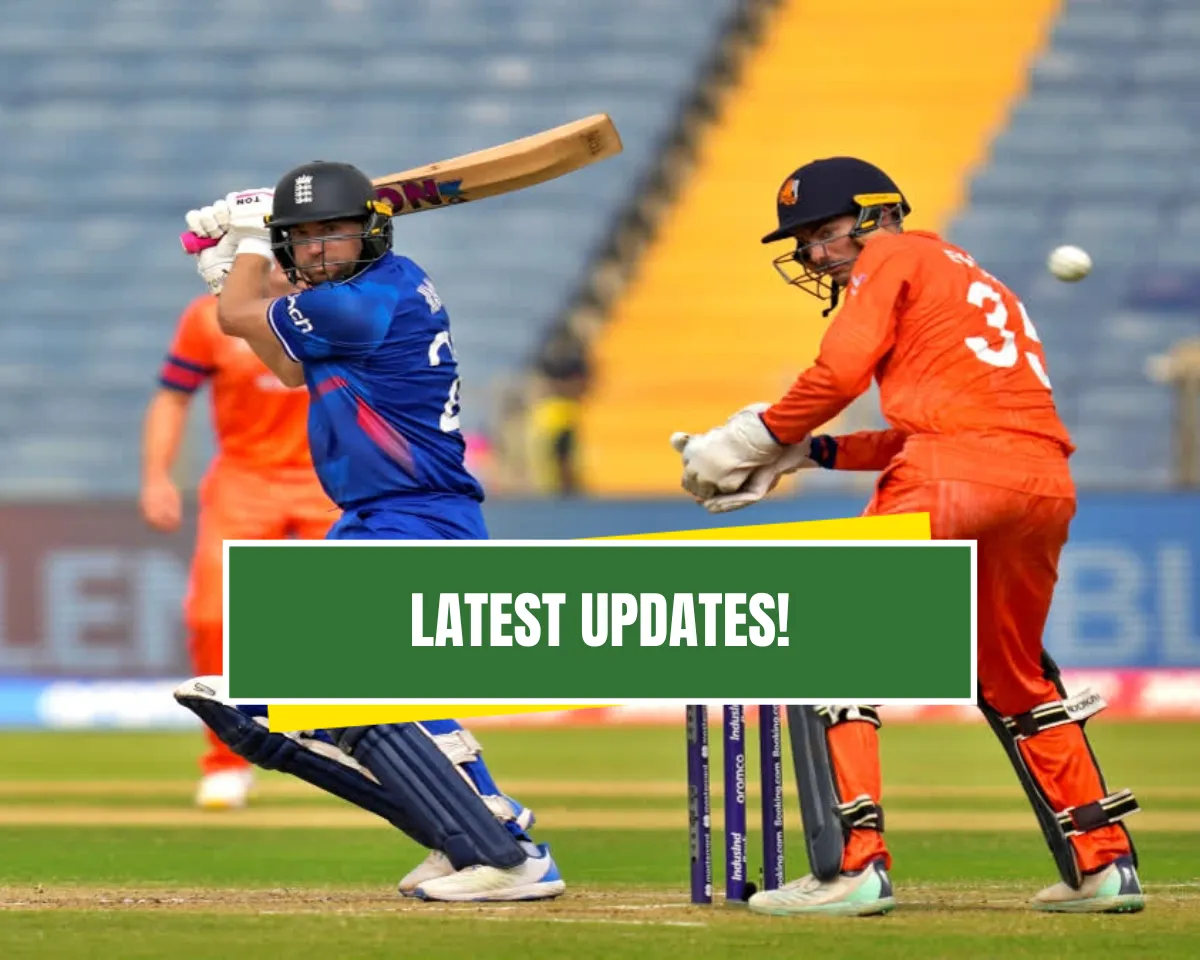 England vs Netherlands in the ODI World Cup 2023 is currently being held at the Maharastra Cricket Association Stadium, Pune. The defending champions did not have a good outing as they lost their six matches and are at the bottom of the table. Jos Buttler's side won the toss and elected to bat first and posted a massive total of 339/9. Ben Stokes scored his maiden century in the tournament. 
The reigning champions have struggled in the mega event. England have been knocked out of the tournament. They are now playing for their pride and also the 2025 Champions Trophy qualification as the top 8 teams from the tournament will qualify for another event that is scheduled in Pakistan. 
Stokes scored 108 runs off 84 balls hitting 6 fours and 6 sixes. The Southpaw and Chris Woakes built a 129-run partnership when England were struggling at 192/6. The latter scored 51 runs off 45 balls. Dawid Malan also scored a brilliant fifty as the opener scored 87 runs. The Netherlands are now in trouble while chasing as they were bowled out for just 179 runs with Moeen Ali and Adil Rashid picking up three wickets each.  
Here's the update about the points table, run-scorer, and wicket-takers:
ODI World Cup 2023 Points Table
| Rank | TEAMS | MATCHES | WON | LOST | POINTS | NR(No Result) | NRR |
| --- | --- | --- | --- | --- | --- | --- | --- |
| 1 | India | 8 | 8 | 0 | 16 | 0 | 2.456 |
| 2 | South Africa | 8 | 6 | 2 | 12 | 0 | 1.376 |
| 3 | Australia | 8 | 6 | 2 | 12 | 0 | 0.861 |
| 4 | New Zealand | 8 | 4 | 4 | 8 | 0 | 0.398 |
| 5 | Pakistan | 8 | 4 | 4 | 8 | 0 | 0.036 |
| 6 | Afghanistan | 8 | 4 | 4 | 8 | 0 | -0.338 |
| 7 | England | 8 | 2 | 6 | 4 | 0 | -0.885 |
| 8 | Bangladesh   | 8 | 2 | 6 | 4 | 0 | -1.142 |
| 9 | Sri Lanka | 8 | 2 | 5 | 4 | 0 | -1.160 |
| 10 | Netherlands | 8 | 2 | 6 | 2 | 0 | -1.635 |
ODI World Cup 2023: Most Run Scorers
| | | | | | | |
| --- | --- | --- | --- | --- | --- | --- |
|   Rank | Batter  | Country  | Matches  | Runs  | Average  | Strike Rate |
|   1 | Quinton de Kock | South Africa  | 8 | 550 | 68.75 | 111.34 |
|   2 | Virat Kohli | India  | 8 | 543 | 108.60 | 88.29 |
|   3 | Rachin Ravindra | New Zealand | 8 | 523 | 74.71 | 107.39 |
|   4 | David Warner | Australia | 8 | 446 | 55.75     | 108.25 |
|   5 | Rohit Sharma | India  | 8 | 442 | 55.25 | 122.78     |
ODI World Cup 2023: Most Wicket-Takers
| | | | | | | |
| --- | --- | --- | --- | --- | --- | --- |
|   Rank  | Bowler  | Country  | Matches  | Overs  | Wickets  | Average  |
|   1 | Dilshan Madushanka | Sri Lanka | 8 | 72.0 | 21 | 22.24 |
|   2 | Adam Zampa | Australia  | 8 | 69.0 | 20 | 19.20     |
|   3 | Marco Jansen | South Africa | 8 | 64.4 | 17 | 24.41     |
|   4 | Mohammed Shami | India | 4 | 26.0 | 16 | 7.00 |
|   5 | Shaheen Afridi | Pakistan  | 8 | 71.0 | 16 | 25.56 |