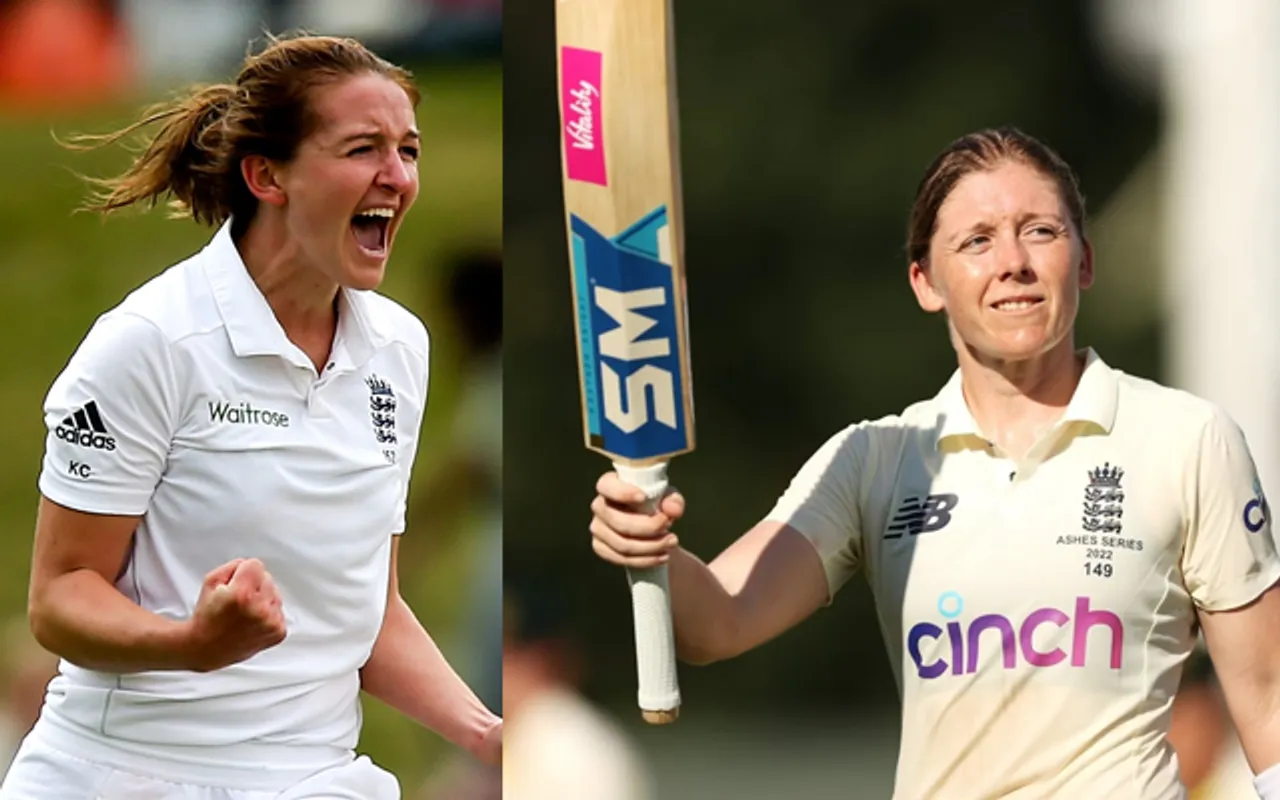 Bangalore women's team players celebrated Holi which has truly unified the group and was one of the first franchises of the inaugural edition of the Women's T20 League to be seen celebrating the festival of colours. 
Most of the foreign players such as Heather Knight, Ellyse Perry, and Sophie Devine were involved in the Holi rituals. Famous Indian team superstars such as Smriti Mandhana and Richa Ghosh were also seen celebrating the festival with true joy. Even though everything is not going in the right direction for the Bangalore side on the field, the group is doing everything to stay united off the field.
How did Kate Cross help out Heather Knight?
Heather Knight, after she played Holi for the first time in India, faced the problems that every Indian faces after Holi. She took to Twitter and asked whether anyone knew how to remove the colour from blonde hair and stated that she is asking for a friend. Kate Cross gave a hilarious answer by saying that they should shave her hair and has truly left social media laughing after this comment.
Despite two consecutive defeats, the most recent 9-wicket thrashing at the hands of Mumbai, the mood in the Bangalore camp remains upbeat, as skipper Smriti Mandhana celebrated Holi on Tuesday with Richa Ghosh and Heather Knight.
After two defeats, Bangalore remains in fourth place in the Women's T20 League (WTL) 2023 standings, and they have yet to open their account. The Bengaluru-based franchise was defeated by Delhi by 60 runs in their first game.
Mumbai simply outclassed Bangalore in their second game, limiting Mandhana's side to 155 runs and chasing down the required target with 34 balls to spare. This was a proper thrashing by the Mumbai side and has left Smriti and her teammates in a spot of bother after just two games in the tournament. 
Fans react to Kate Cross's hilarious comment on Heather Knight's Holi problems: -
Anyone know how to get pink Holi powder out of blonde hair? Asking for a friend… 🤨🤦🏼‍♀️

— Heather Knight (@Heatherknight55) March 7, 2023
Shave it..

— Kate Cross (@katecross16) March 7, 2023
Kattie is awesome in comm box and on social media 😂

— Swapnil 🏏 📷 (@OyeSwapnil) March 7, 2023
Why u are guy's so worried it automatically remove 2-3 days

— Anand Sharma (@AnandSh21682272) March 7, 2023
Katie hitting sixes in the com box. Well. @bhogleharsha

— Intothewoods (@themanwithnolov) March 7, 2023
If you put green powder in it neutralises it and your hair goes back to normal

— Graham Priestley (@gdogbillionaire) March 7, 2023
Wash it with Rin or surf excel

— Tushar08 (@Tushar__08__) March 7, 2023
👑ladkiya sirf aapna sa sundr ladkiyo ko ganja dekhna chahti hai 😂🤣 pic.twitter.com/4GORBrA4U3

— Danish Sharma (@Danish4_) March 7, 2023