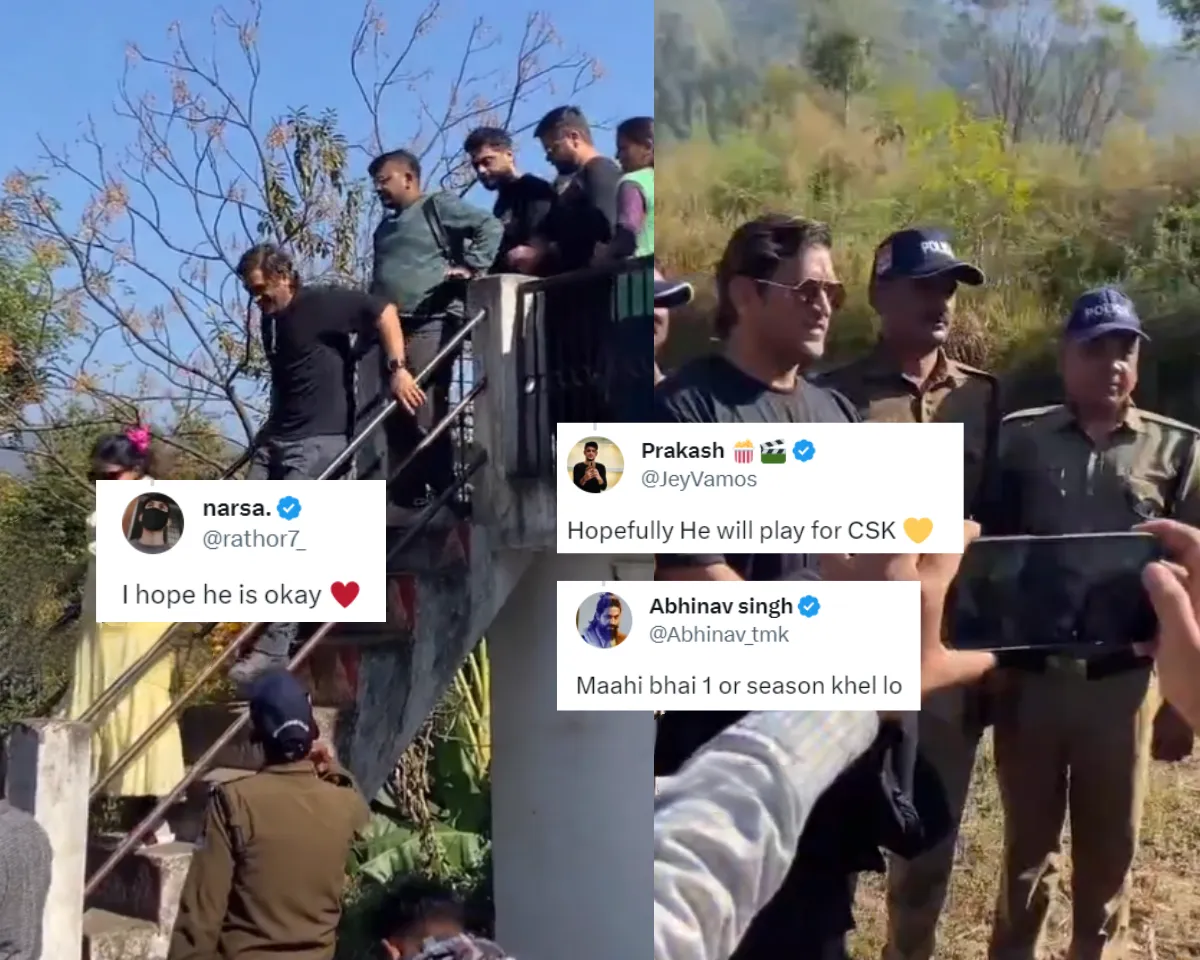 Former Indian cricket team captain Mahendra Singh Dhoni was recently observed visiting his ancestral home in Lawali village, Almora, Uttarakhand, accompanied by his wife, Sakshi Dhoni. This return comes after nearly two decades, with his last trip to the ancestral place in 2004. Despite declaring retirement from international cricket in August 2020, Dhoni used this occasion to reconnect with his roots and explore his family's heritage in Uttarakhand.
In the recent photos and videos which have gone viral on the internet about the legendary cricketer's visit include one that raised concerns among Dhoni fans. Out of those video, one of the video showed the former wicketkeeper-batsman limping while descending stairs, indicating his ongoing recovery from knee surgery post IPL 2023.
Earlier, Dhoni successfully underwent surgery on his left knee in a Mumbai hospital on Thursday. This has generated optimism regarding his potential participation in the 17th edition of the Indian Premier League next year. Following the ODI World Cup final in Ahmedabad, where he led the Chennai Super Kings to their fifth IPL title, Dhoni traveled from Ahmedabad to Mumbai on Monday. He consulted with renowned sports orthopaedic surgeon Dr. Dinshaw Pardiwala, a member of the medical panel known for performing surgeries on several top Indian cricketers, including Rishabh Pant.
Let us now watch the viral video of Dhoni hobbling on the stairs;
November 21, 2023
This is how Twitter has reacted to this video;
Hope is good 😊

— BharatCricket (@BharatEcricket) November 21, 2023
🙏💔

— BharatCricket (@BharatEcricket) November 21, 2023
12 year old me while coming down from stairs

— Mirzay. (@lmaomirzay) November 21, 2023
Hope he will be able to play 1 more season

— ༒☬𝓐𝓵𝓹𝓱𝓪 𝓓𝓻𝓮𝓪𝓶𝓮𝓻☬༒ (@Alpha_dreamer_) November 21, 2023
Hopefully he will be fine

— Samriddhi Singh♥️ (@Samridd90774225) November 21, 2023
Maahi bhai 1 or season khel lo

— Abhinav singh (@Abhinav_tmk) November 21, 2023
Hopefully He will play for CSK 💛

— Prakash 🍿🎬 (@JeyVamos) November 21, 2023
I hope he is okay ♥️

— narsa. (@rathor7_) November 21, 2023
💔🥺
Hopefully he will be fine 🤞🤞

— Vishal (@Vishal5813) November 21, 2023
MS Dhoni was not allowed to play Legends League Cricket
There is not a hint of doubt that MS Dhoni is a legend but the fans were eagerly waiting for seeing Dhoni play in LLC 2023. Despite participating in the Legends League Cricket 2023, Mahendra Singh Dhoni is permitted to play even after his retirement from international cricket in 2020. There's a rule prohibiting Dhoni and other Indian men's players from participating in overseas or franchise leagues (other than IPL) while still active in Indian cricket under the Indian Cricket Board's (ICB) umbrella.
This includes international cricket, domestic cricket, and the IPL. A player must retire from all these aspects and sever ties with the ICB to obtain a No Objection Certificate (NOC). Although Dhoni retired from international cricket and hasn't played domestic cricket since 2017, he still plays IPL and leads the Chennai Super Kings (CSK) in the T20 league.
This makes him subject to ICB's regulations, restricting his involvement in leagues like Legends League, T10 League, Big Bash League, the Hundred, or any other league until he retires from IPL. Despite potential demand outside India, Dhoni is not expected to participate in any league until he retires from IPL, confirming his return to the CSK in IPL 2024.