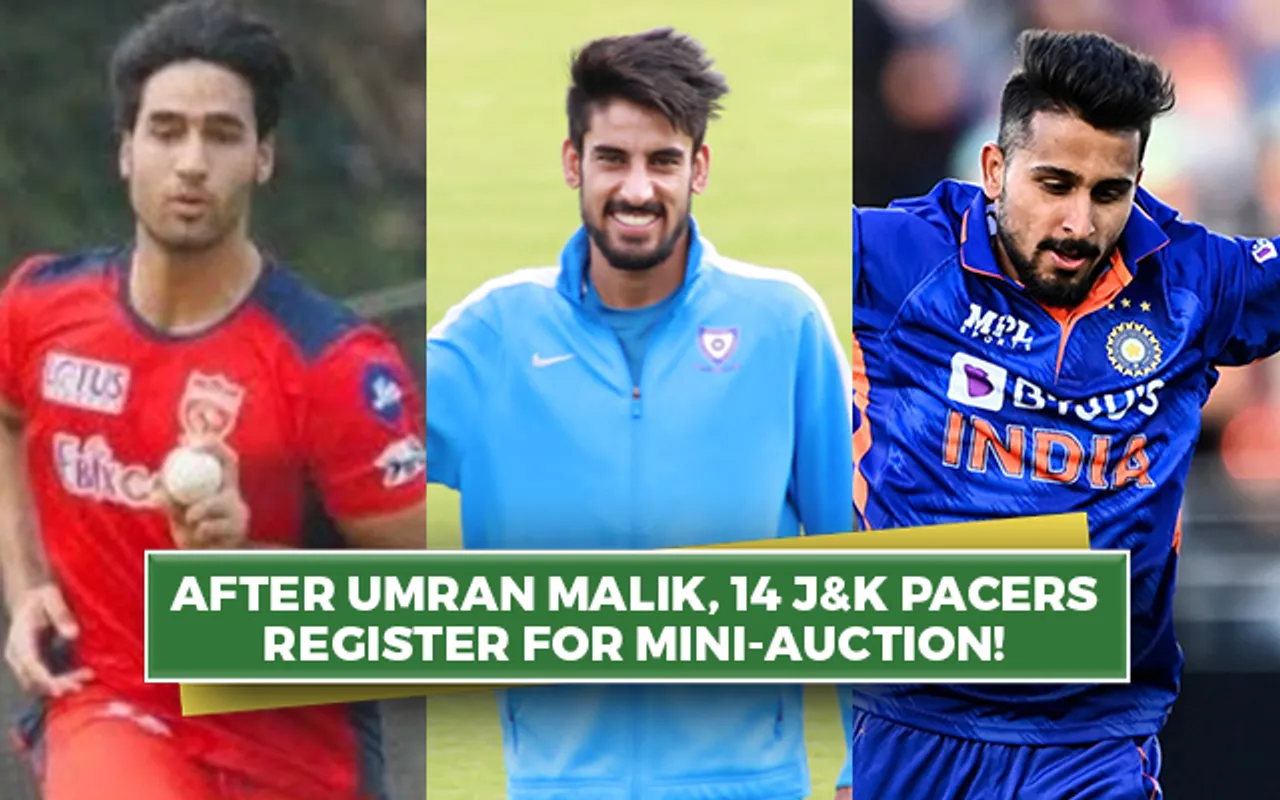 It was Umran Malik's pace that set the stage on fire for him, 2022 turned out to be a dream year for speedster Umran as he went on to make his debut for India in white-ball formats. A few other cricketers from the valley, like Rasikh Islam and Parvez Rasool, also had stints in the Indian T20 League but it was Abdul Samad's outing with Hyderabad and then Umran's exploits with the ball which put their talent on notice.
 In no time, the major league scouts started digging deep to unearth raw talent from Jammu & Kashmir and more and more names started appearing in the auction pool. Taking inspiration from Umran, as many as 14 quicks have registered for the upcoming mini-auction from J&k.
Most of the seamers in the list have attended multiple trials and the likes of Basit Bashir and Sharukh Dar have already served as net bowlers for Punjab and Hyderabad, respectively in the previous edition. An increase in J&K players playing the Indian T20 League is very likely for the upcoming edition as almost all top teams are on the lookout for cheap domestic fast bowlers.
So many options for the franchises
Indian T20 League 2023 Player Auction list is out with a total of 405 cricketers set to go under the hammer in Kochi on December 23rd, 2022. Initially, a total of 369 players were shortlisted by 10 teams from the initial list of 991 players. Thirty-Six additional players were requested by teams, which are added to the final list which makes a total of 405 players who will be presented at the mini-auction.
Out of 405 players, 273 are Indians and 132 are overseas players of which 4 players are from associate nations. The total number of capped players is 119, uncapped players are 282, and 4 are from associate nations.
J&K players in the auction list: Shubham Khajuria, Vivrant Sharma, Mujtaba Yousuf, Abid Mushtaq, Yudhvir Charak, Basit Bashir, Rasikh Dar, Waseem Khanday, Avinash Singh, Aman Sharma, Fazil Makaya, Ateev Saini, Shahrukh Dar, Lone Muzaffar, Auqib Dar, Asad Jamil Ahmed, Aashish Bhatt, Gourav Koul, Rajeev Singh, Mohd. Wasim, Sampark Gupta.