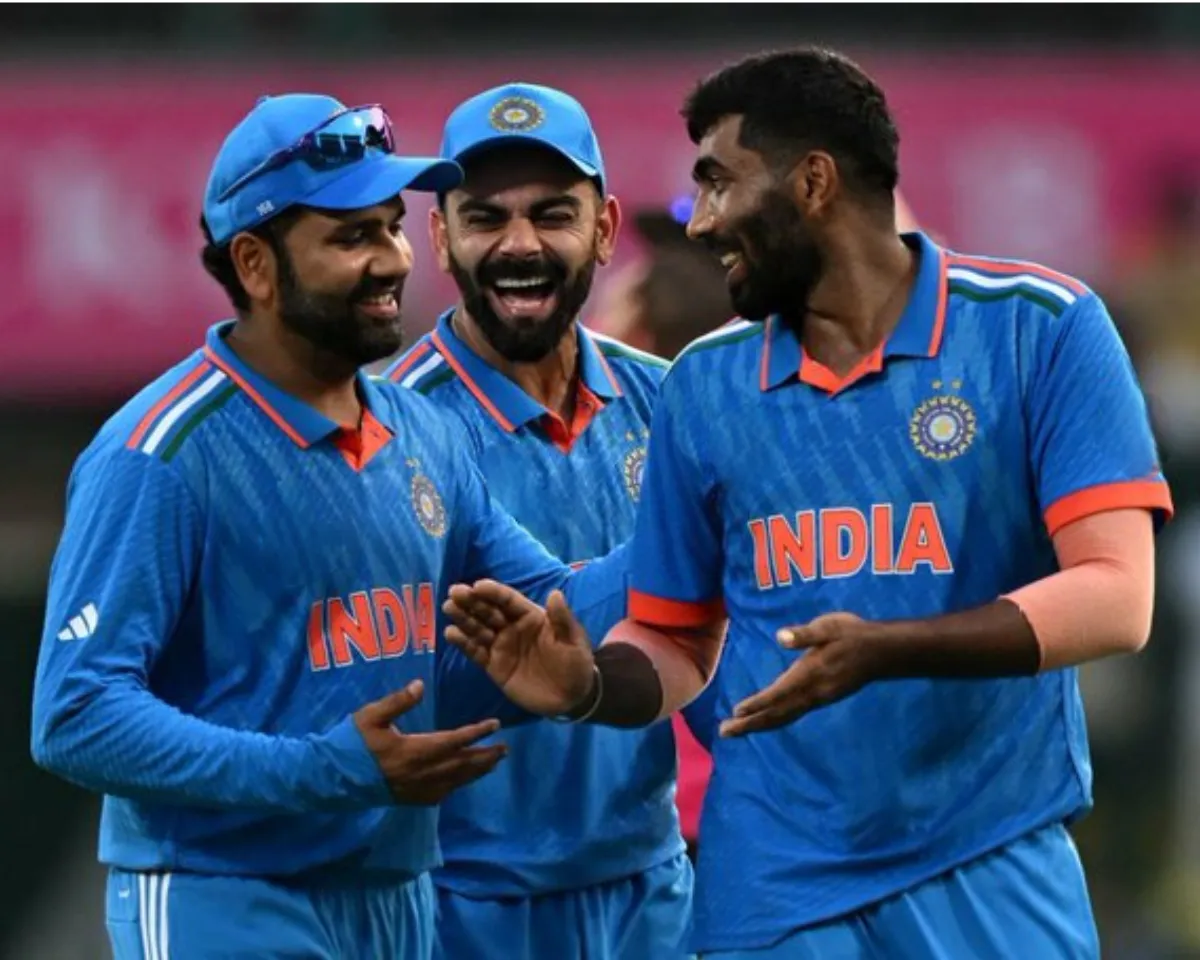 The capacity crowd in Ahmedabad were jumping with joy as India beat Pakistan once again in ODI World Cups. Team India won the ODI World Cup 2023 game by 7 wickets with 19.3 overs left to play leaving the Pakistani team looking lost. 
Rohit Sharma with the bat and the Indian bowlers won the game for India. This win now means India has won eight times against Pakistan and enjoys a 100% record. India won the toss and Rohit Sharma put Pakistan into bat.
The Pakistanis came into the game with two wins in their first two games and made no change to their team. India meanwhile had one change in Shubman Gill in place of Ishan Kishan.
Pakistani hammered after brutal Indian display in ODI World Cup 2023
Chasing 192 to win, India displayed complete command to win the game in the 31st over. Shubman Gill and Virat Kohli were out for 16 runs each. Rohit Sharma though did not let the scoring chances as he scored 86 runs. The Indian skipper got his runs off 63 balls with 6 fours and 6 sixes in his knock.
Shreyas Iyer also got his first fifty in the ODI World Cup 2023 tournament. The 28-year-old was not out on 53 runs off 62 balls with 3 fours and 2 sixes. KL Rahul was not out on 19 from 29 balls with 2 fours. Iyer hit the winning runs when he smashed Nawaz over his head for a four.
Pakistan earlier committed hara-kiri when they lost 8 wickets for 36 runs. At one stage the men in green were coasting at 155 for 2 and on course to make over 300 runs. Mohammad Siraj got the huge wicket of Babar Azam when he bowled the Pakistan skipper for 56.
Jasprit Bumrah did more damage when he bowled Rizwan for 49 which left the Pakistani wicket-keeper shocked. Kuldeep Yadav ran through the two dangerous Pakistani middle-order batters to change the course of the game.
Ravindra Jadeja and Hardik Pandya also picked two wickets each to help India bowl out for 191. One must not forget the captaincy of Rohit Sharma who kept changing the bowlers at regular intervals to unsettle the Pakistanis.
Here's how the fans reacted -
INDIA HUMILIATES PAKISTAN AT THE NARENDRA MODI STADIUM...!!!

What a dominating victory with 117 balls to spare - India are unstoppable in the World Cup. Rohit Sharma the hero of the day. pic.twitter.com/T7lqjp49wS

— Mufaddal Vohra (@mufaddal_vohra) October 14, 2023
इसे हराना नहीं, छीछालेदर करके हराना कहते हैं। पाकिस्तान को पिछले मैच की परंपरा जारी रखते हुए इस बार की ये हार हमास के अपने आतंकी भाईयों को समर्पित कर देनी चाहिए। इससे उन आतंकियों का मनोबल भी बढ़ेगा कि वो अकेले नहीं हैं जो ठोके जा रहे हैं।
जय हिंद 🇮🇳 pic.twitter.com/ihXl2U4uJP

— 💃Naina rajpurohit 💃 (@nainapurohit143) October 14, 2023
On the top 😎 pic.twitter.com/FimGJZNLZi

— Naveen (@_naveenish) October 14, 2023
What an amazing win 🔥
The one for history 🤩 pic.twitter.com/Gl7Oh4bhSe

— Chatur (Not an Idiot) (@mpbsvs) October 14, 2023
This humalition will continue forever 💪

— Shubman Gang (@ShubmanGang) October 14, 2023
INDIA HUMILIATES PAKISTAN AT THE NARENDRA MODI STADIUM...!!!

What a dominating victory with 117 balls to spare - India are unstoppable in the World Cup. Rohit Sharma the hero of the day.

— Ronak (@iamRonak45) October 14, 2023
We need to drop imam in the next match

— Farhad khan (@imFarhadkhan) October 14, 2023