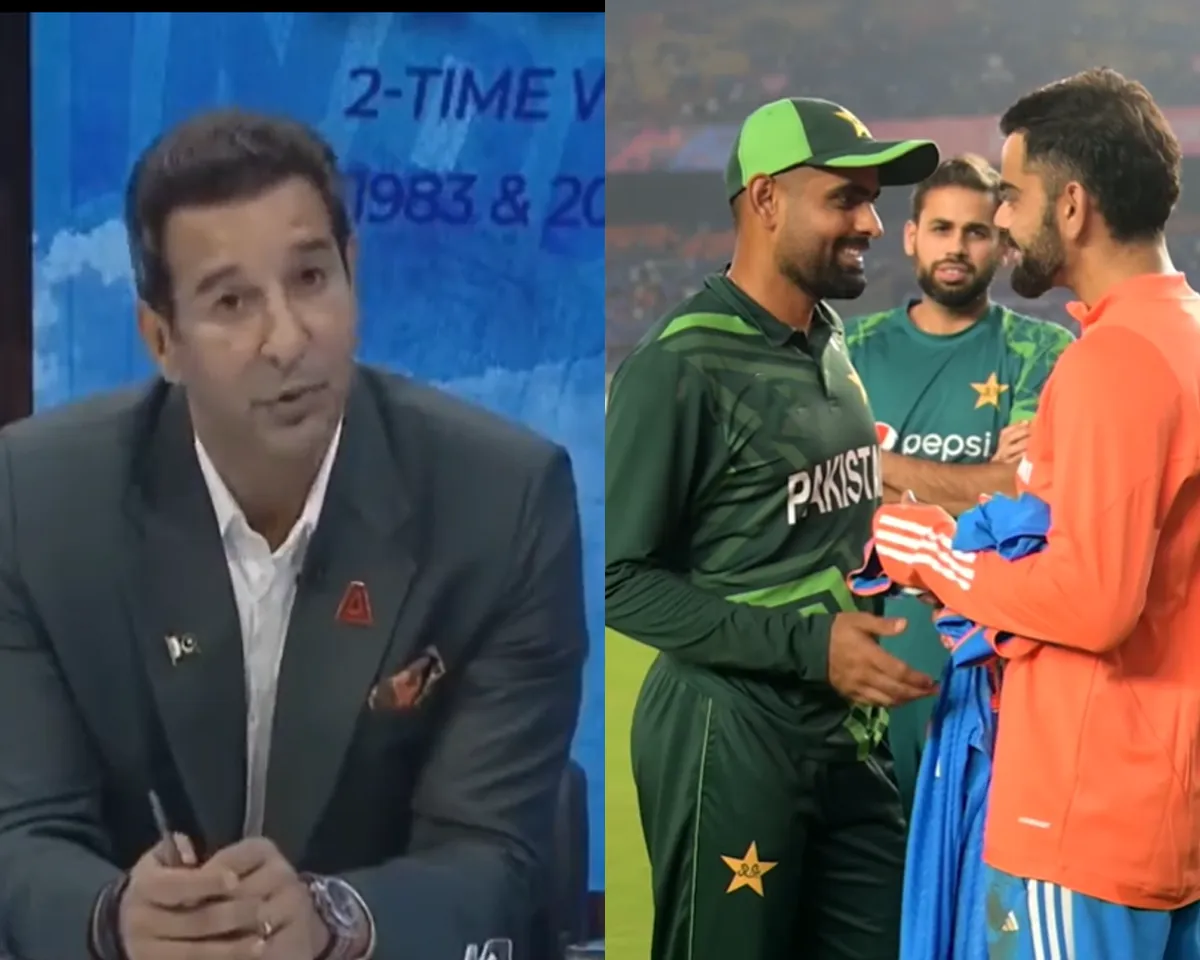 India made it eight wins out of eight against Pakistan in the ODI World Cup as they defeated them on Saturday, by seven wickets at the Narendra Modi Stadium, Ahmedabad. After being invited to bat first the Men in Green was bundled out for just 191 runs. Except for Babar Azam and Mohammad Rizwan, no other batter was able to score runs against a formidable Indian bowling attack. 
After the match skipper Babar Azam was seen having a chat with former India skipper Virat Kohli and the latter was seen gifting a jersey to the Pakistan batter. For this gesture, Babar has been criticised by many former Pakistani cricketers and fans. They believe that it would've been more sensible to do such an act in the dressing room. Former Pakistan skipper Wasim Akram in a TV show bashed the Pakistan skipper for his gesture, given the heavy margin of defeat against India. The Cricket Governing Body posted a video of them chatting and Virat sharing his jersey, captioning it, 'The mutual respect'.
Babar scored 50 runs and he with Rizwan stitched a partnership of 82 runs before the collapse happened. They were batting superbly and were 155/2 at one stage and from there they crumbled to 191/10. Jasprit Bumrah was sensational with the ball against them. 
This should be a private matter, it should not be done in an open ground: Pakistan fan
Akram was not too happy with the gesture. During a discussion on the show, 'The Pavilion', after the match, a fan question which was shown where the person had criticized the Pakistan skipper for his moment with Kohli. It stated, "I can see Babar is receiving two shirts from Virat Kohli. Everybody is showing this clip over and over again. But after your fans are so hurt after a disappointing performance, this should be a private matter, it should not be done in an open ground."
Akram while agreeing with the fan's question he stated, "That's what I exactly said when I saw the picture [getting the shirts publicly, not privately]. Today was not the day to do this. If you want to do it – if your uncle's son has asked you to get Kohli's shirt – then do it after the game in the dressing room."