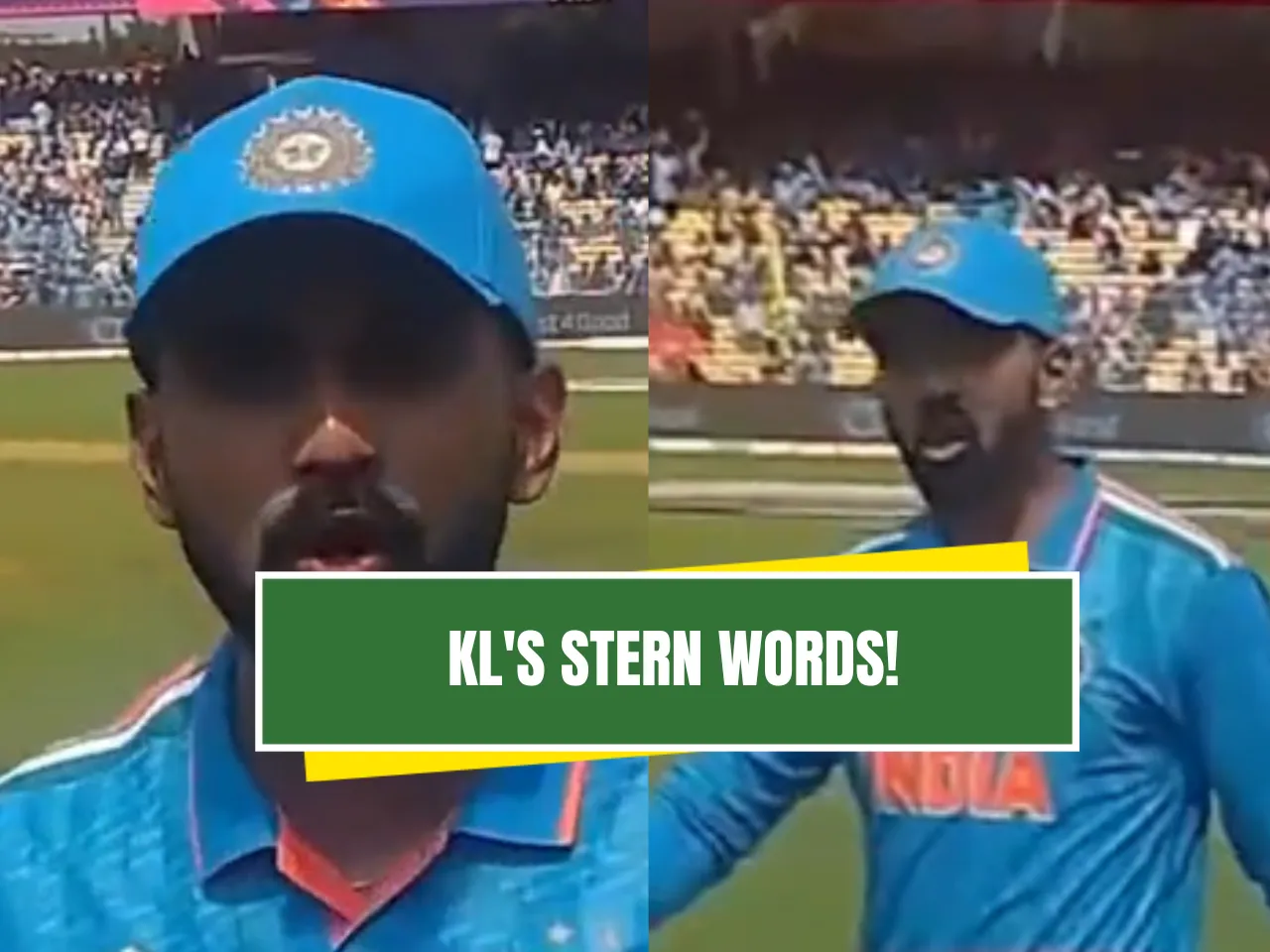 One of the most renowned cricket prankster 'Jarvo 69' recently shared a point-of-view video of his intrusion onto the playing field during the ODI Cricket World Cup 2023 match between India and Australia on October 08 at M A Chidambaram Stadium in Chennai. The viral footage captures close interactions between Jarvo and Indian cricketers.
As he made his way onto the field, Mohammed Siraj attempted to halt Jarvo at first, but he continued towards the pitch, where a visibly irritated KL Rahul confronted him and vehemently urged him to depart. The video captures Rahul expressing his frustration, using strong language, and insisting that the intruder stop his disruptions.
"It's not for you, that place is for you (pointing towards the crowd) Go F**k off, stop coming everywhere," Rahul was heard saying that in the video.
Watch the video: 
KL Rahul to Jaavo-

"Go Fu*k off, stop coming everywhere"

Is this real? pic.twitter.com/6HwHRlQDVG

— The CrickFun (@TheCrickFun) November 6, 2023
Jarvo banned from attending matches at ODI World Cup 2023 
After this invasion which Jarvo did in India's first game in the World Cup game against Australia, the Apex Cricket Council (ACC) took major step of banning him from attending any match in the reminder of the World Cup 2023. But after his invasion there are several critical question which were raised like: How did he gain access to the VIP area and successfully breach multiple layers of security to enter the Field of Play (FOP)? This marks the fourth instance where the English prankster, widely recognized as a nuisance at various UK venues, has managed to bypass security measures during matches involving the Indian cricket team.

This incident likely left both the ACC and India Cricket Board embarrassed. Jarvo, donning an India jersey, nonchalantly entered the venue just as the Indian team was preparing for their march past, attempting to approach the team's superstar, Virat Kohli. Initially taken aback, the Indian team's security officer swiftly apprehended the intruder and escorted him out of the venue, all while Kohli appeared unamused.

 

Jarvo had previously been banned from English cricket grounds after repeatedly exploiting security vulnerabilities during the 2021 series against India. Despite his notoriety, he has often been apprehended by security but not treated as a serious concern.