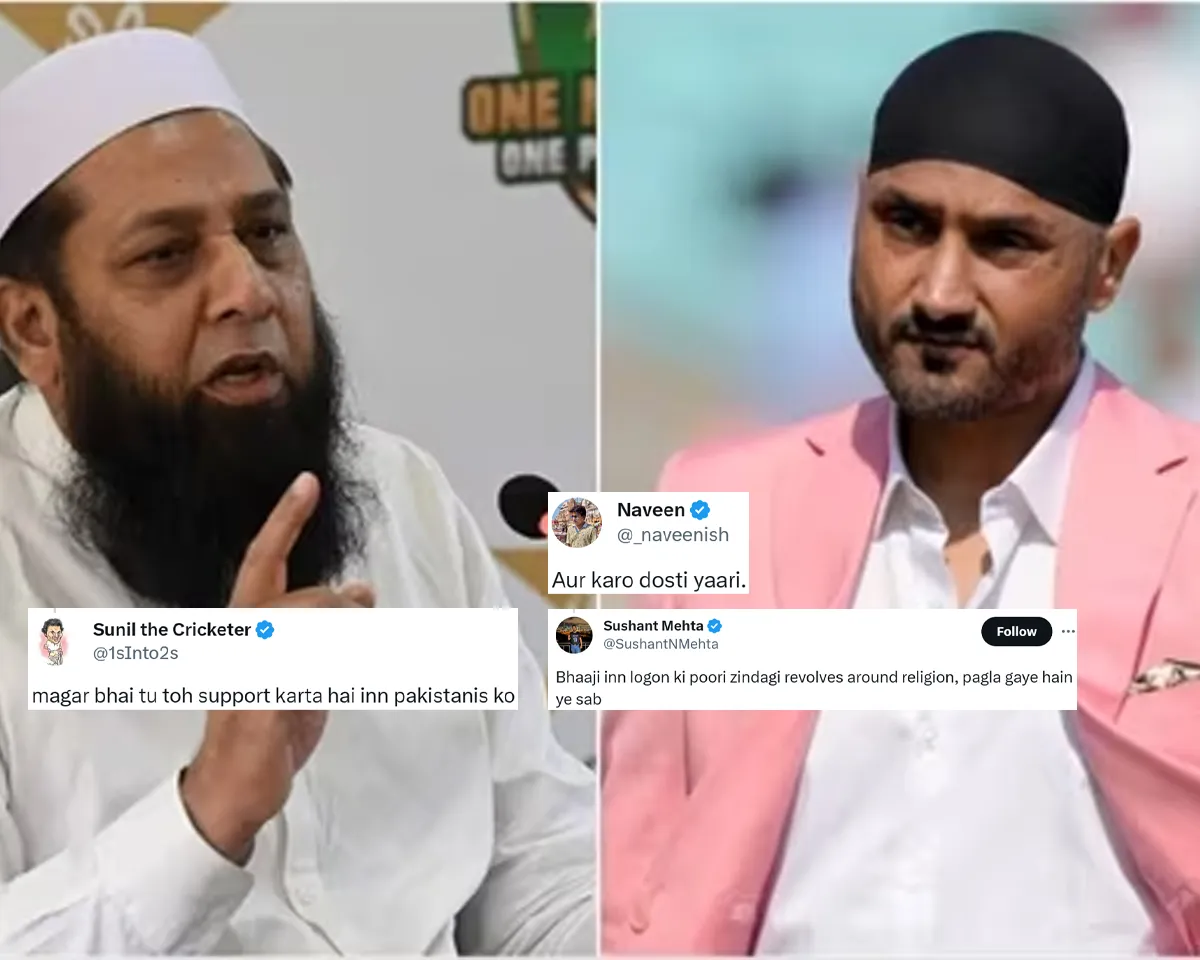 On Wednesday, the legendary former India off-spinner Harbhajan Singh expressed his displeasure with former Pakistan skipper Inzamam-ul-Haq, criticizing the ex-chief selector of the Pakistan Cricket Board (PCB) on social media. This came after a viral video where Inzamam asserted that Harbhajan was seemingly contemplating a conversion from Sikhism to Islam.
Harbhajan Singh then took to social media and blasted Inzamam for his ridiculous claims. "Yeh kon sa nasha pee kar baat kar raha hai ? I am a proud Indian and proud Sikh..yeh Bakwaas log kuch bi bakte hai," Harbhajan wrote on social media platform 'X'.
Yeh kon sa nasha pee kar baat kar raha hai ? I am a proud Indian and proud Sikh..yeh Bakwaas log kuch bi bakte hai 😡😡😡🤬🤬 https://t.co/eo6LN5SmWk

— Harbhajan Turbanator (@harbhajan_singh) November 14, 2023
The circulating video features the iconic former Pakistan batter stating that Harbhajan Singh, alongside other Indian cricketers, attended sermons by Maulana Tariq Jameel, recognized for leading prayers with the Pakistan cricket team. In the footage, Inzamam disclosed that during a tour, he invited Irfan Pathan, Zaheer Khan, and Mohammad Kaif to join prayer sessions, asserting that Harbhajan was also part of the gatherings. The ex-Pakistan skipper implied that the former Indian spinner was impacted by these sermons and expressed a desire to convert.
Inzamam ul Haq revealed how Harbhajan Singh was close to converting to Islam after meeting Maulana Tariq Jameel, who used to come over and read Namaz with the Pakistan Cricket Team. https://t.co/EfuLLH68Fu pic.twitter.com/eQAXvrP7cI

— Sensei Kraken Zero (@YearOfTheKraken) November 14, 2023
My teammates approached players to covert religion: Inzamam
In another widely circulated video on social media, Inzamam, the former Pakistan captain and ex-Chief Selector, asserted that he and teammate Saqlain Mushtaq attempted to convert foreigners and English players to Islam while playing for a club. In one of the videos, Inzamam also stated that they approached West Indies cricket legend Brian Lara with the idea of embracing Islam.
That time when Mohammad Yousuf, who himself converted to Islam from Christianity, tried to convert Brian Lara to Islam during a test match in Karachi.

Inzamam ul Haq himself spoke about it during a speech. pic.twitter.com/tAttHyZgun

— Sensei Kraken Zero (@YearOfTheKraken) November 14, 2023
Shortly before Pakistan's exit from the World Cup, Inzamam stepped down from his role as Chief Selector of the Pakistan cricket team amid accusations of a conflict of interest. Additionally, Inzamam-ul-Haq is under investigation for his alleged shareholding in 'Yazo International Limited,' a company linked to player agent Talha Rehmani.
The disclosure has raised apprehensions regarding potential conflicts of interest, especially as Rehmani serves as the representative for several key Pakistan cricketers, including Babar Azam, Mohammad Rizwan, and Shaheen Shah Afridi. Furthermore, concerns have been voiced about whether Inzamam's dual positions as Chief Selector and a shareholder in a company representing top cricketers could impact decisions related to player selection. This controversy unfolds amid substantial disputes between the Pakistan Cricket Board (PCB) and players regarding central contracts.
Let us look at how Twitter has reacted to this news;
Bhaaji inn logon ki poori zindagi revolves around religion, pagla gaye hain ye sab

— Sushant Mehta (@SushantNMehta) November 14, 2023
Vaise AAPiya ki koi guarantee nahi de Sakta

— Pravin (@thatPunekar) November 14, 2023
Waise bhi Aam Aadmi Party k Netaaao ka koi bharosaaa nahi hain 😭🤣😭🤣

— ْ (@shiv0037) November 14, 2023
Aur karo dosti yaari.

— Naveen (@_naveenish) November 14, 2023
Waisay Inzamam Bhai ko jhoot bolnay ki koi zarurat nahi hai. Ye baat, Harbhajan apkay hawalay say pehlay bhi mashhoor hui thi aur ye baat aur bhi Pakistani cricketers nay ki thi .

— Mansoor Ahmed Qureshi (@MansurQr) November 14, 2023
Aur karo donate inko 🤡

— Cabinet Minister, Ministry of Memes,🇮🇳 (@memenist_) November 14, 2023
Ye sab do char din se kya bolna hai bhul gaye hai......Parchi bhatija....ke Farzi caccha...

— Hriday Singh (@hridaysingh16) November 14, 2023
Pakistan people known for these false talks

— Manu (@virat_facts) November 14, 2023