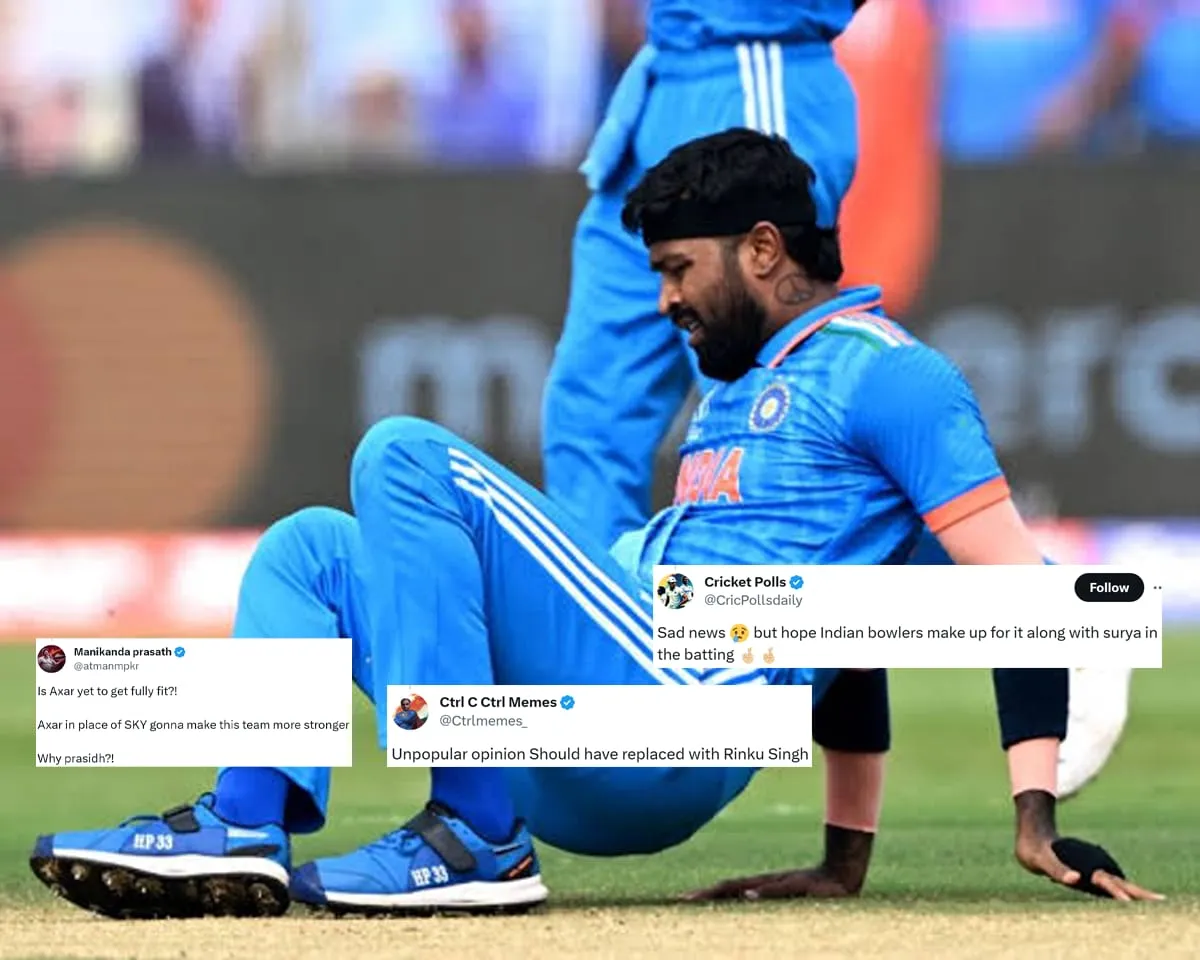 India star cricketer Hardik Pandya, who sustained an ankle injury against Bangladesh on October 19 at MCA in Pune, is now officially out of the ongoing ODI World Cup 2023. This is the biggest loss for Men in Blue as he seems to be a proper batsman and bowler. According to reports, the 30-year-old cricketer has failed to recover from the time, which makes him ruled out of the game.
Notably, Pandya has been replaced in the Indian squad by fast bowler Prasadh Krishna. The right-arm pacer got the nod for his great performances in his Ireland series, where he picked up four wickets in two games. In addition, Krishna also played one game against Bangladesh in the Asia Cup 2023, and his tremendous performance earned him a place in the marquee event.
Meanwhile, right-arm pacer Hardik Pandya looked to be straining his left ankle while trying to block a shot during his first over of the Bangladesh clash. According to reports, he had been taken for scans after he finished that game without playing any more. Notably, the great all-rounder reportedly sustained a ligament injury, and he has been in the rehab phase at the National Cricket Academy in Bengaluru.
Hardik Pandya has failed to recover in time to part of the rest of the campaign: Reports
However, Mohammed Shami proved himself as the great pacer over his replacement in the games, but Suryakumar Yadav is not able to boost India's middle order, which makes Hardik Pandya miss the most owing to his great batting.
"Pandya hurt his left ankle while bowling during India's World Cup match against Bangladesh in Pune last month and it has now been confirmed that the 30-year-old has failed to recover in time to part of the rest of the campaign. With the Event Technical Committee approving India's replacement player on Saturday, it means Krishna is available for selection for Sunday's crucial World Cup clash against fellow tournament pace-setter South Africa," read an Apex Cricket Council release on the development.
Check out how fans have reacted to this news:
Thats the last thing as team India fan you want to hear

— Jitesh (@Jiteshjustcool) November 4, 2023
World Cup: Big blow to Team India amid World Cup, Hardik Pandya out of the tournament due to injury. Fast bowler Prasidh Krishna has been called up to replace him in India's squad.

— Ashok Meena (@ak_meenaaaa) November 4, 2023
Huge loss for team India.

— The Random Guy (@RandomTheGuy_) November 4, 2023
With Hardik, this team would have been unbeatable.

Now india needs to create the 6th bowling option in the current 11 😬#HardikPandya #TeamIndia

— Taral Panchal (@taral_tweets) November 4, 2023
Why always india man
Wtf biggest loss pic.twitter.com/dvOqtK90EF

— Sports With Bros (@brosswb) November 4, 2023
So the nightmares do come true...

Oh man, the news that no Indian fan would want to hear 😐💔

Get well soon Hardik Pandya. pic.twitter.com/nHp6wuJoWd

— CricWiz (@CricWizTalks) November 4, 2023
Unpopular opinion Should have replaced with Rinku Singh

— Ctrl C Ctrl Memes (@Ctrlmemes_) November 4, 2023
Sad news 😢 but hope Indian bowlers make up for it along with surya in the batting 🤞🏼🤞🏼

— Cricket Polls (@CricPollsdaily) November 4, 2023